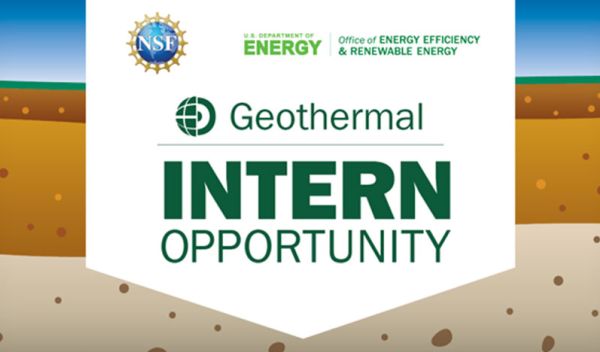 U.S. Department of Energy and U.S. National Science Foundation announce first cohort in the NSF INTERN program to support growth of the geothermal energy workforce
Today, the U.S. Department of Energy and the U.S. National Science Foundation announced the first cohort of geothermal interns in the NSF INTERN program. Through this collaboration — the first activity coordinated under the NSF-DOE Memorandum of Understanding — a diverse group of 14 students will work with geothermal companies, national laboratories or state agencies on projects that advance geothermal technologies. Work conducted under this new internship program will support the goals of DOE's Enhanced Geothermal Shot™, which aims to bring enhanced geothermal systems to Americans nationwide and reduce the cost of these systems by 90% by 2035.
"We are very glad to help foster the growth of these students' careers, their interest in geothermal energy, and the burgeoning geothermal industry," said Alejandro Moreno, acting assistant secretary for Energy Efficiency and Renewable Energy at DOE. "Investing in these students and future INTERN cohorts with our partners at the National Science Foundation will help train a workforce that is well-versed in clean energy technologies, while also bringing the United States closer to accessing the nation's untapped potential for renewable, around-the-clock geothermal power."
"The NSF INTERN program offers invaluable on-the-job training and professional development for science and engineering graduate students, and, through this partnership with DOE, more U.S. students will be prepared to advance geothermal technologies and our clean energy future," said Susan Margulies, NSF assistant director for Engineering.
The students selected for this first Geothermal INTERN cohort represent 11 colleges and universities nationwide, including two Hispanic-serving institutions, as well as an array of ethnic or cultural backgrounds and academic disciplines. Participants are supported through supplements to current NSF awards.
The awarded institutions and participants' host organizations and projects are:
Central Michigan University — This student will work with the Geologica Geothermal Group using machine learning to train algorithms to determine accurate temperatures during initial drilling of geothermal wells. Their methods will include using high-fidelity physics models for the consideration of dynamic flow and non-uniform temperature in the reservoir.

Colorado School of Mines — One student will work with Atlantica Energy on geochemical analysis of core from geothermal wells to reconstruct temperature distribution in the subsurface. Another will work with the Coso Operating Company, one of the largest geothermal producers in California, also on geochemical analysis of core from geothermal wells. A third student will work with the geothermal start-up company Fervo Energy to integrate software from the Distributed Acoustic Sensing (DAS) Data Analysis Ecosystem open-source software into the company's DAS data analysis workflows at geothermal sites.

Florida State University — This student will work with Sandia National Laboratories on numerical modeling and porosity/geophysical fluid dynamics for enhanced geothermal systems.

Northwestern University — This student will work with the Illinois State Geological Survey on waste heat in urban environments that heat the subsurface to support the widespread deployment of community-scale geothermal technologies.

The Pennsylvania State University — This student will work with Argonne National Laboratory's rock mechanics lab and Advanced Photon Source on the coupling of fluid permeability and feedback controls between injectability, fluid permeability and seismic evolution. Their methods will use machine learning informed by physics during and after energy recovery, and work will also include elements of hazard management perspectives.

South Dakota Mines — This student will work at RESPEC to apply the newly developed data-driven inverse methods from an NSF project to the field of geothermal energy.

Texas A&M University — This student will work with Fervo Energy on studying induced seismicity associated with geothermal development.

The University of Texas at El Paso — This student will work with the Pacific Northwest National Laboratory on geothermal hydrofracturing with the help of high-frequency seismic data from the Sanford Underground Research Facility.

The University of Texas Rio Grande Valley — This student will work with Oak Ridge National Laboratory on imaging, modeling and applying advanced materials to improve geothermal well integrity and heat exchanger technologies.

University of Utah — One student will work with the Utah Geological Survey on assessing deep sedimentary basins in the Basin and Range system of the Great Basin region as targets for geothermal resource assessment and assessment workflows. Another student will work with Zanskar Geothermal & Minerals, Inc on obtaining an improved shallow crustal velocity model of the Lightning Dock Geothermal Field in Hidalgo County, New Mexico, to improve the ambient noise tomography workflow for geothermal reservoirs.

Virginia Tech — This student will work with Minaean SP Construction Corp on geochemical and magneto telluric sampling and measurements of geothermal areas for assessment.
Established in 2017, the NSF INTERN program provides non-academic research internships for close to 300 graduate students per year. These internships can be up to six-months long and provide graduate students with the opportunity to acquire core professional competencies and skills in a wide range of sectors in the U.S. economy. The program encourages the participation of graduate students from groups that are underrepresented in science, technology, engineering and mathematics. With joint support from DOE and NSF, the Geothermal INTERN opportunity is expected to support up to 20 students in fiscal year 2024.
More information about the Geothermal INTERN opportunity is available on Geothermal INTERN webpage and on NSF's website.