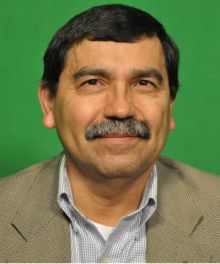 Credit: National Science Foundation
Dr. Jose D. Fuentes (CEOSE Chair)
Professor of Meteorology
Department of Meteorology
The Pennsylvania State University
University Park
State College, PA 16801
Term: 02/01/2016 – 10/31/2023
---
Dr.  Jose D.  Fuentes, Professor of Meteorology at The Penn State University, earned his Ph.D. from the University of Guelph, Ontario with studies in Micrometeorology. Professor Fuentes has designed and successfully employed observing systems deployed on towers and tethered balloons used in places such as the Florida Everglades, the rainforest of Brazil, and the Arctic to investigate the atmospheric transport and chemistry of greenhouse gases. He has served as the director of the Penn State University Research Experiences for Undergraduate (REU) program in climate science.  In January 2016, the American Meteorological Society granted him the Charles E. Anderson Award 'for outstanding, sustained efforts to promote diversity in the atmospheric and environmental sciences through education, research, and community service'.  During 2005 - 2009 he served on the Advisory Panel for NASA Global Precipitation Mission. He has received the Cavaliers' Distinguished Professorship Award from the University of Virginia, and the Outstanding Faculty Award in the State of Virginia from the Governor of Virginia. He was a founding member of the steering committee for the University of Virginia Excellence in Diversity program, designed to attract and maintain minority faculty.
Fuentes is an internationally recognized expert in the field of atmospheric science, with particular emphasis on the physical, biological, and chemical processes that control trace gas and energy exchange between vegetated landscapes and the atmosphere. He engages students in hands-on learning in the laboratory and in field research projects, taking students on scientific voyages to places as distant as the high Arctic, the Brazilian rainforest, and the Marshall Islands.  He mentors numerous minority students, working with student clubs and organizing workshops designed to attract and retain more minority students in science.
He is a member and fellow of the American Meteorological Society, and a member of the American Geophysical Union. His three-year term as a member of the congressionally mandated Committee on Equal Opportunities in Science and Engineering (CEOSE) began on February 1, 2016.
Research Interests
Field research in the general area of air quality and climate science with a particular focus on events occurring in the lower atmosphere.