Image: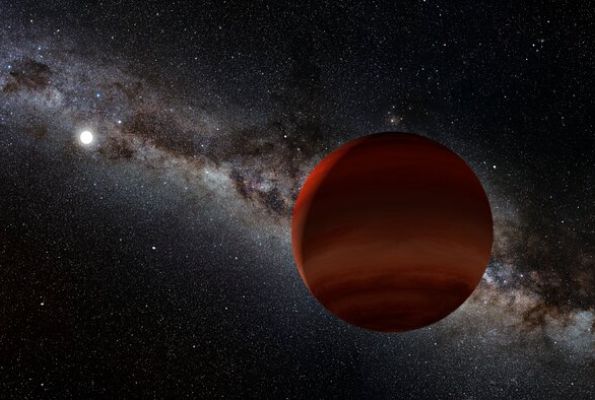 From the magic of nature to the marvels of the Milky Way …
This Citizen Science Month, explore how you can volunteer to advance science
In 2018, accountant and astronomy buff Jorg Schumann was sifting through publicly available astral images of the cosmos and noticed an unusual pair of fast-moving objects. He alerted professional astronomers, who confirmed what this citizen scientist had found – and what the professionals had missed – a brown dwarf 10 times the size of Jupiter, 146 light-years from Earth. A brown dwarf is sometimes defined as a failed star.
Schumann is a member of Backyard Worlds: Planet 9, a group of volunteers who look through images to identify new worlds and cosmic objects in and beyond the solar system. So far, volunteers have identified more than 1,600 new brown dwarfs.
Aaron Meisner, assistant scientist at NSF's NOIRLab and an expert on brown dwarfs, has said that efforts like this "can unlock landmark discoveries, and it's exciting that these could be spotted first by citizen scientists."
April is Citizen Science Month, and NSF is recognizing the contributions that volunteers from all walks of life, age groups and demographics have made to scientific discovery – and will continue to make.
NSF has launched dozens of citizen science projects, from birds to ladybugs, accessible sidewalks to safaris and auroras to aquatic species. Nearly all of these projects partner with SciStarter, an online portal where individuals, educators and groups can search through more than 3,000 projects by location, topic or age level which best suit their interests and abilities. More than 125,000 volunteers have registered to date.
Darlene Cavalier, founder of SciStarter and professor at Arizona State University's School for the Future of Innovation in Society said, "Everybody knows something, but nobody knows everything – that's the premise of citizen science."
Interested in becoming a citizen scientist? Below are a few options:
1. Where have all the ladybugs gone?
Like so many insect species, native ladybugs are rapidly vanishing from the natural landscape and are being replaced by ladybugs from other parts of the world. The Lost Ladybug Project aims to understand how the population is changing in order to protect native varieties. Volunteers keep a sharp eye out for these beneficial beauties, searching lush plant growth and cropland beginning in early summer. They collect and photograph specimens, then submit their images online. By the end of March, citizen scientists will have submitted more than 39,000 ladybug images.
2. Looking for noise in the wave machine
You may have heard of gravitational waves – ripples in space-time created by colossal explosions in distant galaxies, like the merging of black holes. NSF supports two large installations in Washington and Louisiana called the Laser Interferometer Gravitational-Wave Observatory, or LIGO, that are super-sensitive enough to detect these faint ripples as they make their way to Earth. But LIGO needs human help. Other "noise" can interfere with gravitational-wave signals, and one of the best ways to look for noise in the system – and determine its true source – is the human eye. Gravity Spy enlists citizen scientists to be those eyes.
3. Helping Mother Nature
As the climate changes, it alters the natural world. Budburst volunteers observe and photograph plant life and pollinators all around them to track how the environment is changing in response to changes in the climate. By witnessing the magic of nature, they join in efforts to preserve it.
4. And accessibility for all
Think all city sidewalks are accessible to those with disabilities? Think again. Project Sidewalk gives anyone with a web browser and internet access a chance to virtually explore a neighborhood via Google Street View and find those sidewalks, streets and businesses that could use upgrades or repairs to make them truly accessible. Governments, too, can use the data to focus on problem areas.
5. The life cycle of a bird's nest
With Neighborhood Nestwatch, a backyard or schoolyard becomes an outdoor classroom and research site. Volunteers not only get more attuned to the natural world in their neighborhood, but they also help researchers to track banded migratory birds, observe human impacts on bird habitat and monitor how well birds are able to reproduce in their area.
6. Shimmering bands of polar lights
Have you ever seen auroras? These are the relatively rare but dazzling northern and southern lights that shimmer across dark skies in regions near the North and South poles. They appear when the sun ejects a powerful solar storm with electrified gas that interacts with Earth's polar magnetic field lines. This results in luminous green, red, blue and purple bands of dancing lights. Aurorasaurus enables those lucky enough to see aurora borealis or aurora australis to report their observations using a computer or smartphone to help characterize their frequency, location and characteristics, and to better understand Earth and sun interactions.
Ready to find your own citizen science project? Check out NSF-supported projects at SciStarter.