The National Science Foundation (NSF) maintains a diverse workforce, which includes the hiring of veterans through programs sponsored by the federal government and NSF.
NSF is committed to working with veterans to provide job counseling, training, mentoring, and other internal advancement opportunities once qualified disabled veterans are hired. By providing these opportunities, NSF seeks to retain an engaged and dynamic veteran workforce to support our mission goals into the future. The Foundation's goal is to create further advancement opportunities for veterans, recognizing the value and importance of ongoing development and representation at all levels of the agency.
Note: Information about programs for people with disabilities, including disabled veterans, is also available.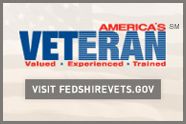 Veteran Employment Coordinator:
Ken Smith
National Science Foundation
Division of Human Resource Management
Email: kensmith@nsf.gov