NSF Regional Innovation Engines, or NSF Engines will create regional-scale innovation ecosystems nationwide. To get started, organizations were required to submit a concept outline with top-line information on their proposed topic areas, partners and geographic footprints. NSF has published nearly 700 concept outlines that are advancing to the next step as outlined in the program's funding opportunity to assist submitters in preparing successful proposals.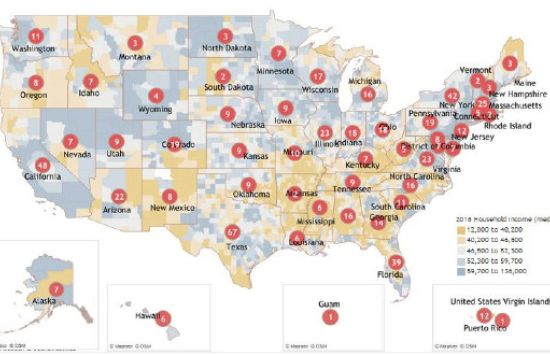 The NSF Engines program requires that teams submit a Letter of Intent and a full proposal as a region. Use this interactive map to collaborate and find others in your region. There is still time to team up, merge, and add new cross-sector partners before the application deadline!
Use the data to find partners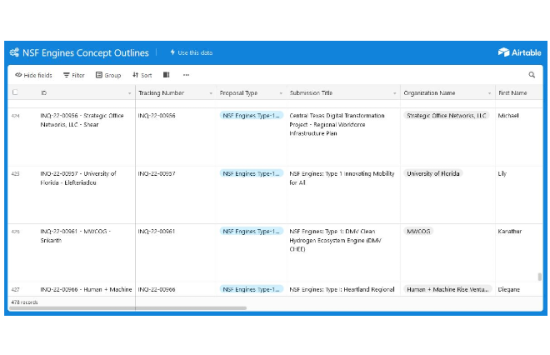 Regions benefit from proactive teaming and collaboration. Use the published data about concept outlines to reach out to potential partners and build strong, collaborative teams. 
Watch our brief how-to video to learn how best to read the accepted concept outlines.
Why did NSF publish concept outline data?
The NSF Engines program requires applicant teams to define their geographic region of service and lead their application submission with that information.  Concept outline submitters should know about and connect with others within their regions and topic areas. By publishing the accepted concept outlines, NSF hopes to connect applicants before the proposal deadline.
How to use the data?
There are numerous ways to interact with the data. Watch the how-to video, made by our interns, and explore some suggestions for various audiences below.
Exploring the data and reaching out
Dig into the data to see what others in your region are considering as topic areas for submission. If there are opportunities for teaming, please reach out to fellow concept outline submitters and brainstorm ways to collaborate. Once you identify fellow submitters who are building NSF Engines that are of interest to your team, reach out using the contact button on the collaboration tool.
Receiving communications from others
You may receive emails from fellow concept outline submitters as well as others who have not yet actively engaged in the NSF Engines program. If you are interested, respond. Interested parties will not be able to see your contact information unless you opt in to the conversation by replying to their emails.
Explore the data to identify teams and reach out
Perhaps you are an investor looking to partner with a concept outline submitter on climate technology commercialization, a philanthropist focused on economic development in the Upper Midwest, or national funder of DEIA (diversity, equity, inclusivity and accessibility) initiatives in tech. These data are actionable for you, too.
Search the data by topic area or region and identify compelling teams and topics of interest.  You can parse through the data, identify compelling teams, and reach out to make your case on why you would like to connect. Our goal is to unlock capital streams that might not already be available to teams.
Many organizations approached us during the first stage of the program that were interested in participating but unable to lead an NSF Engine. These organizations may be strong in only one pillar of an NSF Engine (e.g., use-inspired research, translation of research to practice, workforce development) or have other reasons for wanting to explore a core-partner role. 
This is your opportunity to make your pitch to concept outline submitters on why they should consider teaming up with you before the application deadline. 
Examples of potential core-partner organizations:
Local startup accelerator or foundry.
Workforce development organization.
Economic development agency.
Company working in the same topic area as a concept outline submitter.
University in the same region as a team pursing an NSF Engine in a topic of mutual interest.
Overview
NSF Engines are focused on driving regional economic growth. The concept outline data provide a bird's-eye view on your region's strongest topic and technology areas that local experts believe would elevate your region in the emerging economy.
Your role
We want government to be at the table as a co-founder, co-funder, convener and even a potential recipient of NSF Engines funds. 
Get involved
If concept outlines were approved for one or more teams in your region, we highly recommend that you start a dialogue on how to build strong public and private partnerships before the application deadlines. This is an opportunity for your city or state to receive up to $160 million and build the innovation infrastructure needed to catalyze your community's economic future.
The NSF Engines concept outlines are public data, and we welcome you to build tools and visualizations that benefit the community. One of the goals of the NSF Engines program is to expand the geography of innovation to more people and places across the country. We welcome insights about how we can discuss the data and build tools that empower a given community to understand its region's past, existing assets and future economic potential.
Note:
This is a National Science Foundation (NSF) Federal Government computer system. The data and documents in this system include Federal records that contain and are protected by the Controlled Unclassified Information (CUI) Program (32 CFR 2002). Any system activity may be monitored and any information stored within the system may be retrieved and used by authorized personnel for law enforcement, management, routine system operations, or other purposes. By using this computer system, you are consenting to such monitoring and information retrieval and use. 
Unauthorized user attempts or acts to (1) access, view, upload, change, or delete information on this system, (2) modify or deny access to this system or attempt to defeat or circumvent security features, (3) accrue resources for unauthorized use, (4) disclose sensitive information including but not limited to information covered by the Privacy Act or other Federal laws, or (5) otherwise misuse this system in violation of NSF or Federal policy, including CUI Policy, is strictly prohibited.
Unauthorized system use could result in disciplinary action up to and including removal, administrative penalties, civil and/or criminal penalties. Users should be aware that they have no expectation of privacy when using the NSF-provided computer system (including any removable media used in conjunction with the system), accessing the Internet, or using electronic mail systems.
All information maintained within or retrievable through the NSF computer system, including electronic mail files, may be reviewed and retrieved by the Department of Homeland Security; NSF officials who have a legitimate reason to do so when authorized by the Director or Deputy Director; or by the Inspector General.