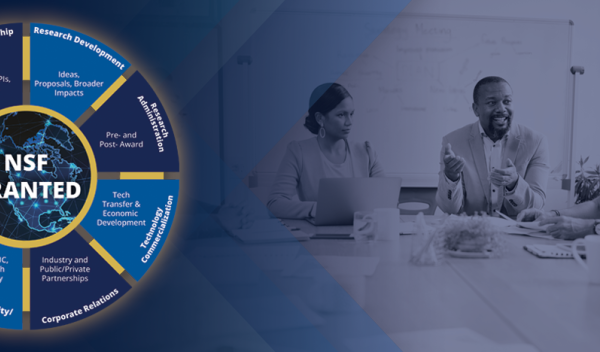 16 minority-serving institutions gain a competitive edge thanks to a $9.2M NSF research infrastructure award
NSF program expands research development support and capacity at minority-serving institutions
Conducting ambitious and innovative research requires more than just funding a study itself. It also needs robust administrative and infrastructure support, which is often unseen yet critical to a program's success. Access to this support varies significantly among institutions across the nation, resulting in structural barriers that impede participation. To help strengthen the U.S. National Science Foundation's role as a global leader, the agency has invested over $9.2 million through the Growing Research Access for Nationally Transformative Equity and Diversity (GRANTED) initiative. This impactful program will help build capacity at 16 minority-serving institutions by providing financial support for research infrastructure, personnel and services.  
The NSF GRANTED initiative will provide $9.2 million in funding for a collaborative project between Emory University and the National Organization of Research Development Professionals (NORDP), a professional nonprofit association dedicated to advancing the global capacity and impact of research. The NORDP Consultants Program will expand support to 16 MSIs by providing assistance from experienced NORDP consultants over the next two years and access to an array of tools and services to improve research development. 
"I am excited that this important investment will advance ambitious ideas and innovative strategies by engaging and empowering the science community across our nation to address impending challenges and opportunities," says NSF Director Sethuraman Panchanathan. "NSF's new GRANTED initiative will accelerate progress by promoting full inclusion of the excellent talent in our nation's research enterprise." 
The NORDP Consultants Program will provide direct research development services to participating MSIs, including grant writing assistance, team building, strategic research planning, outreach activities and student training. The program is specifically designed to provide a big investment to intentionally small cohorts of institutions to ensure a lasting impact. Additionally, the support is provided at no cost to the MSIs, so the focus remains on universities that need it most. 
 "This award will promote the participation of faculty from minority-serving institutions and strengthen their competitiveness for federal funding," says Dina Stroud, program director for the GRANTED program. "Together, this will enhance the recognition of these institutions as leaders in scientific discovery." 
In addition to this $9.2 million investment, NSF GRANTED is funding another $2 million in awards for conferences and workshops that enable participants to exchange ideas and solutions related to research resource barriers. An announcement of these awards is forthcoming. 
For more information, visit the NSF GRANTED's website.