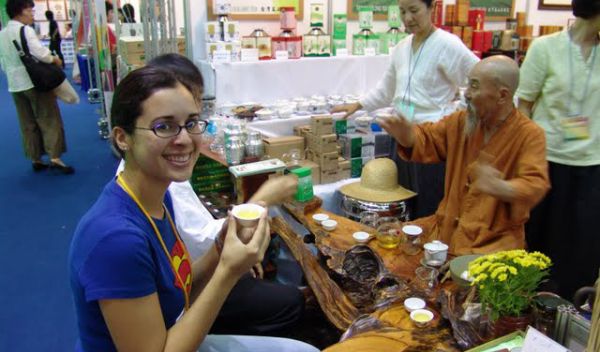 Anthropology Abroad: Studying Women's Roles in the Military
Graduate student Margie Serrato on her experiences leaving the familiar to explore the unfamiliar: summer research in South Korea
Most of us never think about leaving the place where we grew up, whether that is a small home town or our country of origin. The idea of leaving the people, food and things that are familiar probably seems frightening, but living in another place for an extended time can be very educational; it is an opportunity for personal and professional growth. That was certainly the case for me.
Two years ago, I went to South Korea as part of the National Science Foundation's (NSF) East Asia and Pacific Summer Institute (EAPSI) program. This program, intended as an eight-week stay, allows students to collaborate with scientists from other countries as a way to initiate international scientific projects and expose students to foreign research policies.
While two months may not seem like a long time to be away from home, it can be very challenging when you are alone in a place with which you are entirely unfamiliar.
My academic background is in anthropology--the study of humans. For cultural anthropologists like me who do research on living cultures, it is essential to live with those we study in order to best understand their daily lives.
I am largely interested in understanding the experiences of women in non-traditional roles, so my plan in South Korea was to interview female cadets on why they joined the traditionally male military academies, how they performed in this masculine environment and whether they felt that the larger Korean society accepted female cadets.
Initially, I wanted to interview a group of 30 women. I thought that it would be relatively easy to obtain volunteers for my study, but for me, conducting military anthropology research was difficult in South Korea.
The problem was that journalists in recent years have interviewed women in the military academies, and, although the cadets' answers addressed a range of experiences, only the negative experiences were publicized in those broadcasts. Not surprisingly, cadets I interviewed were apprehensive that their responses would not be used in full.
Also, it was important to establish a relationship with the cadets before interviewing them and this took a long time. Therefore, my research design required some flexibility.
This was an important professional lesson: even if you think you have a perfect research plan, it can go wrong for reasons that you cannot control, and you need to make the best of it.
Unfortunately, I was only able to conduct six lengthy interviews with female cadets. Each interview lasted for two hours. I used standard questions about their motivation for joining and remaining in the academies, their military training, the gender interactions between women, and between men and women, and their opinions of how Korean society reacted to female cadets.
I visited the Army Academy in Seoul and the Navy Academy in Jinhae to obtain more information about the integration of women. Also, since I had only interviewed a few women, I decided to informally interview male cadets and obtain their opinions on women in the academies.
By the end of the summer, I learned that it was difficult for these women to be accepted and treated as equals to men in the academies, and that, while their families and friends were supportive of their decision, other Koreans were less supportive.
Although the sample size is too small to make generalizations, it seems that Korean female cadets are experiencing the difficulties of gender integration similar to the experiences of American female cadets when they were allowed into the U.S. military academies in the late 1970s.
I gained much more than research experience that summer. I arrived with minimal knowledge of the Korean language, minimal exposure to the cuisine, little knowledge of the culture and only a few Korean contacts.
During my stay, I learned basic language skills, ate unusual (but delicious) food, hiked many of the mountains (including the highest peak, known as Hallasan, visited numerous historic sites, learned about cultural values and established important relationships with my Korean host family and fellow EAPSI participants.
I also learned a lot about my character, my strengths and my weaknesses, as well as my limits, which empowered me as an adult, as a woman, and as a scientist. Leaving my comfort zone and the familiarity of home was undoubtedly the scariest--but best--decision of my life; it is one which I continue learning from, one which I hope to repeat, and one which I will never forget or regret. South Korea became my adopted home.
Margie Serrato is a Ph.D. Candidate in the Department of Anthropology at Texas A&M University. She conducts research with American soldiers who have engaged in combat in Afghanistan and Iraq.
-- Margie Serrato, Texas A&M University, mss@tamu.edu
This Behind the Scenes article was provided to LiveScience in partnership with the National Science Foundation.