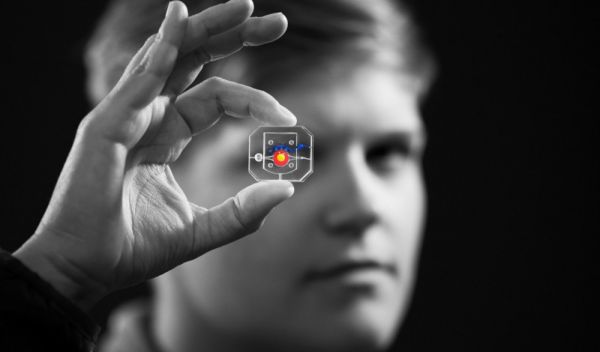 Blinking eye-on-a-chip used for disease modeling and drug testing
Chip that models eye disease may lead to new cures
People who spend eight or more hours a day staring at a computer screen may notice their eyes becoming tired or dry, and, if those conditions are severe enough, they may eventually develop dry eye disease (DED). DED is a common disease with few drug options approved by the U.S. Food and Drug Administration, partially because of the difficulties of modeling the complex pathophysiology of human eyes.
Enter the blinking eye-on-a-chip, an artificial human eye replica constructed in the laboratory of Penn Engineering researchers. The work is supported by NSF's Directorate for Engineering, through its Science and Technology Center for Engineering Mechano-Biology.
The eye-on-a-chip, complete with a blinking eyelid, is helping scientists and drug developers improve their understanding and treatment of DED, among other potential uses. The research, published in Nature Medicine, outlines the accuracy of the eye-on-a-chip as an organ stand-in and demonstrates its utility as a drug testing platform.
The study was led by bioengineers Dan Huh and Jeongyun Seo. Huh specializes in creating organs-on-a-chip, including lung and bone marrow proxies launched into space to study astronaut illnesses.
Huh and Seo focused this study on engineering an eye model that could imitate a healthy eye, and one with DED.
"From an engineering standpoint, we found it interesting to think about the possibility of mimicking the dynamic environment of a blinking human eye," Huh said.
"Creating an organ-on-a-chip that mimics natural cellular processes requires new knowledge from multiple disciplines, as well as advanced manufacturing to make them widely available in the future," said Siddiq Qidwai, NSF program director for the Science and Technology Center for Engineering Mechano-Biology. "NSF's investment in Science and Technology Centers provides the long-term, collaborative research environment needed to make such breakthroughs in engineering and healthcare."