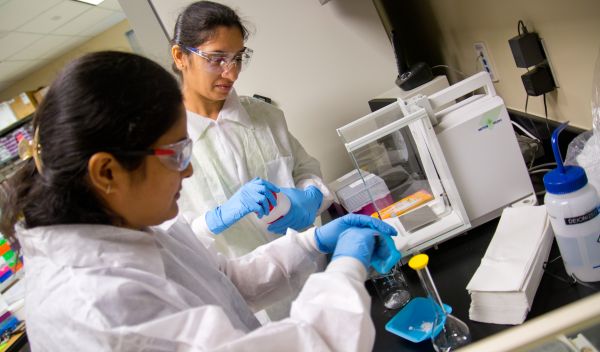 Building it big in Texas: Community college program trains biotech workforce
A multi-faceted training program funded by the National Science Foundation prepares students from a variety of backgrounds for careers in biotechnology
Biotechnology companies such as Genentech, Ambion and Life Technologies rely on specially trained workers to keep their research and development (R&D) labs and their manufacturing processes running smoothly. Biotechnicians may grow cells for use in drug development, analyze DNA or monitor biofuel production. The unique equipment and techniques used in the biotech field has often required companies to provide on-the-job training to new employees.
However, an innovative center at the City College of San Francisco in California called Bio-Link has created a network of community college partners throughout the country that tailor their biotechnician training programs to the needs of local biotech industry. Students successfully completing these two-year programs can walk into a job ready to perform essential techniques and operate state-of-the-art equipment.
This approach is key to the success of the National Science Foundation's (NSF) Advanced Technological Education (ATE) program, now in its 20th year. The program funds community colleges, giving them a leadership role in strengthening the skills of STEM technicians. The community colleges work in partnership with universities, secondary schools, business and industry and government agencies to design and carry out model workforce development initiatives in fields as diverse as cybersecurity, advanced manufacturing and aerospace, in addition to biotechnology.
Starting from scratch
Bio-Link first received funding from NSF in 1998 to create a structure to enhance and expand biotechnology technician programs throughout the nation. Principal investigator Elaine Johnson and her colleagues reached out to every community college in the country to find out whether they had a biotech program or were interested in starting one.
Although Texas's Austin Community College (ACC) didn't have a program, "We knew someone was in Austin with strong leadership skills and we could see a future in Texas for biotech," says Johnson, who sought input from her network to find the right person to develop the Texas program. That person was Linnea Fletcher.  Fletcher started the biotechnology department at ACC and in 1999 became a key partner in the Bio-Link network.
The program offers a range of degrees and certificates for students from high school to college and beyond. Through a series of strategic partnerships with local biotech companies, school districts, the Texas state government and national biotech consortia, Fletcher has built a dynamic program that addresses student and teacher development as well as industry needs.
Because the education structure in Texas encourages collaboration, "Linnea is in a state where she can make a difference both locally and nationally," says Johnson, who notes that the foundation Fletcher laid "continues to be very important for all of us."
Fletcher's task at the outset was to develop a program that would become a model biotech training program. Initially, she designed and implemented a professional development program for high school teachers. With few resources to buy equipment, Fletcher ran some of the courses out of a friend's lab at the University of Texas at night. But grants from both NSF and the Texas Education Agency allowed her to enlist the help of area teachers and expand the program.
Together this group formed an advisory committee made up of academic and industry representatives that reviewed the course curriculum and made suggestions for keeping it current. They also initiated a summer institute so that undergraduates working toward education degrees could connect with novice and veteran teachers to improve both teaching and laboratory skills.
These original program components remain integral to ACC's biotech program, which now offers an associate's degree in biotechnology, a post-baccalaureate degree for students with bachelor's or advanced degrees and a certificate in biomanufacturing. Next fall, Fletcher will add an entry-level certificate that high school students can earn. Over the past 10 years, about 225 students have graduated from the program and roughly 10,000 students have taken the high school advanced biotech course.
Strengthening the workforce
As the ACC biotech program has grown, Fletcher has cultivated her relationships with local industry representatives as well as school districts. Through these connections, she has created a vibrant internship program that complements classroom and laboratory learning.
"This is a wonderful gateway into working with a company," says Michael Douglas, executive director of the Texas Life-Sciences Collaboration Center. He notes that companies benefit, too, because the internship offers an opportunity to see the students in action. In the three years since ACC Biotech began offering internships, all 20 of the students who participated were hired.
A skilled biotech workforce also becomes a drawing card for the state as it tries to recruit businesses from other geographic areas. Douglas says that recently a company from California committed to relocating in the Austin area because of the readily available pool of trained biotechnicians.
Two years ago, to expand its role within the business community, ACC Biotech established a contract research organization (CRO). Local companies can take advantage of ACC's specialized equipment and faculty expertise to fulfill their R&D needs.
"This is a win-win situation for everyone," says Sulatha Dawarakanath who directs the effort. With increased exposure among local firms, Dawarakanath says the CRO "has taken off." The CRO also offers students an additional opportunity for hands-on experience and interaction with industry.
Expanding the network
The ever-growing community of practice spawned by the ACC program allowed Fletcher to reach out to the state's six other community colleges. All of the biotech programs now follow the same skill standards and assessments and share curricula and equipment through their own network.
The next step is to "make these community colleges hubs for mentoring high school teachers," Fletcher says. Through a Texas Higher Education Coordinating grant, Fletcher and her colleagues are developing a Biotech Mentoring Network for that purpose. The mentoring component is crucial because three years ago, the state changed the status of the introduction to biotechnology course from an elective to one of the core courses students can take for science credit.
In the ACC mentor model, new teachers are paired with two mentors: One who has just finished the professional development program and a second who is several years removed from the training program. During the three-year collaboration the teachers share equipment, approaches to teaching and ways to master biotech lab techniques.
One teacher who has worked closely with the ACC program since its start is Jennifer Lazare. Now an ACC adjunct faculty member, Lazare first connected with the biotech program through a summer institute while in graduate school. For the last decade she's taught a dual-credit, advanced biotech course at Anderson High School in Austin.
Recently, with a Texas Education Agency grant Lazare and Angela Wheeler, a former high school teacher and now adjunct in the ACC Biotech program, developed an online Advanced Biotechnology Teacher certification system. The site provides training information as well as biotech lesson plans and other resources to teachers around the state. Lazare points out that her ACC connections provide access to many resources that enhance her approach to teaching, such as workshops, conferences and curriculum development opportunities.
Making a difference
Developing a robust, local biotech workforce has helped make the ACC Biotech program a highly regarded program. But Fletcher also likes to consider how the program makes a difference in her students' lives.
"For many of them, this is more than just biotech. You see that you can make a real difference in their lives and that you're giving them more than just a job. That's what gives you energy."