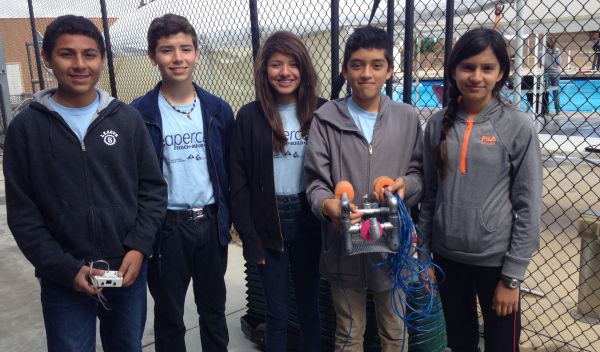 Competitions inspire STEM learning through innovative project
Engineering challenges engage middle-school students in designing, testing and building – and it happens after school and on Saturdays
On May 31, 14 teams of middle-school students in the San Diego area competed in the final round of a tournament that drew both family members and public audiences. Rather than a sporting event, this was an engineering challenge that called on participants to work through the process of designing, testing and redesigning wind turbines to see which team could harness the most electricity.
This was the culmination of an activity called KidWind, a project of Exploring STEM Careers Initiative (ESCI), funded through a National Science Foundation (NSF) grant to San Diego State University Research Foundation in collaboration with the San Diego Science Alliance. KidWind provides students with the opportunity to learn about renewable energy resources as well as science, technology, engineering and mathematics (STEM). Students work in teams to build a 2-3 foot tall wind turbine from a kit, along with thin wood and PVC pipe. They connect their blades to a DC motor that generates a small amount of electricity.
Over more than two months, 168 students and their teachers from seven San Diego-area school districts learned about design and engineering as they built small wind turbines. Students first learned the basics of wind energy, and then developed sophisticated strategies for optimal energy conversion. Next they focused on modifying blade design to increase electrical output. By the end of the project they had developed an understanding of aerodynamics and energy conversion. The learning was done after school, with challenge events held on Saturdays.
KidWind, first developed in 2002, is now an international project that has trained more than 7,000 teachers and impacted more than 500,000 students, who have built over 50,000 experimental wind turbines. KidWind is just one of the challenges making up ESCI. There is also Botball, a team-oriented robotics competition; Sea Perch, employing a remotely operated vehicle for environmental data collection and investigations; and iAROC (International Autonomous Robotics Contest), where students simulate real-world robotic navigation problems. Across the three engineering projects, ESCI has engaged 40 teachers who met with over 500 students in out-of-school time to complete their projects at various school sites and participate in deployments and tournaments.
The ESCI project's theory of action is that challenge-based learning is an effective model for developing students' understanding of STEM content knowledge, enhancing students' technology skills, and increasing students' appreciation for STEM careers.
The learning isn't exclusive to students, either. Teachers who wish to participate in the project have to apply for the opportunity and make a commitment not only to working with student teams after school on challenge activities and attending challenge events, but also to attending a STEM Institute over the summer to prepare for the project.
The concentration on engineering and robotics is deliberate.
"Engineering challenges and competition develop students' talents and understanding of STEM subjects," said Nancy Taylor, ESCI principal investigator. "It motivates students to enhance their technology skills; and during research and deployment tournaments, it gives students a chance to interact with professionals who serve as mentors and role models."
Beyond the experience of individual teachers and students, the project has value as a model for other projects.
"This project is a prototype that will guide similar efforts and add to the research about how challenge-based activities, such as engineering design activities and robotics competitions, contribute to STEM learning and critical skills in computational thinking," said NSF Program Director Arlene de Strulle. "Over time, what we learn will also help us understand how out-of-school STEM learning experiences can successfully be incorporated into academic work and formal school settings to advance postsecondary learning and career choices."
Videos of ESCI activities are on the project's YouTube site.