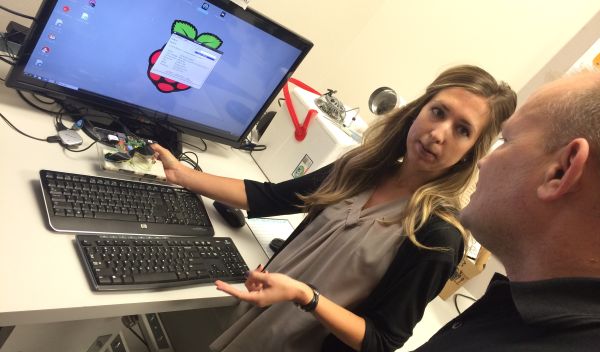 Cybersecurity: It's about way more than countering hackers
Growing professionals in cybersecurity means supporting an interdisciplinary approach that develops sophisticated thinkers
It's tense in the situation room. A cyber attack on the electrical grid in New York City has plunged Manhattan into darkness on a day that happens to be the coldest in the year. Concurrently, the cellular phone network has been attacked, silencing smartphones and sowing confusion and panic. A foreign power has claimed responsibility for the attacks and says more are coming. Your job is to look at geopolitical factors, intelligence feeds, military movements and clues in cyberspace to predict what may be happening next. Your goal is to make a recommendation to the President.
This scenario is thankfully not real, but it is the kind of simulation planned for students in the cybersecurity program at California State University, San Bernardino (CSUSB). With funding from the National Science Foundation's (NSF) CyberCorps®: Scholarships for Service (SFS) program, undergraduate and graduate students take an interdisciplinary approach to cybersecurity.
"We provide an environment where business students can work with engineers on drones, and students from political science can work on predictive modeling," said Principal Investigator (PI) Tony Coulson. "Our students can major in business, public administration, criminal justice, computer science, intelligence, all with cyber security as an option. We produce students who can problem-solve--people who can understand politics and finance as well as computer science."
Cybersecurity is a field that has received a lot of attention in recent years because of hacking episodes that have compromised networks, and in turn, the personal information of citizens who depend on a safe cyberspace to do such activities as banking and shopping. Following such a breach, attention is generally focused on identifying the hackers and their methods.
Among the options for students supported through San Bernardino's SFS program is being educated in cyber intelligence to deal proactively with cyber threats--to predict malicious behavior before it happens. Doing so draws not only on a background in computer and information science, but also on an understanding of human behavior and psychology and the political and economic environment. About 50 students have gone through the program, including completing internship requirements, and Coulson reports 100 percent placement with employers.
"The San Bernardino project is one of 166 active projects around the country fully or partly funded by SFS," said SFS Lead Program Director Victor Piotrowski. "Cybersecurity is a dynamic and evolving field, and the country needs talented people with the skills to protect U.S. interests around the world. Through SFS, we prepare students for high-paying careers in government, and increase the capacity of institutions to offer quality course work in this area."
A condition of students' receiving support through SFS is that they put their skills to work in a government agency for a period equal to the duration of their scholarship. Coulson says that after completing the program at CSUSB, students often have to choose from multiple offers. The program boasts having students placed in many areas of government.
"CSUSB students have a depth of skills and often pick their dream jobs," said Coulson, including a student who got a job at his first-choice agency--the National Archives.
San Bernardino is a poor community, and the good jobs available to SFS graduates can make a huge difference to them and their families. To promote their success in finding and keeping employment, the professional development offered to students goes beyond their academic work to include business etiquette, mentoring, how to succeed at an internship, and how to conduct oneself successfully in an office. The goal is to produce a graduate ready to be hired.
In addition to traditional essay-based projects, students have to complete a very hands-on final exam, requiring that they pick locks and use digital and biometric information to hack into a network. According to Coulson, they enjoy the challenge.
Along with running the SFS project, Coulson is co-PI on another NSF-supported project, CyberWatch West, funded through the Advanced Technological Education program (ATE).
"Despite Silicon Valley being on the West coast, and California having the largest population of community colleges in the country, there are very few cybersecurity programs here," said Coulson.
So CyberWatch West aims to help community colleges, K-12 schools and universities link together in 13 western states to develop faculty and students in cybersecurity. The project is a resource for faculty to identify curriculum pathways and outreach, find mentors and engage students in competitions, events and presentations.
"There's such a need in the Los Angeles and Orange County areas," said Coulson. There are something like 2,500 open positions, and we're graduating 200 kids."
Bringing together cybersecurity, law and digital forensics
Also responding to the need for a cybersecurity workforce prepared to deal with today's complex problems is an SFS project for undergraduates and graduate students at the University of Illinois, Urbana-Champaign (UIUC). The project has graduated 25 students who are already working in government (reflecting another 100 percentage placement rate), and another 20 are set to graduate next May.
Since last year, this project offers scholarships to law students as well as engineering and computer science students. According to PI Roy Campbell, few lawyers understand cybersecurity and few computer scientists understand the legal framework involved in prosecuting and preventing cyber crimes.
The first law student to be accepted in the program, Whitney Merrill, is a recent law school graduate currently practicing as an attorney while completing her master's in computer science at UIUC. She found the combination of cybersecurity and law in the UIUC program to be valuable.
"The two fields are fiercely intertwined," said Merrill. "Understanding both fields allows me to better serve and advocate for my clients. Additionally, I hope to be able to help the two communities more effectively communicate with each other to create tools and a body of law that reflects accurately an understanding of both law and technology."
Merrill found the program challenging at first.
"But my interest and love for the subject matter made the challenging workload (29 credits last semester) enjoyable," she added. "Working towards a mastery in both fields has also helped me to spot legal issues where I would not have before."
Next summer Merrill will be working as a summer intern at the Federal Trade Commission in their Division of Privacy and Identity Protection. She graduates in December 2015.
With additional NSF support, a new related program in digital forensics at UIUC has the goal of building a curriculum that will teach students about cybersecurity in the context of the law enforcement, the judicial system, and privacy laws.
"Digital forensics is not the sort of area a computer scientist can just jump into," Campbell said. "It's not just malware or outcropping of hacking techniques. It has to be done in a deliberate way to produce evidence that would be acceptable to courts and other entities."
Co-PI Masooda Bashir says digital forensics gets to the heart of the multidisciplinary nature of cybersecurity.
"If you think about the amount of digital information that is being generated, exchanged, and stored daily you begin to understand the impact that the field of Digital Forensics is going to have in the coming years, " she said. "But Digital Forensics (DF) is not only a technical discipline, but a multidisciplinary profession that draws on a range of other fields, including law and courtroom procedure, forensic science, criminal justice and psychology."
She added, " I believe it is through integration of such relevant nontechnical disciplines into the DF education we can help students develop the comprehensive understanding that they will need in order to conduct examinations and analyses whose processes and findings are not just technically sound, but legal, ethical, admissible in court, and otherwise effective in achieving the desired real-world goal."
As the new program evolves, Masooda is drawing on her background as a computer scientist/psychologist to add the psychology of cybercrime to the curriculum. She's also working on a project examining cybersecurity competitions to understand their impact on the cybersecurity workforce and also to better understand the psychological factors and motivations of cyber security specialist and hackers.
Students with an interest in cybersecurity can start planning now
The U.S. Office of Personnel Management maintains a website where students can get information of SFS and the institutions that are participating in it. Meanwhile, PIs can update their project pages and agency officials can check resumes for students with the qualifications they need.
In the evolving field of cybersecurity, individuals with technical skills and knowledge of the social and legal context for what they do will continue to be highly desirable workers.