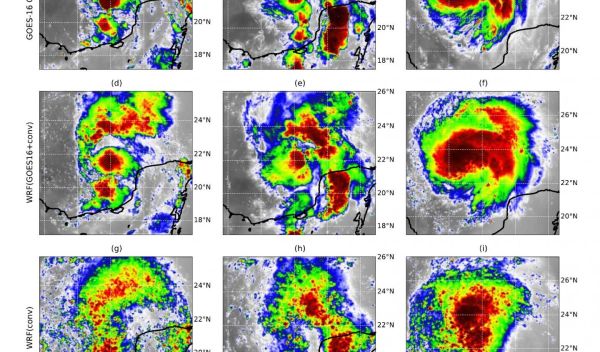 Data assimilation method offers improved hurricane forecasting
Better forecasting uses data from GOES-16 satellite and Penn State's all-sky radiance method
In 2017, operational models predicted that Hurricane Harvey would become a Category 1 hurricane. Instead, it became a massive Category 4 storm just before it made landfall, and tied Hurricane Katrina as one of the costliest hurricanes on record.
Now a new approach developed at Penn State's Center for Advanced Data Assimilation and Predictability Techniques can better account for the intensity and trajectory of Hurricane Harvey.
In this proof-of-concept study, researchers used hindcasting -- data collected during the event, then analyzed afterward. That allowed scientists to further refine the model.
The approach used data from the GOES-16 satellite, coupled with Penn State's all-sky radiance method, which acquires information in all weather conditions, including clouds and rain. The new effort accurately modeled Hurricane Harvey.
Hurricane Harvey was the first major hurricane captured by GOES-16, which became fully operational in 2017. The research, led by the late Fuqing Zhang, an atmospheric scientist at Penn State, is the first time GOES-16 satellite data were used in hurricane forecasting.
The study, published in the Bulletin of the American Meteorological Society, suggests that all-sky radiance data could greatly benefit hurricane forecasting in general.
The process for creating operational-ready models often takes several years. It begins with hindcasting before the models are tested alongside existing models to see if any improvements have occurred. Because weather forecasting saves lives, the models undergo strict procedures and testing before implementation.
The researchers found that assimilating all-sky radiance data better reproduced cloud intensity and patterns when contrasted with current models.
"To improve hurricane forecasts, it's crucial to include satellite data in forecasting models to better condition and constrain the models," says Chungu Lu, a program director in NSF's Division of Atmospheric and Geospace Sciences, which funded the study. "This research team has made significant progress toward this goal."