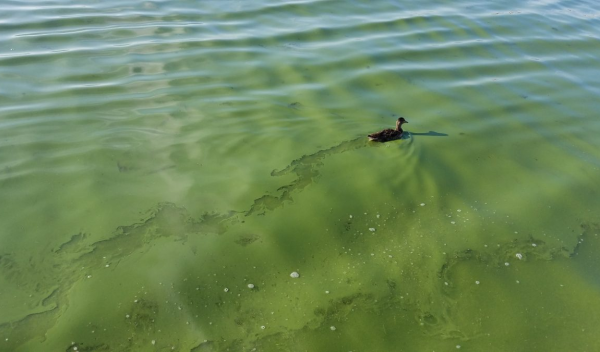 Earlier algae blooms, lingering toxins
Invasive species cause big changes in a lake's microbial community
The outsized impacts invasive species can have on an ecosystem — even on its tiniest members — are detailed in a paper in the journal Proceedings of the National Academy of Sciences. The report maps out how two invasive species affected the microbial community of one Wisconsin lake and led to dramatic changes in water quality, algae blooms and toxic conditions. 
Lake Mendota, in Madison, Wisconsin, has seen two such invasions in the last 15 years. Researchers documented large populations of an invasive zooplankton called the spiny water flea in 2009, then spotted the early stages of a zebra mussel infestation in 2015.
Lake Mendota is part of the North Temperate Lakes Long-Term Ecological Research site, a project funded by the U.S. National Science Foundation that has allowed scientists at the University of Wisconsin-Madison and other institutions to monitor conditions in the lake for more than 40 years. 
Robin Rohwer, lead author of the study, wanted to know what these invasions meant for the microscopic organisms she studied. Luckily, Lake Mendota is home to a long-term research program that has been collecting data on the lake since the early 1980s. Those data allowed Rohwer and her colleagues to get a clearer picture of the substantial changes that followed the zebra mussel and spiny water flea invasion.
"We looked at the microbial community on three levels and saw major changes in all three," says Rohwer, who is a researcher at The University of Texas at Austin. 
She and her colleagues found that following both the spiny water flea and the zebra mussel invasions, cyanobacteria (often called blue green algae), were beginning to appear in the lake earlier each year, interrupting Lake Mendota's usual spring clear-water phase and kicking off harmful algae blooms, which effectively extended the lake's algae "season." 
What's more, the diversity of cyanobacteria in the lake substantially increased during the summer seasons. It wasn't just a few new species showing up, Rohwer says, but changes in the fates of entire genera, families and even orders of these microbes.
In addition to increased diversity and longer cyanobacteria seasons, the scientists detected a second shift — a dramatic increase in toxic water conditions after the zebra mussel invasion. They examined water samples for microcystin, one of the more common toxic compounds produced by some cyanobacteria. "We saw an increase in early summer toxicity and a lengthening of the toxin-production season," Rohwer says. The time Lake Mendota spent each year with detectable levels of microcystin increased, on average, by more than 50 days. 
Surprisingly, the increase in these toxins wasn't due to an increase in the cyanobacteria that are known to produce them. Somehow, toxic conditions in the lake lingered after the earlier season blooms had passed. "We think it might be due to a more complex ecological reason — like microbial community interactions or nutrients shifting with the zebra mussel invasion," Rowher says. "It's not just a simple change, like more cyanobacteria making more toxins."
As the researchers write in their report, these findings of widespread impacts throughout Lake Mendota's microbial community "demonstrate the interconnectedness of microbes with the broader food web and their susceptibility to long-term environmental change."
Adds Francisco (Paco) Moore, a program director in NSF's Division of Environmental Biology, "The ability to predict toxic cyanobacteria blooms is critical and has been elusive. This study demonstrates that rather than tracking a particular indicator, we need to understand the community dynamics. Improving that understanding can save lives down the road."