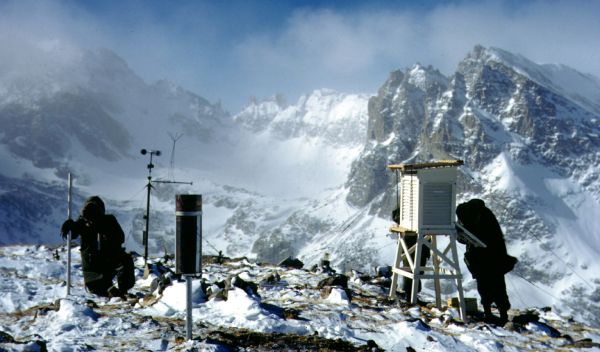 Earth Week: The Search for White Gold--Snowmelt
Thin snowpack puts ecosystems and water resources in critical condition
Find related stories on NSF's Long-Term Ecological Research Program at this link. Find related stories on NSF's Critical Zone Observatories (CZOs) at this link.
An American exodus, it's been called, the largest "migration" of people in modern U.S. history.
It happened during the 1930s Dust Bowl, when severe drought conditions coupled with erosion brought about an environmental catastrophe. Choking dust storms caused major economic, ecological and agricultural damage in Texas, Oklahoma and parts of New Mexico, Kansas and Colorado.
Ill winds blew across fields, plucking deep-rooted grasses and carrying them hundreds of miles. Farmlands disappeared and homes were destroyed. These "black blizzards" swirled all the way to East Coast cities such as New York and Washington.
On April 14, 1935--"Black Sunday"--20 of the worst of the storms turned day into night. More than 500,000 people were left homeless. Most headed due west in search of work. Some, victims of dust pneumonia or malnutrition, never made it.
For today's residents of states like Colorado, that scene is long ago and far away. Or is it? On Earth Week, with much of the Mountain West in an extreme drought, people in the Four Corners are wondering.
The search for white gold
The answer lies in white gold: snowmelt.
"Snow and its meltwaters are indeed white gold, and they're getting harder and harder to find," says Mark Williams, an ecologist at the University of Colorado Boulder and principal investigator of the National Science Foundation's (NSF) Niwot Ridge Long-Term Ecological Research (LTER) site in Colorado.
In western North America, snow typically begins to fall in November. It piles up, reaching its peak in April. In the Rocky Mountains region, 85 percent of the water resources come from snow as it eventually melts.
At Niwot Ridge, ecologists are prospecting for white gold, no easy task at 9,800 feet up.
Niwot Ridge is one of 26 NSF LTER sites in mountain, prairie, coastal and other ecosystems around the world. The sites are primarily supported by NSF's Directorate for Biological Sciences, with major additional funding from its Directorate for Geosciences.
Niwot Ridge is part of the Boulder Creek, Colorado, watershed, where scientists at NSF's Boulder Creek Critical Zone Observatory (CZO) are also looking for white gold.
Their search takes them into Earth's critical zone--the region between the top of the forest canopy and the base of unweathered rock. Boulder Creek is one of six such NSF CZOs in watersheds across the country.
"The depth of winter's snowpack and timing of spring snowmelt determine how much water we will have the following summer," says Williams, who is also affiliated with the Boulder Creek CZO, "and the extent of a drought that's the most severe since the Dust Bowl."
It's 2013, not 1935. But farmers are again asking whether there will be enough water for their fields.
Water well running dry
At Niwot Ridge and Boulder Creek, scientists face howling winter winds to measure snow depth.
Without deep snows, the researchers are discovering, our water well is running dry.
"Water is critical for recharging soil moisture, keeping plants alive and replenishing stream networks," says Williams. "Those streams and rivers are what feed our reservoirs."
Water in all its forms--vapor, liquid and solid--distinguishes our planet, says John Wingfield, NSF assistant director for Biological Sciences.
"Much remains to be learned about the complex biological processes, and interactions of the biosphere and geosphere, in snow and ice cover," Wingfield says. "Large-scale shifts of snow and ice fields will have major downstream effects. The implications for ecosystems even far removed from high altitude and latitude snow and ice are unknown."
To find answers, Williams, Suzanne Anderson, principal investigator of the Boulder Creek CZO, and colleagues recently conducted a study of water flow on hillslopes of the Colorado Front Range. They published the results in the journal Hydrological Processes.
Other authors of the paper are Eve-Lyn Hinckley and Robert Anderson of the University of Colorado Boulder, Brian Ebel of the U.S. Geological Survey and Rebecca Barnes of Bard College. Hinckley is the lead author.
"The interaction of climate and ecosystems is an example of the critical questions that lie at the interface between scientific disciplines," says Roger Wakimoto, NSF assistant director for Geosciences. "The results from this study will greatly improve our understanding of the hydrologic cycle."
The research, conducted in the headwaters of the Rockies, shows that higher temperatures are shifting the timing of maximum snow accumulation ever earlier and decreasing the ratio of snow-to-rain.
"It's raining a heck of a lot more than it used to," says Williams. "In times past, it did nothing but snow."
A flash-in-the-pan, rain is gone more quickly than snow. Within hours of falling, it evaporates or seeps into the ground, and doesn't have snow's longer residence time on mountainsides.
"The slow melt of mountain snow is what keeps streams and rivers running like spigots turned on," says Williams. "Eventually, they lead right to the taps in our kitchens, bathrooms and yards."
Where, exactly, does the white gold come from?
As scientists at Niwot Ridge and Boulder Creek have discovered, the mother lode is hidden in snow "water towers."
"Water towers" for the Mountain West--and beyond
Mountain ecosystems serve as "water towers" that store winter snow until it's released during spring runoff.
The water towers, however, have sprung leaks.
Sub-alpine forests are becoming warmer and drier during all seasons. At higher elevations, alpine tundra has longer growing seasons, warmer summers, and cool and wet versus cold and snowy winters.
How long a snowpack lasts is affected by what scientists call aspect: whether a hillslope faces north or south.
In the Rockies, lodgepole pines, which prefer colder, wetter climes, dot north-facing slopes; Ponderosa pines cover south-facing, drier slopes.
"You can pretty well guess how much snow a slope will have by which way it faces," says Williams, "and by which tree species grows there."
A tale of two trees
Lodgepole pine-covered, north-facing slopes are usually laden with snow straight through the winter. South-facing slopes, with their Ponderosa pines, have only intermittent snow.
"North- and south-facing slopes at the Boulder Creek CZO are an excellent natural laboratory for studying the effects of climate change on water availability and soil geochemistry," says Enriqueta Barrera, NSF program director for the CZO network, supported by the agency's Directorate for Geosciences.
Williams agrees. "North-facing slopes store more water in the 'near-surface' than south-facing slopes," he says. "On south-facing slopes, water sinks quickly into the deep bedrock."
Earlier snowmelt may be changing those patterns, "which could have consequences for the health and composition of the forest," Williams says, and for water resources.
"Research at sites such as the Niwot Ridge LTER shows how catastrophic large-scale shifts in snowmelt will be," says Saran Twombly, NSF program director for the LTER network.
Lack of snow, for example, led to forest fires like Colorado's High Park fire in June, 2012, and the Waldo Canyon fire less than a month later. The Waldo Canyon fire was the most expensive wildfire in Colorado history. It was also the most destructive.
"White blizzard" falling
It's April 8, 2013: date of the average peak snowpack in the Colorado mountains. Despite this winter's snow drought, the day, perhaps, of a good omen.
"Heavy snow will blanket much of the West," intoned weather forecasters. Blizzard watches went up. Snowplows, fallow too long, once again geared down.
When all was said and done, more than a foot of snow fell across high peaks and low prairies.
It sparkled across the land, until spring sunlight turned it into a precious commodity: white gold.