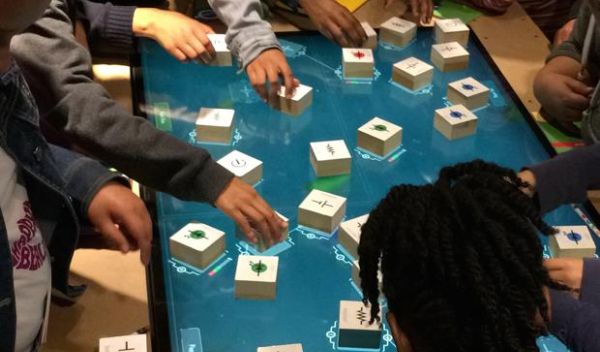 Engineering for all
The "maker movement" shines a spotlight on DIY design and manufacturing
Engineering is enjoying a moment, thanks to the maker movement, a cultural phenomenon that encourages everyday citizens to design, build and create.
"Making encompasses everything from electronics and robotics to woodworking and traditional arts and crafts," says Pramod Khargonekar, assistant director for Engineering at the National Science Foundation (NSF), "and the movement is poised to change the way we think about engineering--from where it happens to who can do it."
Today's engineers are helping to drive many of the technologies that make making possible--from 3-D printers to user-friendly design software. As high fabrication costs and complicated computer programs become a thing of the past, young inventors and DIY (do-it-yourself) enthusiasts can focus on what really matters: bringing their ideas to life.
Making a good first impression
According to Leilah Lyons, first impressions of computer science and engineering count for a lot.
"That's why museums are great places to give kids a chance to encounter these fields--there's more room to present the topics in engaging and playful ways," says Lyons, an assistant professor of computer science and the learning sciences at the University of Illinois at Chicago and the director of digital learning research at the New York Hall of Science, a hands-on science museum in Queens, N.Y.
Together with collaborator Matthew Berland, an assistant professor of curriculum and instruction and member of the Games Learning Society group at the University of Wisconsin-Madison, Lyons is working to understand how activities like making can stimulate curiosity in STEM--science, technology, engineering and mathematics.
With support from NSF, the team is testing a new exhibit at the New York Hall of Science, which weaves basic electrical engineering concepts into a virtual fishing game.
According to Berland, making has great potential as a tool for introducing kids to engineering.
"Making lets kids practice a wide range of competencies that are critical to engineering, like problem-solving, hands-on skills and collaboration," says Berland.
Research shows that an interest in engineering among young people during middle school can predict which students will ultimately end up in engineering careers. Early exposure to making can make students think positively about engineering at this critical age.
One of the ways that making could affect engineering is by encouraging underperforming students and kids who come from backgrounds that are underrepresented in STEM fields to picture themselves in these roles.
According to the investigators, early findings from the New York Hall of Science's research on making include reports from teachers that a number of academic underperformers begin to exhibit sophisticated problem solving, collaboration and construction when engaging in making activities.
"Making has immense power to engage learners who might not have seen themselves as engineers," says Lyons.
The team hopes their research will shed light on how students begin to learn engineering concepts--from how long it takes to work through big ideas, to what they get hung up on. Because the exhibit allows kids to work side by side, they will also gather data on how collaboration and information-sharing affect the learning process.
Creating confidence in the classroom
The maker movement isn't just about generating excitement in informal settings; researchers also believe it may have a role in formal engineering education.
"There's something about the maker environment that encourages people to try again, start over and get it done, and also have fun," says Cindy Harnett, an assistant professor of electrical and computer engineering at the University of Louisville.
Harnett and her colleagues have received funding from NSF to research how a semester-long internship at a local makerspace, a community workshop that enables members to pursue independent projects by providing access to tools and hands-on training, influences the confidence and creativity of students enrolled in undergraduate engineering programs.
The results, so far, are very promising. Students enrolled in the program report increased confidence in their ability to solve engineering problems and a greater appreciation for the importance of project planning.
"Sometimes it seems like a switch flips, and a student suddenly jumps into research mode after years of trying to get the right answers on tests and homework," says Harnett. "If we can use the maker movement to get engineering students into the research mind-set sooner, that is a great benefit."
According to Harnett, another unique aspect of makerspaces is that they are filled with different projects at many stages of completion and complexity--an important aspect of real-life engineering that's difficult to replicate in the classroom.
"It makes me happy to see students learning about unexpected things they bump into at the space--subjects that are outside of their project domains," says Harnett.
From prototype to product
Without the right tools, the maker movement would have had a hard time getting off the ground.
According to Paul Wright, a mechanical engineering professor at the University of California, Berkeley, a number of things happened in the last 10 years that are making it possible for more people to create and build their own one-of-a-kind creations.
"Simple microcomputers are less than $100, 3-D printers have come down in price, design software is more or less free on the web," says Wright.
These tools, conceived of and built by scientists and engineers, help young inventors "jump right in and do something," observes Wright. That said, today's makers will need a little help if they hope to scale up their inventions for commercialization.
With funding from NSF, Wright and collaborator Bjoern Hartmann are working to develop a web-based manufacturing service that they hope will help translate the creativity of students, hobbyists and inventors into products, and help launch new start-ups in a wide variety of consumer sectors.
"If makers want to start a business and make their prototype into a product, they will have to make many more by the thousands and make the product user-reliable," says Wright. "We are providing free access to virtual-expert systems that advise on re-design for robustness, re-design for final assembly, et cetera."
To Wright, one of the best things about the maker movement is the message that creating things can be fun.
"Engineering has always been that that way for those of us on the inside," says Wright. "But maybe we needed another external culture to add a bit more sizzle."