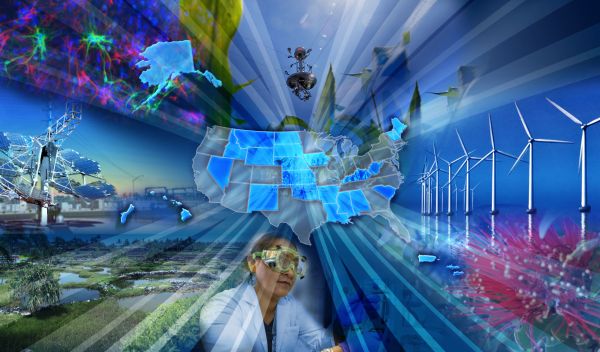 EPSCoR jurisdictions receive NSF investment to build R&D capacity and education
The U.S. National Science Foundation has invested nearly $40 million in nine projects that fund collaborative networks, spanning a total of 20 institutions in 15 jurisdictions, through NSF's Established Program to Stimulate Competitive Research RII Track-2. EPSCoR is designed to build research and development capacity in states that demonstrate a commitment to research but have not received the levels of investment seen in other parts of the country. These grants focus on building interjurisdictional collaborative teams of investigators in scientific focus areas consistent with NSF and national priorities.
This year's projects were focused on "Advancing research towards Industries of the Future to ensure economic growth for EPSCoR jurisdictions." These projects will integrate researchers across EPSCoR jurisdictions to combine expertise for a sustained, effective research and education partnership.
"EPSCoR is exemplary of federal-state-private sector partnerships for catalyzing research and education opportunities," said NSF director Sethuraman Panchanathan. "These projects advance curiosity-driven research and focus on important issues such as STEM education and career opportunities in their communities by establishing regional partnerships with higher education and industry."
The EPSCoR program is designed to fulfill NSF's mission to promote scientific progress nationwide. Currently, 25 states, the Commonwealth of Puerto Rico, the U.S. Virgin Islands and Guam are eligible to compete for EPSCoR investments. Through this program, NSF establishes strategic partnerships with state and federal government, institutions of higher education and private industries to create long-term improvements in scientific research, infrastructures, research and development capacity and national competitiveness.
An overarching goal of the new projects is to promote productive, balanced collaborations across multiple jurisdictions that are sustainable and competitive in their scientific fields and thus contribute greatly to the U.S. scientific enterprise.
The institutions and a summary of each award are provided below.
KANSAS, Advanced Manufacturing of Renewable and Recyclable Polymers - The team from the University of Kansas, University of Delaware and Pittsburg State University aims to develop processes to transform biomass feedstocks into commercially relevant plastic materials and deconstruct recycled plastics efficiently into precursors for reuse. This project focuses on establishing a partnership to develop the knowledge base needed to transition from non-renewable plastics to renewable and recyclable bio-based polymers.
HAWAI'I, Genome Engineering to Sustain Crop Improvement (GETSCI) - The team from the University of Hawai'i and Iowa State University intends to address the problem of decreasing genetic diversity in maize by taking advantage of new germplasm present in tropical lines. Their goals are to establish a rapid and efficient genetic transformation platform and to develop improved genome editing tools to reprogram the flowering behavior of high-yielding tropical maize lines, allowing their incorporation into any maize breeding program. Both states will gain a valuable new capability in genetic transformation and genome engineering which will transform the types of crop research possible at both institutions.
SOUTH CAROLINA, Enabling Factory to Factory (F2F) Networking for Future Manufacturing – The team from the University of South Carolina and West Virginia University focuses on developing cyberinfrastructure to support advanced manufacturing and enable data exchange across the manufacturing ecosystem to increase operational efficiency. This project will adapt, enhance and integrate informational technologies and operational technologies such as real-time secured sensing, high performance computing, wireless communications and artificial intelligence to support process optimization among distributed smart manufacturing systems for factory-to-factory networking.
 Tri-state Research Institute of Manufacturing for Managing CO2 (TRIMMing CO2) - The team from the University of Louisiana at Lafayette, The University of New Mexico, New Mexico State University and West Virginia University will focus on the development of innovative manufacturing processes to advance carbon capture and utilization. The team expect to develop three cutting-edge technologies that will capture CO2 while producing electricity, utilize CO2 while storing electric energy, and convert CO2 to high-value chemicals.
Fundamental Insights into the Durability and Efficiencies of CO2 Electrolyzers - The team from Louisiana State University and the University of Delaware will focus on sustainable chemical manufacturing that could potentially advance the manufacture of carbon products in a more consciously environmental manner. They seek to understand critical parameters that control durability and efficiencies of CO2 electrolyzers, including the underlying science that governs failures. This project will advance electrolytic production of ethanol and ethylene from CO2 and H2O.
Related to the EPSCoR program, NSF also awarded nearly $10 million in supplemental funding to 19 existing RII Track-2 awards to support individuals and institutions that are adversely affected by the COVID-19 pandemic. The supplements are specifically focused on further building networks by providing support to broaden the engagement of researchers from minority-serving institutions. Through this funding, NSF EPSCoR offers opportunities that can help bolster early-career researchers, students and others in the science and engineering enterprise in EPSCoR jurisdictions whose research and research training activities may have been impacted by the pandemic.
More information about EPSCoR Track-2 and a full list of current awards can be found at nsf.gov.