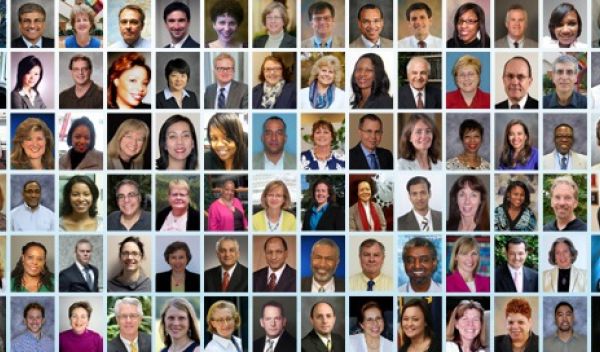 Five great reasons to work for the federal government
At the National Science Foundation, public service means fostering discovery and innovation
Reason #1--The work done by government workers affects people's daily lives
If you've had an MRI, used Google for an online search or watched as lasers scanned barcodes for your grocery purchases, you've benefited from innovations that started with fundamental research supported by the National Science Foundation (NSF). From cloud computing to innovations in manufacturing to award-winning educational television, the discovery science supported by NSF has led to technologies, products and new knowledge that enhance our daily lives.
Reason #2--Government employees collaborate with colleagues to make a difference
NSF staff make up a diverse group that works collaboratively to fund the most cutting-edge research and education in science and engineering (S&E). More than 40 NSF programs are designated as crosscutting and/or NSF-wide and are managed by drawing upon the varied expertise of NSF staff throughout the agency.
The most recent demographic information shows the NSF workforce is 59 percent female, 26 percent Black or African-American, 9 percent Asian and 3 percent Hispanic or Latino. Forty-five percent are science, technology, engineering or mathematics (STEM) professionals, 35 percent are part of business operations, 11 percent are administrative professionals and 9 percent are in management.
Importantly, the activities of NSF staff reach far beyond its Arlington, Va. headquarters. NSF depends on a constant give and take with the research community to identify the frontiers of discovery in every area of S&E and support the best research. This depends on a rigorous system of merit review, described in the accompanying animation.
Reason #3--Government jobs are exciting
Joanna Rom, who is NSF's deputy head of the Office of Budget, Finance and Award Management, agrees.
She's been connected with the agency since she took part in an NSF-supported Saturday mathematics program at Queens College when she was in high school. She will have 40 years of service before retiring later this year.
Rom started as a management intern soon after graduating from Bryn Mawr College. She gained experience working in the Neuroscience, Polar and Science Education Programs before taking on a long-term position in the grants office. Between then and now, opportunities for education, training, and collaborations within and outside the agency have kept her at NSF--not to mention being part of the mission to advance the progress of science.
"How can you not love our mission?" says Rom. "And the business side of the house has the same creative and innovative ethos. We've shown leadership in things such as crafting FastLane, (NSF's pioneering early Internet system for processing grant proposals) and Research.gov (the enhanced, next-generation platform). We've developed policies adopted federal government-wide and been lauded for best practices. Being part of that work is a privilege."
Reason #4--Government workers are busy and productive
Andre Porter, who recently joined NSF as a science assistant, has been expanding his frontiers in government service since he was a college student. He began as an intern at the Environmental Protection Agency (EPA)'s National Center for Environmental Research. After receiving his master's degree from Howard University last spring in behavioral genetics, Porter looked toward his next challenge.
"I've always had a love for science," says Porter. "EPA is focused on environmental topics--they're a mission agency. NSF deals with environmental topics through fundamental research. I wanted to broaden my skill set with large programs that were more nationally focused."
Porter is assigned to NSF's Division of Graduate Education, where a small staff and several programs investing in innovations and student support in graduate education in STEM help promote a robust, diverse and well-prepared STEM workforce.
Reason #5--At agencies like NSF, employees are dedicated to what they do
A compelling mission + interesting work = a dedicated workforce