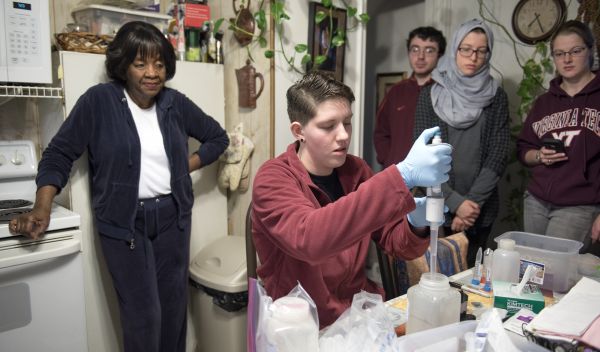 Flint water crisis: For young engineers, a lesson on the importance of listening
Students in engineering ethics class helped uncover lead levels in Flint water, learned to listen to community in distress
Sheldon Masters, a former Virginia Tech Ph.D. student, says he used to think scientists and engineers should be like robots: "emotionally unattached."
But after attending a class entitled Engineering Ethics and the Public: Learning to Listen with dozens of other young engineers at his university, he found his perspective changed.
"After this work," he said. "I realize feelings like empathy and guilt are enormous assets."
Taught by Marc Edwards, a civil engineering professor, and Yanna Lambrinidou, a medical ethnographer, the course enabled students to become active protagonists in one of the greatest drinking water emergencies in recent history.
Developed with support from a National Science Foundation (NSF) grant, the course is intended to explore the relationship between engineering, science and society, and to challenge young engineers to listen more carefully to the voices of the communities they serve.
Edwards has recent widespread name recognition due in part to his leadership role in the 2015 studies that uncovered high amounts of lead in the Flint, Michigan, drinking water. That research received NSF support through a Rapid Response grant.
The recent Flint events unfolded even as Lambrinidou and Edwards taught a class designed to help prevent such occurrences in the future.
Contamination
In the early 2000s, Edwards, an expert in water treatment and corrosion, uncovered elevated lead levels in the Washington, D.C., drinking water. He also published a study documenting a 37 percent rise in fetal deaths in the district during that same period.
These findings resulted in years of often-contentious debate between researchers and local, state and federal authorities. The experience deeply affected Edwards and his colleagues.
"At some point, I realized the problem was the behavior of the people paid to protect us," said Edwards. "It was such a betrayal of public trust that it really shook me to my core."
In 2008, he and Lambrinidou, an adjunct assistant professor at Virginia Tech, decided to develop a graduate-level engineering ethics course to help guide future engineers in critical decisions that affect the public good.
"What happened in D.C. and now is happening in Flint got us thinking about how we as a society are training engineers and scientists to employ their professional power in ways that will affect many, many people," Lambrinidou said. The D.C. case eventually led the U.S. Environmental Protection Agency to revise its lead regulations.
One key element of the course is a seemingly simple act: listening. The professors teach their students to recognize the value of information that comes from unexpected sources.
In the D.C. and Flint cases, community members provided critical data. Local residents in both cases first discovered serious problems with water safety.
Learning to listen
In their class, Lambrinidou and Edwards train students to look beyond official documents to engage with locals and to try to understand the technical and moral relevance of the observations, experiences and knowledge those people can offer.
"Every day was eye-opening," said Emily Garner, a Virginia Tech student who took the class in 2014. "It was really an emotional class to take."
The course also requires introspection from students. On the first day of class, instructors asked the young engineers to write one-page summaries of who they are.
"Some people make the mistake of making it a biography, accomplishments and so on," said Siddhartha Roy, who took the class in winter 2012. "But the point is you try to find out who you are as a human being."
At the end of the semester, students reflect on how their perspectives have changed since the personal summaries were written. According to Roy, the change can be dramatic.
"The class helps you put into place checks and balances on who you are as a person," he said. "To help keep you on course so you won't get lost later on."
Flint as a case study
For the Virginia Tech project, the initial curriculum involved an in-depth review of the D.C. lead crisis for lessons learned.
As part of the D.C. drinking water case study, Edwards and Lambrinidou's students were required to talk with families who were affected by lead contamination. The young engineers met affected individuals face-to-face, an experience intended to drive home how engineering -- and the decisions made by engineers -- can have profound public health impacts.
Then, in August 2015, the Flint water problem emerged and history began to repeat itself.
Due to the parallels with the D.C. case, Edwards decided to adopt the Flint situation as the class case study for 2015.
William Rhoads took the course in 2012, and helped current class members sample Flint water to determine whether it was safe to drink.
"When we went to Flint, we met with local leaders to listen to the community's concerns," Rhoads said. "The public has a very special knowledge that can be overlooked unless you actively listen."
He was also mindful of invisible influences. Mistakes can happen when an individual blindly follows a group, he said. And standing up for personal boundaries can come at a price.
"The class taught me you have to be on high alert for things that pressure your decision-making. Otherwise, decisions can be made for you."
Rhoads and his fellow students witnessed the powerful good that environmental engineers can do in high-stakes situations.
Thanks in part to Edwards' research group, the drinking water contamination in Flint has received national and even international attention -- and the community is getting help.
An infusion of ethics
Many educators have recognized the need to put greater emphasis on ethical behavior in science and engineering education (S&E) in recent years.
One NSF-funded study published in 2013 found that some college engineering environments were actually creating a "culture of disengagement" with public welfare, perhaps due to too much emphasis on technical problems and not enough on connections with the communities they serve.
NSF has long-funded efforts to try to strengthen ethics education in S&E, such as projects through the Cultivating Cultures for Ethical STEM program.
Elliot Douglas, NSF program director for engineering education, references a recent NSF-funded report by the National Academy of Engineering, which details 25 exemplary ethics programs and activities across the country (including the Learning to Listen course), many of which were developed with NSF support. There are also new online resources, including an Online Ethics Center.
"Ethics is one key area of interest in NSF's broader efforts to improve the professional formation of engineers and scientists," Douglas said. "Consideration of ethics needs to go beyond professional codes to teach students how to think about the values they bring to their work."
For many engineering students, the desire to improve people's lives is why they decide to become engineers.
"In undergrad, I struggled because I didn't know whether I could actually be able to help others through a career in engineering," Garner said. "That seems silly in hindsight, because this class made me realize I really can make a difference, so it was very affirming."
For Lambrinidou, that point is key. She wants to catch young people at a critical stage, when their desire to make a positive difference in the world is strong. She calls that point in life the prime time to reinforce ethical behavior -- and her students back that assessment.
"I tell people the class changed my life," Roy said. "And that is an understatement."