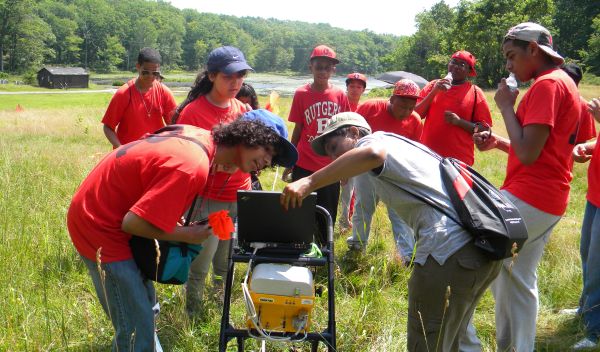 Forging the path
Geoscience program blossoms into statewide effort to broaden participation in science and engineering
The oil game is simple enough: A box covered on all sides except the top, which is a grid, represents a cross-section of Earth. High school students play the role of geologists, drilling for oil under a budget. Either they drill willy nilly and spend money in vain, or they buy and analyze data to successfully strike it rich.
Simple enough, but "kids go bonkers" for it, says Alexander Gates,a professor of geology at Rutgers University-Newark. He crafted the oil game years ago, sparked by a realization that the reason Rutgers' large minority student population dropped out of geosciences--or avoided the major entirely--was because they didn't really know what geoscience was.
So Gates took the oil game, and other hands-on activities, to local classrooms. He brought undergraduate students as facilitators, added summer camps and museum days, and soon "the whole thing took off."
None of his minority students dropped out of geosciences. Some went on to graduate school in the field, something which hadn't happened at Rutgers-Newark for decades.
The National Science Foundation (NSF)-funded project, called Highlands to Piedmont: Geoscience Scholars Program (the name an homage to New Jersey's physiographic regions), was also the seed for a much larger project, one that aims to boost the number of minority students successfully studying science, technology, engineering or mathematics (STEM).
The Garden State Louis Stokes Alliance for Minority Participation (LSAMP), also NSF-funded, is a consortium of eight colleges and universities in New Jersey. In four years, the LSAMP has increased minority STEM graduation rates among those institutions by 100 percent.
"I get really excited about what I do," Gates says of his geoscience career. "At some point I wanted to give back on the benefits I found in this field."
Transforming students into geoscience scholars
Highlands to Piedmont began in 2007, focusing on high school students in the Newark Public School District, the largest district in New Jersey. The student population is predominately African-American and Hispanic.
From the start, the program strove to make geology relevant. Instead of poring over stratigraphy charts of the Grand Canyon--a far-off place many students had never seen--Gates uses activities like the oil game, something students can touch and hold.
The program includes a summer camp, filled with research, field trips, and visits from industry representatives. One year, scholars employed ground-penetrating radar to uncover long-hidden graves in a historic slave cemetery. Another year, they used the same technology to identify skeletons of Revolutionary War soldiers at a battlefield in Stony Point, N.Y.
"Many of our students, they were the first generation in their family to even consider attending college," Gates says. "All they know is what they see." And what they see isn't often professional geologists. Animating the field with hands-on lessons, however, while placing it in practical terms--a way to attain a good job--piques student interest, Gates says.
But the program hasn't animated geology for the high schoolers alone. Rutgers undergrads--Gates' students, minorities themselves--help teach the lessons. Working with young students, being seen as a role model, helped encourage them to complete geoscience degrees. The attrition rate for Gates' minority students dropped to near zero. They became confident, tenacious: When one ended up flunking out for poor grades, she got herself into community college so she could re-enter Rutgers.
"I have been so impressed with this project," says Jill Karsten, program director for education and diversity in NSF's Directorate for Geosciences, which funds Highlands to Piedmont. "[Gates] raised the profile of geoscience within the larger Newark community." It built a pipeline of young students who wanted a geoscience degree: A geology course created at one of the participating high schools and offering dual credit at Rutgers now has a waiting list. The local community college, Essex County, began offering an introductory geology course for the first time in 30 years.
One student, presenting on his experience with Highlands to Piedmont, said: "As a Black American, I have to help pave the way for those that come behind me so that my people can continue to obtain success, happiness, and freedom."
The Highlands to Piedmont NSF award expires in the spring of 2015, though Gates now receives some funding from ExxonMobil and Langan Engineering, a geotechnical firm with offices in New Jersey, to support his students.
Transforming students into STEM professionals
This past July, Flomo Kokro was one of the hundreds of Rutgers graduates wearing a cap and gown. He was likely the only one, however, also wearing the ID card of a friend murdered in gang violence around his neck.
The Garden State LSAMP scholar overcame a rough upbringing in Trenton, N.J.--plagued by crime, violence and jail time--to flourish as a LSAMP student. Kokro's next move is to California State University, Los Angeles, where he will work toward a doctorate in applied mathematics. Kokro is a "poster student," for how LSAMP can succeed, Gates said.
NSF has supported the LSAMP program at large for more than two decades. Universities and colleges across the country use the funding to increase the number of minority students graduating in STEM disciplines. The ultimate goal is to diversify America's science and engineering workforce.
The Garden State LSAMP, founded in 2009, includes nearly 3,000 students spread among eight institutions. Once accepted as an LSAMP scholar, students receive a research stipend and help navigating a path through the world of undergraduate STEM education.
"Every step along that path, we have guideposts," says Lucy Foster, Garden State LSAMP assistant director. Scholars are paired with peer and faculty mentors. They get help finding research internships. Tutoring happens via monitored online classes, since many scholars are commuter students juggling family responsibilities and jobs. If grades start dropping, scholars dive into academic boot camps: one group of 28 students, with a combined GPA of 1.8 in math, bumped it up to a 3.45 after the camp.
"We're never afraid to challenge these kids," Foster says. They're constantly striving to make scholars see themselves as such: to see themselves as future research scientists, future graduate students.
The effort has paid off. The LSAMP doubled the number of minority students graduating with STEM degrees in just four years. Before the LSAMP, Rutgers-Newark had 39 minority students graduate with a STEM degree. That increased to 100 after three years. The program recently received a phase II LSAMP grant from NSF; Gates says he wants to focus on helping scholars navigate post-graduation, to a career or higher degree.
For Foster, the most exciting outcome of the LSAMP is the transformation it sparks in STEM-wary students, those who thought scientific research "was for the geniuses of the world." She hears often from these students, and how LSAMP helped reveal a love of the sciences.
"It doesn't matter where they start," she says. "It matters where they end up."