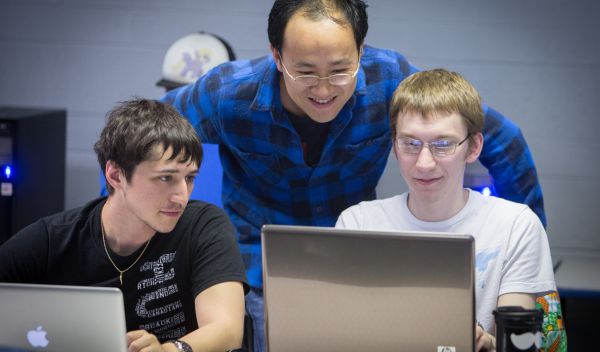 Igniting change in Vehicle City
Kettering University leads effort to improve city services in Flint, Mich., through high-speed networking
Flint, Mich., the former home of General Motors, is on the rebound these days. Leaders there believe they have hit on a winning formula--connecting the city's institutions to high-speed networks that support new, game-changing capabilities.
Through grants from the National Science Foundation (NSF) and the U.S. Department of Justice (DoJ), Flint is beginning to lay the groundwork for an information technology-driven transformation.
In June 2012, Flint was one of 16 initial cities that were part of US Ignite, a public-private partnership designed to capitalize on the possibilities of ultra-fast broadband networks and "ignite" the development of next-generation Internet applications and services with societal benefits.
Kettering University--formerly General Motors Institute--was designated the lead research institution for the city.
High-speed networking wasn't really on the radar of John Geske, a professor of computer science at Kettering University, before Flint joined US Ignite.
"I was busy running a computer science department and the last thing on my mind was networking applications," Geske said.
But because of the US Ignite award, he started attending application summits and other meetings and realized the possibilities that were available at his doorstep.
"The community that you start to create and the contacts you make are just invaluable," he said.
Connected schools
Phase One of making the city a gigabit hotbed involved taking a step back and uncovering what was already available in the community.
Geske learned that the entire city school system, as well as the schools in 21 schools districts in neighboring Genesee County, had formed the GenNET consortium in 1995 and were already connected by a high-speed, fiber-optic network. Moreover, the schools were connected to the city's four higher education institutions via the Flint Area Network for Educational Telecommunications.
With these capabilities in place, students in the school district experienced unique learning opportunities. For instance, students were able to remotely control an exploratory submarine in real time near the Barrier Reef and communicate with astronauts on the space shuttle. Genesee County students were even able to dissect a sheep's brain via a telemedicine class remotely led by a doctor at Northern Michigan University.
"The GenNET fiber-optic network allows us to reduce the cost of technology services while providing a powerful platform for delivering virtual learning," said Luke Wittum, executive director of Technology and Media Services in the Genesee Intermediate School District.
US Ignite extended this already capable base and provided dedicated 10 gigabit-per-second network connections to the universities and libraries in Flint and to other gigabit cities around the nation, on unique, programmable hardware.
With ultra-high-speed, high-capability Information Technology in place, technology leaders hope to leverage the existing fiber-optic networks to provide immersive virtual reality learning to all students in Flint and Genesee County.
"What if a student could step inside of a human cell, stand at the bottom of the Grand Canyon, or visit a historical place?" Wittum asked. "This opportunity could make learning more engaging and also provide some students who may have never been outside of the county or state to visit another part of the world."
Safer, smarter neighborhoods
Flint areas schools aren't the only target for transformation through high-speed networks. Early meetings with city officials and university representatives determined that public safety could be a focus of the US Ignite networking projects, too.
Together with stakeholders in the Mayor's office and the university, they envisioned a university corridor where improved surveillance, responsive lighting and targeted policing could lower crime and encourage development.
"US Ignite provides the city of Flint with opportunities to make the community safer by automating utilities--turning on all lights in an area where a crime has been reported, for example, or by giving law enforcement access to high-speed, real-time, high-definition video on demand," said Kettering University President Robert K. McMahan.
"We may not be able to have a full smart city yet, but a smart neighborhood is entirely possible," noted Geske.
These forms of "smart policing" rely on networks of sensors, cameras and analytical tools that require fast networking and access to powerful computing. The Kettering project has these in the form of GENI hardware.
GENI is an NSF-funded experimental, ultra-high-speed, programmable networking testbed that allows researchers to test new networking ideas at-scale.
There are more than 180 GENI sites around the world--and Flint is one of a few cities that is already leveraging its GENI connections to advance application concepts and prototypes for public benefit and in support of the US Ignite initiative.
In part because of the strength of the existing resources and the community of stakeholders they had developed, Kettering University was awarded a $1 million grant in 2014 from the U.S. Department of Justice as part of DoJ's Byrne Criminal Justice Innovation Program. The grant helps Flint develop and implement sustainable crime prevention strategies in the University Avenue Corridor in order to convert the neighborhood into a vibrant region. One strategy is data-driven policing.
"There are lots of pockets of information and it's hard for a researcher to gather it all together to find out if there are certain patterns," said Geske. "Once you pinpoint that, you can look at the area, figure out what's going on and decide what to do."
In an early collaboration with Flint police, Kettering researchers identified a particular pattern of criminal activity along the corridor. In this case, using data analytics, the university identified a property as a magnet for robberies--and purchased and revamped it to reduce crime in the area.
Geske hopes to enable this kind of smart policing citywide by building a cloud computing platform that enables the city to amass crime statistics and provides public access to the data.
In the future, officials imagine the avenue wired with lighting, air quality sensors, smart lighting and even autonomous vehicles or drones connected to the high-speed network. The GENI equipment will be used as a testbed to explore some of these possibilities.
Networked care
A third focus area for Flint is medicine, where Kettering is spearheading a partnership with the University of Michigan-Flint and Mott Community College, as well as with three major medical centers near the city.
Through this partnership, students, faculty, clinicians and researchers in the Flint area will be able to collaborate with instructors from around the country and have direct access to new tools to provide exceptional patient care. Officials even hope to use high-speed networking technologies to bring specialists together in a virtual office to make diagnoses.
With such technology in place, President McMahan says "individual patients seeking medical care at our partners in Flint will always have access to the latest advancements in healthcare no matter where in our country they originate or reside."
With the city as a testbed for creative technological solutions to civic problems, it will be interesting to see how advanced IT can impact education, policing and health care in the city.
Said Erwin Gianchandani, deputy division director for computer and network systems at NSF, "Pilot projects like those in Flint and other cities across the country are demonstrating the value of ultra-high-speed, programmable networks in our communities and helping the nation envision the possibilities of a faster, safer, smarter future Internet."