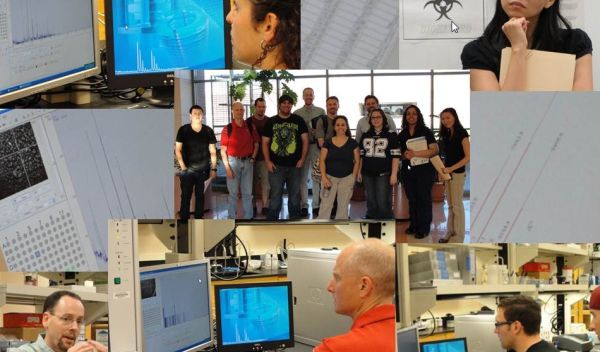 Igniting students' passion for science
Environmental scientists connect with community colleges and diverse communities to engage in STEM topics
Environmental scientists Todd and Susannah Sandrin both want to ignite students' passion for science. But they are using different approaches and age groups to get there.
Susannah Sandrin works with fourth graders and their parents, trying to discover how gender, ethnicity and socioeconomic status of families influence children's attitudes about science, with the goal of developing "best practices" for teachers and parents to keep kids engaged in STEM (science, technology, engineering and mathematics) topics.
"Students develop their attitudes--and stereotypes--at a very young age," she says. "We need to look at them early."
Todd Sandrin spends most of his time studying mass spectrometry-based approaches to characterizing bacteria of environmental and medical importance. Nevertheless, he has created an educational project important to him, designed to expose community college students to the kind of technology that typically wouldn't be available to them.
With support from the National Science Foundation (NSF), he helped a nearby community college secure funding for an entry level nuclear magnetic resonance spectroscopy (NMR) unit so the students could gain early hands-on research experience, a rare opportunity in a community college setting.
The aim is to make them comfortable with the technology and encourage them to transition to a four-year college with a science career in mind. "The challenge is that community colleges typically lack the requisite resources to support purchase of an NMR," Todd Sandrin says. "While community colleges provide outstanding in-class coverage of organic chemistry, and include nuclear magnetic resonance, they often don't have the resources to have an actual NMR on-site."
He hopes to expand the program to other states and their community colleges in the future.
The Sandrins, who met in graduate school and married shortly thereafter, are on the faculty of the Arizona State University (ASU). He is associate vice provost, associate dean and associate professor in the school of mathematical and natural sciences, while she is an assistant clinical professor of science education there.
NSF is funding both education projects, hers with $250, 687 over three years; his with $250,000, also over three years.
Susannah Sandrin's study is investigating the role of gender and ethnicity in how parents solve science problems with their children, including how parent gender, child gender, and ethnicity affect science attitudes, problem-solving approaches, as well as parental help and encouragement, and the discipline of science problem that they prefer. She is collaborating with another scientist at the University of Wisconsin-Oshkosh, who is receiving an equal amount from NSF.
"Few studies examine the influence of parents, and the combined effects of gender and ethnicity on science problem solving and interest," she says.
She and her team are working with 150 families from across the Phoenix area, with an emphasis on diversity, including a balance of Hispanic and non-Hispanics. Fourth-graders participate, along with one of their parents, starting with a science assessment of both parent and child, each of whom takes the same test. Interestingly, "sometimes the parent is more nervous than the child, since they're not used to taking tests anymore," Susannah Sandrin says.
During the session, the parent and child spend the majority of the time solving hands-on science problems together. Sandrin and her student researchers also plan to host family science fun nights in the participating school districts featuring a half-dozen or more stations, each with a different science activity. Ultimately, they hope to work with schools to help teachers understand the impact of gender, ethnicity and stereotypes on the children in their classroom.
"How do parents influence their children's interest, attitudes and problem-solving skills?" she says. "We are looking at it in terms of gender, ethnicity, parents' profession and education, as well as physical versus life sciences."
For his part, Todd Sandrin is working with Glendale Community College in Glendale, Ariz. to teach its students how to conduct hands-on research using nuclear magnetic resonance spectroscopy, a machine that uses the magnetic properties of certain atomic nuclei to determine the physical and chemical properties of certain atoms, or their larger molecules.
He conceived the idea with an ASU colleague, Carl Wagner, an assistant professor in the school of math and natural sciences, and Jason Serin, who teaches chemistry at Glendale. "[We] thought: Wouldn't it be great for the students to get hands-on experience with these tools?" Sandrin says.
With NSF support, the school was able to buy one.
"It's an entry level, rugged 60 Mhz unit that doesn't require a lot of maintenance but allows students to gain real-world, practical experience with NMR," he adds. "They use it to do work for their classes, and present their work in posters at a research symposium at ASU, and, in doing so, they become accustomed to the nature of the scientific process. ''
Once they are comfortable using the NMR unit at Glendale, they then spend time at the university on its higher field (400 MHz) NMR, with the hope that they ultimately will transition to the university--and a future career in scientific research. "What better way to introduce them to the university than in this friendly and high impact way," he says.
"They've been some of the best students in terms of research performance," he adds. "Students say they never thought it was a possibility until they experienced it here."
Todd Sandrin, who worked one summer at the University of Arkansas as a summer research fellow, can relate. "As an undergraduate, my first experience with research was particularly transformative for me, both personally and professionally," he says.
"I realized that life science research was what I wanted to pursue," he adds. "I've had the good fortune throughout my career of being able to build undergraduate research programs that I hope provide this and future generations of students with truly transformative experiences."