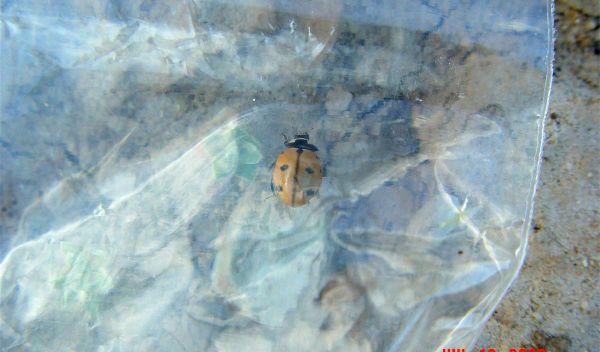 'Lost' Ladybugs Found Again in South Dakota
Research entomologist Louis Hesler takes readers along as he and others search for types of ladybugs that were once common but have become extremely rare in eastern North America
I was frustrated. I had been searching for years for the so-called "lost ladybugs," but hadn't found any.
It was 2008, and only a few had been found by anyone in the last three decades, although they were once common in many areas, especially crop fields such as wheat and alfalfa.
There are actually hundreds of kinds of ladybugs, but three in particular--the two-spotted, nine-spotted and transverse ladybugs--seemed to have vanished from the landscape of eastern South Dakota.
Research scientists publish findings from their observations and experiments. So, I began to question myself. "How can I, as a scientist, publish my findings of 'no findings?'" I wondered if maybe my methods and approach were wrong.
I had been working from three hunches about the fate of lost ladybugs. First, maybe the once-common lost ladybugs would recover in abundance on their own, as some populations of insects have rebounded after prolonged periods of sparseness. There was added hope for this since populations of the soybean aphid had recently exploded in soybean fields of the north-central United States, providing a new prey source for ladybugs. Nonetheless, after years of sampling soybean and other crops, I had not found the lost ladybugs.
A second possibility was that lost ladybugs had moved from crop fields to habitats such as prairies, tree belts or weedy patches. At about the time native ladybugs were lost from crop fields, two kinds of ladybugs imported from Eurasia--the seven-spotted and multicolored Asian ladybugs--had become plentiful in fields over much of North America. The apparent aggressiveness of these newly established ladybugs may have forced some of the native ladybugs into non-crop habitat in order to minimize competition. However, despite searching various habitats, I was still unable to detect lost ladybugs.
I then followed up on a notion that the ladybugs may have only been lost locally, and that I could find them by simply surveying a few hundred miles from my workstation. This led my colleagues and me to venture into southeastern North Dakota, Iowa and Minnesota, but sampling again failed to yield any lost ladybugs. More importantly, based on similar surveys by scientists in other regions, there was also increasing alarm that lost ladybugs had become extremely rare throughout eastern North America.
However, a glimmer of hope arose after Robert Kieckhefer, a retired U.S. Department of Agriculture (USDA) entomologist, found two-spotted ladybugs in western South Dakota. This finding sparked a hunch that lost ladybugs might fare better in more arid western North America. So, I called Michael Catangui, an entomologist at South Dakota State University who heads up the National Science Foundation (NSF)- sponsored Lost Ladybug Project with me in South Dakota. Buoyed by Kieckhefer's recent finds, we headed to western South Dakota with sweepnets and other gear to sample for lost ladybugs.
We arrived in the Badlands of western South Dakota on a typical June day--sunny, fairly hot and breezy. We sampled roadside vegetation and various patches of grasses and forbs within and around Badlands National Park, finding various ladybugs but not lost ladybugs.
At sunset, while sampling roadside vegetation near the southern unit of the park, Mike called excitedly to me from about 10 yards away. "Hey, Louis. Come see what I have," referring to the nine-spotted lady beetle he had just found on a curlycup gumweed plant.
"Okay," I replied, "but maybe you should first see what I found," as I carefully teased a nine-spotted lady beetle from gumweed into a container and headed toward Mike.
We fondly remember our simultaneous discoveries. "We had searched for lost ladybugs all day, and been stumped. Then, as daylight was fading, each of us independently found a nine-spotted lady beetle. Remarkable!" Catangui recalls.
Soon afterward, John Losey, the entomologist in charge of the Lost Ladybug Project at Cornell University in Ithaca, N.Y., joined the hunt for lost ladybugs in western South Dakota. John and I found transverse and two-spotted ladybugs at several spots there. That same summer, colleagues conducting grasshopper surveys in western South Dakota found more nine-spotted ladybugs, and I found both transverse and nine-spotted ladybugs during a survey of sites in western Nebraska.
The presence of lost ladybugs in western South Dakota and western Nebraska fits a pattern in which most recent finds have occurred in western states. Many of these recent finds were submitted as digital images by citizen scientists to the Lost Ladybug Project website, run by Losey and colleagues at Cornell. Our recruitment of citizen scientists to the project was paying off. Now, both they and the entomologists on the project were finding lost ladybugs. And my self-doubt had faded as I realized lost ladybugs actually were hard to detect in the east, but could be found in western states.
These findings raise questions as to why lost ladybugs are more easily found in western than eastern parts of North America, and why their populations have declined in general.  Entomologists on the Lost Ladybug Project are now avidly seeking answers through field and laboratory experiments.
-- Louis Hesler, USDA ARS North Central Agricultural Research Laboratory, Louis.Hesler@ARS.USDA.GOV
This Behind the Scenes article was provided to LiveScience in partnership with the National Science Foundation.