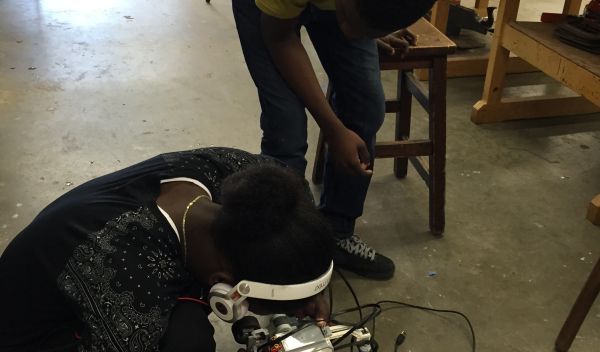 Making Makers in Nedlam's Workshop
Makerspace at Massachusetts high school lets diverse students design new technologies
When the Malden City Council announced they were shutting down the high school's woodshop and reclaiming the space for municipal use, citizens in the working-class town outside of Boston protested.
Given the city's long history of manufacturing, the people of Malden felt the woodshop was important to their students' education. They prevailed and the shop stayed open, but when its teacher retired a few years later and the city decided not to rehire for the position, the shop again faced the threat of closure.
What's a school to do when faced with the loss of a space for learning and creative expression?
"When this space is in Malden High School--an urban high school in the center of Malden, Massachusetts and thought to be the most diverse high school in the state--you close your eyes and dream of bigger things to come," said principal Dana Brown.
Brown reached out to Brian Gravel, an assistant professor and director of elementary education at Tufts University's Department of Education, which had previously placed teachers-in-training at Malden.
"The principal approached Brian and said 'We have this giant woodshop that the city is going to take over and use for repair. That's a real bummer for my students. Would you be interested in doing something?'" said Ben Shapiro, one of Gravel's research partners, currently at Tufts and soon to be a professor of computer science at the University of Colorado.
Gravel and Shapiro submitted a proposal for an Early-concept Grant for Exploratory Research (EAGER) to the National Science Foundation (NSF), which provided around $300,000 to help found and support "Nedlam's Workshop," a makerspace at Malden High.
In addition to providing a great space for students to make things, the project is studying how teachers can learn to adapt their lessons to open-ended, self-directed and fabrication-rich makerspaces in ways that are responsive to the needs and interests of the students, their families and the surrounding community.
Helping kids to see themselves as makers
The tools, computers and gadgets in Nedlam's Workshop might imply that the makerspace's main purpose is to teach students technical skills, but that's just one benefit it provides.
"At the heart of it, it's not so much about any specific technology as how we can develop kids' identity as people who can do this kind of stuff," Shapiro said. "And how we can change the perception of teachers and administrators in the process."
Demographically, young white males populate most makerspaces in the United States, but Nedlam's Workshop is used mostly by Haitian girls--recent U.S. immigrants, many of whom do not speak English fluently and struggle with traditional classes. Nedlam's Workshop offers an alternative mode of learning and expression.
The workshop initially opened last September as an afterschool learning center where students had the freedom to create whatever they wanted. The researchers used this time to get a handle on students' interests and on the issues in their lives. They learned that students worried about having their devices stolen when they occasionally had to charge their phones at public outlets--a typical high-school concern.
In January, when the team began teaching an elective class on making at Malden High, they used that problem as the basis for a class project. Could students design systems that would alert their owner when their cell phone was in danger?
Shapiro said the project illustrates the workshop's approach to making.
"What are the kinds of things this population would like to make? And how do we enable them to do it?" Shapiro asked.
To find out, they had students walk through the school and then talk with relatives, asking questions and performing needs-assessments in their homes and community. Afterward, the class discussed the needs they observed and formed teams of two or three students to design prototypes that would address the problems they had identified.
While instructors ground their projects in their students' lives, they also bear the responsibility to make sure the work involves engineering and design, rather than simply crafting or construction. (They still allow students to come after school to work on whatever projects they want, though.) Tufts assembled a strong team of instructors for the course, including Dan Wise, a former teacher at the Gary and Jerri-Ann Jacobs High Tech High, a San Diego charter school, and Riley Meehan, a graduate student studying engineering education.
"The research is anchored in identity and capability, but it's also about how to enable kids to do inquiry and authentic problem-solving," Shapiro said. "We're creating a model by which all kids, whether they're the top academic achievers or the bottom, fluent English speakers or not, are vital to today's economy."
Designing for the Internet of Things
Unlike most other makerspaces, Nedlam's Workshop allows the students to design objects that can be connected to the Web, making them part of what's known as the Internet of Things. Called BlockyTalky, the workshop's toolkit lets students embed computing in the objects they own or use.
Created by Shapiro and collaborators in the Laboratory for Playful Computation (LPC) with support from NSF, BlockyTalky allows anyone to customize a device or give it the capability to communicate with Web services or other mobile devices. For instance, members of the lab built an Internet-connected, remote-controlled cat feeding system.
Students in the class also learned how to use the Massachusetts Institute of Technology's App Inventor, a free tool that let them build applications for Android phones and tablets, even if they lack prior coding experience.
With these tools at their disposal--as well as LEGO bricks, Arduino microcomputers, paper, cardboard and a lot of wood--students in the inaugural class built a foosball table with a scoreboard that automatically registers goals, and a smart garden that can sense when its flowers need water. LPC graduate students Elise Deitrick and Matt Ahrens support the students in their use of these new technologies.
"Making, ultimately, is about empowering people to not just be consumers, but also producers of technologies that help people achieve important goals," said Chris Hoadley, a program director at NSF. "Projects like this, that focus on how making can be part of school and also part of people's everyday lives, are not only a way to broaden participation in the STEM [science, technology, engineering and math] subjects, but also a way to empower people more generally, which is so important in making our nation more just and equitable."
Training the trainers
This summer, the researchers entered the next--and perhaps most critical--phase of the project: working with teachers from the school to determine how Nedlam's Workshop can best be integrated into the school's existing curriculum.
"We're showing teachers the portfolio of student work and giving them a deep dive into what the students can do--even if the student doesn't speak English," Shapiro said. "The next step is to work together to redesign a unit from their class for this making work."
The challenge, and the promise, of integrating making into the school setting lies in finding rich and relevant ways to bring the maker-directed, inquiry-rich practices of engineering, arts and computing into the classroom. No easy task, given the demands teachers already face.
By designing both in-school and afterschool courses, leading teacher professional development and engaging in unique community partnerships with schools including Bunker Hill Community College, the team is advancing the understanding of how making and schooling can be integrated to create rich learning experiences for all students.
So far, students and administrators are thrilled with what they've seen.
"It has been a whirlwind several months in our freshly designed space," principal Brown said. "But we know we are going in the right direction. The students have told us so. More importantly, they have shown us."