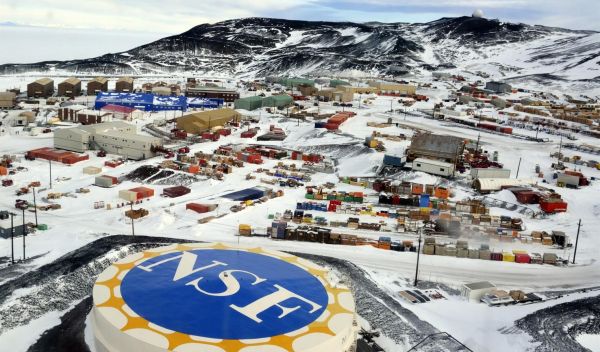 Modernization of NSF's logistics hub in Antarctica ready to move forward
The National Science Board (NSB) has authorized the National Science Foundation (NSF) to move forward with the Antarctic Infrastructure Modernization for Science (AIMS) project. AIMS is planned as a 10-year undertaking to overhaul McMurdo Station into an energy- and operationally efficient platform from which to support world-class science. Through its Office of Polar Programs (OPP), NSF manages the U.S. Antarctic Program, which funds and facilitates the nation's scientific endeavors on the southernmost continent and the waters around it.
AIMS addresses major recommendations by two external expert groups on the future of research and research support in the Antarctic. The first report, "Future Science Opportunities in Antarctica and the Southern Ocean," carried out under the auspices of the National Academy of Science, Engineering, and Medicine and delivered in 2011, laid out possible science drivers over the next several decades. A blue ribbon panel that examined infrastructure and logistics support, commissioned by the White House Office of Science and Technology Policy and NSF, delivered their report, "More and Better Science in Antarctica through Increased Logistical Effectiveness," in 2012. In compliance with NSF's Large Facilities Office requirements, experts then conducted three stages of review -- a concept design review, a preliminary design review and a final design review -- the last of which was complete in October.
Kelly Falkner, Director of NSF's Office of Polar Programs, issued the following statement:
I am pleased to announce that we have reached a significant milestone in a long-term project to modernize McMurdo Station, the National Science Foundation's logistics hub in Antarctica. A world-class science program is the primary expression of the nation's geopolitical presence in Antarctica and helps to ensure the U.S. keeps a leading role in Antarctic Treaty System deliberations. Some of the buildings at McMurdo Station date back to the International Geophysical Year, which began in 1957, when nations from around the world came together to propel scientific research forward, with a focus on the polar regions. Through AIMS, this historic site for scientific research will gain the capabilities that will allow it to continue in its role as a leading outpost for scientific endeavors.