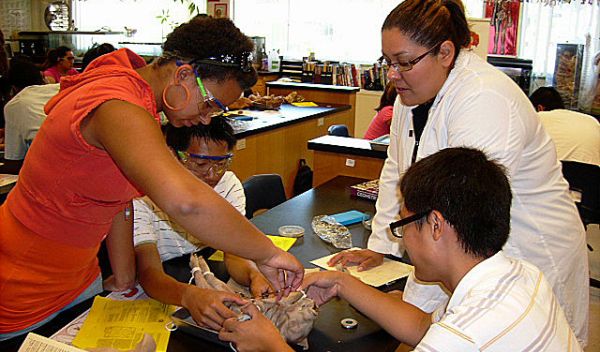 Noyce Scholars Learn Classroom Survival Skills
Program benefits future STEM teachers and high-need schools
The recruitment and preparation of teachers with strong backgrounds in science and mathematics is important to American competitiveness and essential for developing the next generation of innovators. The Robert Noyce Scholarship Programs I and II at California State University, Fresno (CSU Fresno), has recruited 81 new math and science teachers to teach in high-need school districts in California's Central Valley.
The Noyce scholars, funded by the National Science Foundation (NSF), are selected from undergraduate science and mathematics majors and science, technology, engineering and mathematics, or STEM, professions. They are placed in a science or mathematics classroom under the guidance of a selected mentor teacher for 6-10 hours per week. The experience affords Noyce scholars a chance to develop classroom "survival skills" early on, and to experience a wide range of activities associated with the teaching profession well before their student teaching semester.
Noyce scholars also have an opportunity to participate in cutting-edge research through summer internships in Department of Energy laboratories. Sixty-five percent of the CSU Fresno Noyce scholars are from underrepresented populations.
"The program attracts students who represent the demographics of the valley," said David Andrews, director of the Science and Mathematics Education Center at CSU Fresno. "They get really fired up about teaching, and a lot of them decide to stay on and teach in the valley schools even after they've completed their two-year obligation to the Noyce program."
The scholars observe a range of teaching styles in middle and high schools. "They really learn what it takes to manage a classroom," Andrews said, "and they decide what styles they want to emulate."
The scholars are paid $10 per hour for their efforts. They are not formally evaluated under this program but they do receive feedback on whether or not they are meeting the rigorous credential program evaluation standards for effective teaching established by the California Commission on Teacher Credentialing. They also give feedback to the program.
"Most of them are surprised at the limited resources available to the teachers," Andrews said. To help improve that deficiency, most of them are part of a new project to link the learning community through MERLOT, an on-line teaching program funded separately by NSF. "Our motto is 'think locally and link globally,'" Andrews said.
The Noyce program at Fresno includes a workshop series taught by college faculty and expert K-12 teachers designed to ensure success for the Noyce scholars in their early field experience.
"We ask them to address key issues associated with challenges faced by beginning teachers," said Jaime Arvizu, the program's coordinator.
Topics have included student-centered inquiry approach, science and math linked to literacy education, effective classroom management, teaching in an ethnically diverse classroom in low performing schools, teaching students with special needs, becoming a reflective practitioner, understanding poverty, and effective lesson plan development and delivery. The scholars continue to attend these special workshops as new teachers.
Noyce Scholars have an opportunity to participate in cutting-edge research through 10-week summer internships in Department of Energy laboratories and also participate in professional development activities offered to area science and math teachers. "They work with top-tier scientists and see first-hand just how collaborative research really is," Andrews noted.
The CSU Fresno project is one of 135 projects funded under NSF's Robert Noyce Teacher Scholarship program to recruit and prepare science and mathematics teachers to teach in high-need school districts.