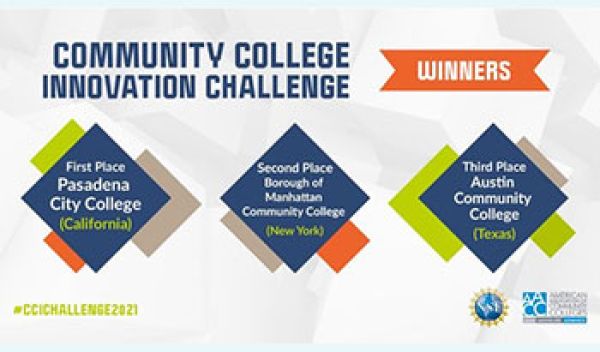 NSF, AACC announce 2021 Community College Innovation Challenge winners
Washington, DC — The U.S. National Science Foundation, in partnership with the American Association of Community Colleges, announced the three winning teams of the Community College Innovation Challenge. A team of expert judges selected the Pasadena City College team as the first-place winner, followed by the Borough of Manhattan Community College team in second place and the Austin Community College team in third place.
Community colleges play an important role in developing America's technical workforce, in part by involving groups traditionally underrepresented in STEM education and careers. The annual competition seeks to strengthen entrepreneurial thinking among community college students by challenging them to develop STEM-based solutions to real-world problems. It also enables students to discover and demonstrate their capacity to use STEM to make a difference in the world and to translate that knowledge into action.
The first, second and third-place winning teams and their innovations are listed below.
Pasadena City College, California: Nano-Bioconjugate Immunotherapeutic
The team from Pasadena City College intends to use a nanoparticle of silver wrapped in gold to treat cancer at lower cost and with fewer side effects than radiation and chemotherapy treatments.
Borough of Manhattan Community College, New York: Designing VR Application for Autistic Children
The Borough Manhattan Community College team devised a plan to use modules programmed into virtual reality headsets to teach people with autism life skills ranging from personal grooming to taking public transportation.
Austin Community College, Texas: OASIS - the Officer Aptitude & Stress Information System 
The Austin Community College team developed a data analytics system for police departments that uses existing artificial intelligence to sort data quickly to match officers' certifications and aptitudes with 911 callers' needs.
"In the Community College Innovation Challenge, students tackle real-world problems. It has been inspiring, especially in the midst of the COVID-19 pandemic, to see how participants responded to this challenge with creativity and innovative ideas," said Karen Marrongelle, assistant director for NSF's Education and Human Resources Directorate. "Community colleges play an important role in building America's skilled technical workforce, and it has been encouraging to see how participants have demonstrated their capacity to use STEM to make a difference in the world by translating knowledge into action. Congratulations to all the winners for their hard work."
Among the ideas that teams presented this year are virtual reality applications, electric vehicle conversion kits, and approaches to addressing the pandemic using biodegradable masks and at-home virus testing.
A group of 12 CCIC finalists attended a virtual innovation boot camp last week during which they received feedback on their presentations and met with entrepreneurs and experts in business planning, stakeholder engagement, strategic communication and marketplace dynamics. The finalists were given the opportunity to present their projects to members of Congress and legislative staff during a virtual showcase presentation to determine the first, second and third place teams.
"AACC is proud of the community college students that participated in the Innovation Challenge," said Walter G. Bumphus, president and CEO of AACC. "Our nation's community colleges are leaders and innovators in STEM curriculum and education and this competition fosters the development of those skills. We are thrilled to partner with the National Science Foundation to showcase these students and community colleges and extend congratulations to all of the participants who overcame the hurdles of the pandemic to provide these amazing solutions to real-world issues."
For more information about the Community College Innovation Challenge visit AACC.