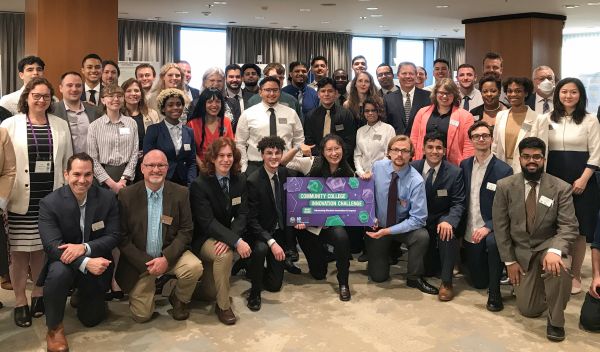 NSF, AACC announce 2022 Community College Innovation Challenge winners
Bergen Community College, NJ; Front Range Community College, CO; and Columbus State Community College, OH took home winning titles following presentations of their STEM innovations to address real-world challenges
Today, the U.S. National Science Foundation, in partnership with the American Association of Community Colleges announced the three winning teams of this year's Community College Innovation Challenge. A team of expert judges selected the Bergen Community College as the first-place winner, followed by the Front Range Community College team in second place and the Columbus State Community College team in third place.
The annual competition seeks to strengthen entrepreneurial thinking among community college students by challenging them to develop STEM-based solutions to real-world problems. It also enables students to discover and demonstrate their capacity to use STEM to make a difference in the world and to translate that knowledge into action. 
"This week's events are just one example of the critical role our community colleges play in supporting and educating the next generation of STEM talent. It has been inspiring to see how the participants' hard work and dedication have resulted in some truly impressive projects addressing a wide range of real-world challenges," said Sylvia Butterfield, acting assistant director for NSF's Education and Human Resources Directorate. "Each team represents the future of science and technology in the United States. Congratulations to all the winners for their hard work and I look forward to your continued success."
Community colleges play an important role in developing America's technical workforce, in part by involving groups traditionally underrepresented in STEM education and careers. NSF invests in community college and workforce development programs through a variety of programs. Of the awards made by NSF through the Division of Undergraduate Education and the Division for Human Resource Development,1 in 5 go to two-year colleges in America.
The first, second and third-place winning teams and their innovations are listed below.
First Place Winner
Bergen Community College, New Jersey: The ScanCan, an intelligent recycling bin capable of identifying and accepting or rejecting recyclable objects ensuring recycling companies are collecting items free of non-recyclable waste.
Second Place Winner
Front Range Community College, Colorado: The Orca oil-vacuuming and bio-filtration drone offers a solution to an issue affecting earth every day—oil spills. The Orca, inspired by the unique feeding style of whales, deploys a new method of cleaning oil spills that is both inexpensive and quick.
Third Place Winner
Columbus State Community College, Ohio: Columbus Kinesthetics' mission is to innovate STEM education by providing an immersive way for students to learn technical skills using augmented and virtual reality applications, providing students a realistic job preview and technical workforce understanding.
This week, 12 community colleges selected as finalists in a national competition attended an innovation boot camp where they learned from entrepreneurs and experts in business planning, stakeholder engagement, strategic communication and marketplace dynamics. The boot camp culminated in a student innovation poster session with STEM leaders and congressional stakeholders, and a 5-minute pitch presentation to a panel of industry and entrepreneurial professionals determining the winning teams.
"The innovative ideas that were presented in the Community College Innovation Challenge were incredibly impressive," said Walter G. Bumphus, president and CEO of AACC. "The student teams showcased the leadership and ingenuity that is needed to address issues that impact all of us. We are proud to partner with NSF to continue to spotlight the innovative STEM programs offered at the nation's community colleges. On behalf of AACC, I congratulate the winners of this year's competition as well as all of the students that participated."
Among the ideas the 12 finalist teams presented this year are solutions for addressing oil spills; HIV-1 treatments; a solar-powered refrigeration system to preserve life-saving medicines; water filtration systems; and applications to connect STEM students with career opportunities.
For more information about the Community College Innovation Challenge, visit AACC.