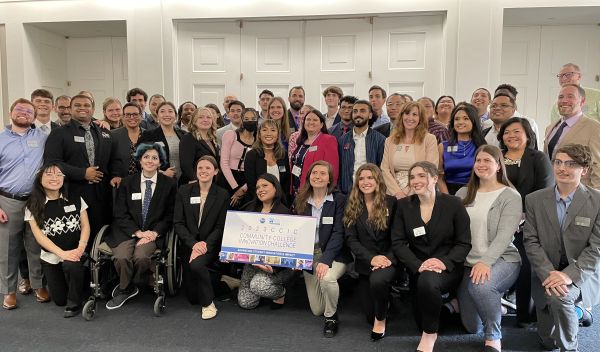 NSF, AACC announce 2023 Community College Innovation Challenge winners
Today, the U.S. National Science Foundation, in partnership with the American Association of Community Colleges announced the three winning teams of this year's Community College Innovation Challenge. A team of expert judges selected the Houston Community College as the first-place winner, followed by the Woodland Community College team in second place and the Feather River College team in third place.
The annual competition seeks to strengthen entrepreneurial thinking among community college students by challenging them to develop STEM-based solutions to real-world problems. It also enables students to discover and demonstrate their capacity to use STEM to make a difference in the world and to translate that knowledge into action. 
"NSF is proud to co-sponsor CCIC. Through the years, the agency has recognized and supported the critical role of community colleges in meeting the nation's education and workforce needs – which includes providing students from all backgrounds with the essential STEM skills to thrive," said James L. Moore III, assistant director for STEM Education. "This innovative competition prepares today's STEM students to become tomorrow's STEM leaders."
The first, second and third-place winning teams and their innovations are listed below.
First Place Winner
Houston Community College, Texas: Project Eagle Rescue has developed the Rescue Operation Assistant, which is a new attachment for firefighters' gear. It is a hands-free device that will analyze in real-time if there are any obstacles, structural failures, or victims that firefighters would otherwise be unable to see through smoke and fire. 
 
Second Place Winner
Woodland Community College, California: The Location Emitting Emergency Ring uses GPS tracking, live audio feed and a panic switch to provide safety in a discrete package. Once activated, a signal is sent to family, friends or loved ones, allowing them to locate the user and bring them to safety.  
 
Third Place Winner
Feather River College, California: Making Our MARK With the EVA-I is a redesign of the existing MARK-3 water pump used by wildland firefighters. The EVA-1 increases efficiency and saves water and energy by being solar battery-powered and equipped with heat sensors, which are programmed to activate only when the sensors pick up on the heat signature of an approaching wildfire.
 
This week, 12 community colleges selected as finalists in a national competition attended an innovation boot camp where they learned from entrepreneurs and experts in business planning, stakeholder engagement, strategic communication and marketplace dynamics. The boot camp culminated in a student innovation poster session with STEM leaders and congressional stakeholders, and a 5-minute pitch presentation to a panel of industry and entrepreneurial professionals determining the winning teams.
"We are so proud of all of the student teams that participated in the Community College Innovation Challenge," said Walter G. Bumphus, president and CEO of AACC. "These project ideas showcase the outstanding level of educational opportunities provided at the nation's community colleges. On behalf of AACC, congratulations to the team from Houston Community College, and all of the finalists. The innovation and creativity shown by these students clearly indicates that our future is in good hands."
Among the ideas the 12 finalist teams presented this year are solutions for addressing dementia care; safety concerns for children with autism; improving equipment for firefighters; recycling and energy conservation efforts; climate research; and an artificial intelligence app to address student challenges with distraction and time management.
For more information about the Community College Innovation Challenge, visit AACC.