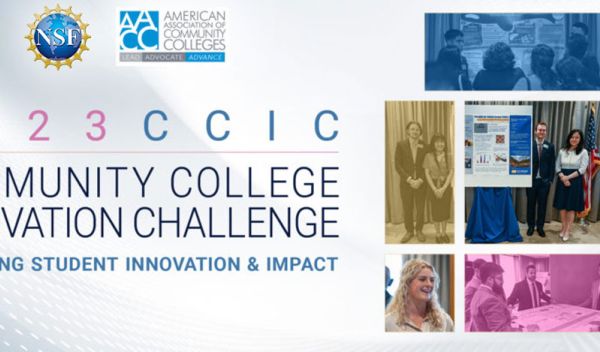 NSF, AACC call all community college student innovators
Today, the U.S. National Science Foundation, in partnership with the American Association of Community Colleges, has launched its platform to advance student innovation and impact in STEM through the Community College Innovation Challenge. The competition seeks to foster the development of students' innovation, communication and entrepreneurial skills. It also enables students to discover and demonstrate their capacity to use science, technology, engineering and mathematics to make a difference in the world and translate that knowledge into positive action. 
In 2015, AACC and NSF funded the initial launch of the challenge. The CCIC is a national competition where community college student teams, working with a supportive faculty or an administrator mentor, use STEM to produce potentially transformative and innovative solutions to real-world problems.
Teams of two to four students are invited to submit proposals, and up to 12 final teams will be selected to develop their proposals during an innovation boot camp. The teams will then create and present an entrepreneurial pitch to a panel of professionals with a chance to win cash awards.
"Cultivating and recognizing STEM talent and creating opportunities for promising students to participate in the robust STEM enterprise are central to the efforts of the U.S. National Science Foundation," said James L. Moore III, NSF assistant director for STEM Education. "Investing in quality STEM education and other experiences, like this challenge, is key to reaching the missing millions in STEM. EDU is proud to support CCIC as it widens pathways in STEM and reaches students across the country who have not always been extended such opportunities."
The innovation boot camp will be held in person in the Washington, D.C., metro area and provides professional development, mentoring and coaching designed to build strategic communication and entrepreneurial skills to help students advance their innovations in both the private and public sectors. Students participate in sessions on commercializing ideas, using technology for social applications, communicating with stakeholders, refining a pitch and more. The innovation boot camp culminates in a poster session and national engagement opportunity with STEM leaders and congressional stakeholders, and a pitch presentation in front of a panel of esteemed industry professionals to determine the first-, second- and third-place winning teams.
"The CCIC shines a spotlight on the incredible talent of the nation's community college students," said Walter G. Bumphus, president and CEO of AACC. "These students develop and present solutions to real-world issues that impact their communities. The CCIC allows us to provide resources and support specifically designed to prepare them to take these solutions from concept to reality. We are proud of the long-standing partnership with NSF to provide this platform and spotlight these talented future entrepreneurs."
AACC's mission to build a nation of learners by advancing America's community colleges aligns with the goals of the NSF's Advanced Technological Education program to prepare students for meaningful employment in the high-technology fields that drive our nation's economy.
All team submissions are due by 11:59 p.m. PST on March 30, 2023. To learn more and apply, visit www.aaccinnovationchallenge.com. For questions, email CCIC@aacc.nche.edu.