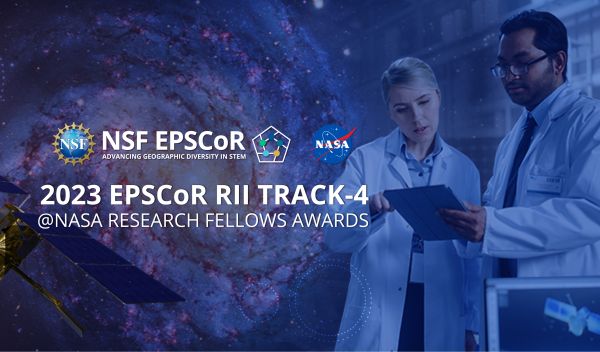 NSF announces 10 EPSCoR Track-4 awards to fund research fellowships at NASA facilities
The U.S. National Science Foundation has invested over $2.7 million in 10 projects through the Established Program to Stimulate Competitive Research (EPSCoR). This investment, in collaboration with NASA, aims to strengthen research infrastructure and advance STEM talent development at nine institutions in seven U.S. states and territories and develop the next generation of leaders in STEM. 
"With access to NASA facilities and equipment, research investigators from EPSCoR jurisdictions will be able to solve challenging problems and solidify lifelong research partnerships," said NSF Director Sethuraman Panchanathan. "This dual agency partnership will also help diversify the U.S. workforce through collaborative research at the federal government level and improve the research capacity of their home institutions and jurisdictions more broadly." 
The Research Infrastructure Improvement Track-4: EPSCoR Research Fellows awards will fund principal investigators from institutions with high enrollments of students from underrepresented populations in STEM. STEM faculty research fellowships will take place at NASA's Ames Research Center, Glenn Research Center, Goddard Space Flight Center, Marshall Space Flight Center and Jet Propulsion Laboratory. While building research capacity at their home institutions, fellows will learn new techniques, develop new collaborations, advance research partnerships, access unique equipment and facilities, and shift their research toward transformative new directions.  
"The success of this year's joint NSF and NASA faculty fellowships highlights the remarkable dedication and ingenuity within the scientific community," said Kathleen Loftin, project manager of NASA's EPSCoR. "These fellowships are not just about funding; they are about fostering meaningful, transformative collaborations that enrich the landscape of STEM research." 
 
The awardees and summary of each project are listed below: 
To learn more, visit NSF's EPSCoR and NASA's EPSCoR webpages.