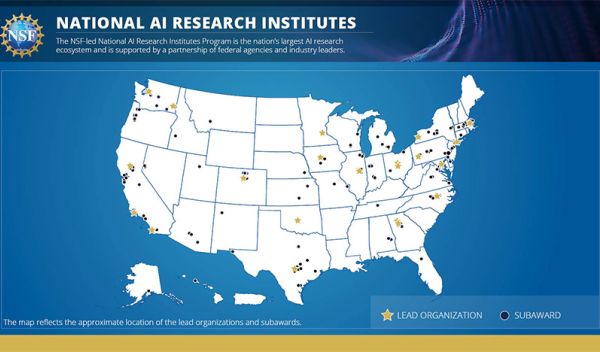 NSF announces 7 new National Artificial Intelligence Research Institutes
NSF's announcement is part of a broader effort to advance a cohesive federal government approach to harness opportunities and address risks associated with AI
The U.S. National Science Foundation, in collaboration with other federal agencies, higher education institutions and other stakeholders, today announced a $140 million investment to establish seven new National Artificial Intelligence Research Institutes. The announcement is part of a broader effort across the federal government to advance a cohesive approach to AI-related opportunities and risks.
The new AI Institutes will advance foundational AI research that promotes ethical and trustworthy AI systems and technologies, develop novel approaches to cybersecurity, contribute to innovative solutions to climate change, expand the understanding of the brain, and leverage AI capabilities to enhance education and public health. The institutes will support the development of a diverse AI workforce in the U.S. and help address the risks and potential harms posed by AI.  This investment means  NSF and its funding partners have now invested close to half a billion dollars in the AI Institutes research network, which reaches almost every U.S. state.
"The National AI Research Institutes are a critical component of our nation's AI innovation, infrastructure, technology, education and partnerships ecosystem," said NSF Director Sethuraman Panchanathan. "These institutes are driving discoveries that will ensure our country is at the forefront of the global AI revolution."
"These strategic federal investments will advance American AI infrastructure and innovation, so that AI can help tackle some of the biggest challenges we face, from climate change to health. Importantly, the growing network of National AI Research Institutes will promote responsible innovation that safeguards people's safety and rights," said White House Office of Science and Technology Policy Director Arati Prabhakar.
The new AI Institutes are interdisciplinary collaborations among top AI researchers and are supported by co-funding from the U.S. Department of Commerce's National Institutes of Standards and Technology (NIST); U.S. Department of Homeland Security's Science and Technology Directorate (DHS S&T); U.S. Department of Agriculture's National Institute of Food and Agriculture (USDA-NIFA); U.S. Department of Education's Institute of Education Sciences (ED-IES); U.S. Department of Defense's Office of the Undersecretary of Defense for Research and Engineering (DoD OUSD R&E); and IBM Corporation (IBM).
"Foundational research in AI and machine learning has never been more critical to the understanding, creation and deployment of AI-powered systems that deliver transformative and trustworthy solutions across our society," said NSF Assistant Director for Computer and Information Science and Engineering Margaret Martonosi. "These recent awards, as well as our AI Institutes ecosystem as a whole, represent our active efforts in addressing national economic and societal priorities that hinge on our nation's AI capability and leadership."
The new AI Institutes focus on six research themes:
Trustworthy AI
NSF Institute for Trustworthy AI in Law & Society (TRAILS)
Led by the University of Maryland, TRAILS aims to transform the practice of AI from one driven primarily by technological innovation to one driven with attention to ethics, human rights and support for communities whose voices have been marginalized into mainstream AI. TRAILS will be the first institute of its kind to integrate participatory design, technology, and governance of AI systems and technologies and will focus on investigating what trust in AI looks like, whether current technical solutions for AI can be trusted, and which policy models can effectively sustain AI trustworthiness. TRAILS is funded by a partnership between NSF and NIST.
Intelligent Agents for Next-Generation Cybersecurity
AI Institute for Agent-based Cyber Threat Intelligence and Operation (ACTION)
Led by the University of California, Santa Barbara, this institute will develop novel approaches that leverage AI to anticipate and take corrective actions against cyberthreats that target the security and privacy of computer networks and their users. The team of researchers will work with experts in security operations to develop a revolutionary approach to cybersecurity, in which AI-enabled intelligent security agents cooperate with humans across the cyberdefense life cycle to jointly improve the resilience of security of computer systems over time. ACTION is funded by a partnership between NSF, DHS S&T, and IBM.
Climate Smart Agriculture and Forestry
AI Institute for Climate-Land Interactions, Mitigation, Adaptation, Tradeoffs and Economy (AI-CLIMATE)
Led by the University of Minnesota Twin Cities, this institute aims to advance foundational AI by incorporating knowledge from agriculture and forestry sciences and leveraging these unique, new AI methods to curb climate effects while lifting rural economies. By creating a new scientific discipline and innovation ecosystem intersecting AI and climate-smart agriculture and forestry, our researchers and practitioners will discover and invent compelling AI-powered knowledge and solutions. Examples include AI-enhanced estimation methods of greenhouse gases and specialized field-to-market decision support tools. A key goal is to lower the cost of and improve accounting for carbon in farms and forests to empower carbon markets and inform decision making. The institute will also expand and diversify rural and urban AI workforces. AI-CLIMATE is funded by USDA-NIFA.
Neural and Cognitive Foundations of Artificial Intelligence
AI Institute for Artificial and Natural Intelligence (ARNI)
Led by Columbia University, this institute will draw together top researchers across the country to focus on a national priority: connecting the major progress made in AI systems to the revolution in our understanding of the brain. ARNI will meet the urgent need for new paradigms of interdisciplinary research between neuroscience, cognitive science and AI. This will accelerate progress in all three fields and broaden the transformative impact on society in the next decade. ARNI is funded by a partnership between NSF and DoD OUSD R&E.
AI for Decision Making
AI Institute for Societal Decision Making (AI-SDM)
Led by Carnegie Mellon University, this institute seeks to create human-centric AI for decision making to bolster effective response in uncertain, dynamic and resource-constrained scenarios like disaster management and public health. By bringing together an interdisciplinary team of AI and social science researchers, AI-SDM will enable emergency managers, public health officials, first responders, community workers and the public to make decisions that are data driven, robust, agile, resource efficient and trustworthy. The vision of the institute will be realized via development of AI theory and methods, translational research, training and outreach, enabled by partnerships with diverse universities, government organizations, corporate partners, community colleges, public libraries and high schools.
AI-Augmented Learning to Expand Education Opportunities and Improve Outcomes
AI Institute for Inclusive Intelligent Technologies for Education (INVITE)
Led by the University of Illinois Urbana-Champaign, this institute seeks to fundamentally reframe how educational technologies interact with learners by developing AI tools and approaches to support three crucial noncognitive skills known to underlie effective learning: persistence, academic resilience and collaboration. The institute's use-inspired research will focus on how children communicate STEM content, how they learn to persist through challenging work, and how teachers support and promote noncognitive skill development. The resultant AI-based tools will be integrated into classrooms to empower teachers to support learners in more developmentally appropriate ways.
AI Institute for Exceptional Education (AI4ExceptionalEd)
Led by the University at Buffalo, this institute will work toward universal speech and language screening for children. The framework, the AI screener, will analyze video and audio streams of children during classroom interactions and assess the need for evidence-based interventions tailored to individual needs of students. The institute will serve children in need of ability-based speech and language services, advance foundational AI technologies and enhance understanding of childhood speech and language development. The AI Institute for Exceptional Education was previously announced in January 2023. The INVITE and AI4ExceptionalEd institutes are funded by a partnership between NSF and ED-IES.
Statements from NSF's Federal Government Funding Partners
"Increasing AI system trustworthiness while reducing its risks will be key to unleashing AI's potential benefits and ensuring our shared societal values," said Under Secretary of Commerce for Standards and Technology and NIST Director Laurie E. Locascio. "Today, the ability to measure AI system trustworthiness and its impacts on individuals, communities and society is limited. TRAILS can help advance our understanding of the foundations of trustworthy AI, ethical and societal considerations of AI, and how to build systems that are trusted by the people who use and are affected by them."
"The ACTION Institute will help us better assess the opportunities and risks of rapidly evolving AI technology and its impact on DHS missions," said Dimitri Kusnezov, DHS under secretary for science and technology. "This group of researchers and their ambition to push the limits of fundamental AI and apply new insights represents a significant investment in cybersecurity defense. These partnerships allow us to collectively remain on the forefront of leading-edge research for AI technologies."
"In the tradition of USDA National Institute of Food and Agriculture investments, this new institute leverages the scientific power of U.S. land-grant universities informed by close partnership with farmers, producers, educators and innovators to address the grand challenge of rising greenhouse gas concentrations and associated climate change," said Acting NIFA Director Dionne Toombs. "This innovative center will address the urgent need to counter climate-related threats, lower greenhouse gas emissions, grow the American workforce and increase new rural opportunities."
"The leading-edge in AI research inevitably draws from our, so far, limited understanding of human cognition. This AI Institute seeks to unify the fields of AI and neuroscience to bring advanced designs and approaches to more capable and trustworthy AI, while also providing better understanding of the human brain," said Bindu Nair, director, Basic Research Office, Office of the Undersecretary of Defense for Research and Engineering. "We are proud to partner with NSF in this critical field of research, as continued advancement in these areas holds the potential for further and significant benefits to national security, the economy and improvements in quality of life."
"We are excited to partner with NSF on these two AI institutes," said IES Director Mark Schneider. "We hope that they will provide valuable insights into how to tap modern technologies to improve the education sciences — but more importantly we hope that they will lead to better student outcomes and identify ways to free up the time of teachers to deliver more informed individualized instruction for the students they care so much about." 
Learn more about the NSF AI Institutes by visiting nsf.gov.
To learn more about all the awards and collaborators of the National AI Research Institutes, click on the interactive map.