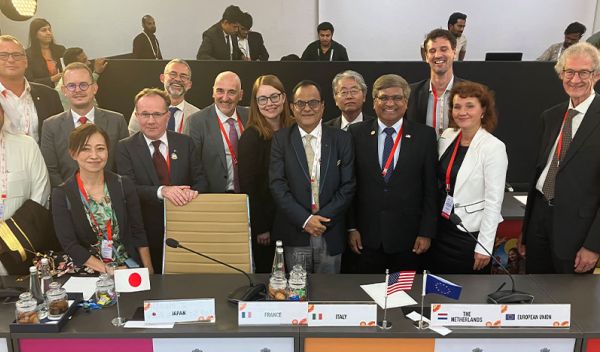 NSF Director Panchanathan heads the US Delegation at the G20 Chief Science Advisers' Roundtable in India, signs bilateral agreement
U.S. National Science Foundation Director Sethuraman Panchanathan traveled to India at the end of August, making stops in three cities: New Delhi, Bengaluru and Gandhinagar. In New Delhi, he announced a new funding opportunity between NSF and the Indian Ministry of Electronics and Information Technology (MeitY) and signed a bilateral implementation arrangement with the Indian Department of Biotechnology (DBT). He also participated in an industry roundtable organized by the U.S. Embassy. In Bengaluru, he participated in a biotechnology roundtable organized by DBT; and in Gandhinagar, his last stop, Panchanathan represented the United States and Biden administration as Head of the U.S. Delegation at the G20 Chief Science Advisers' Roundtable.
"In the last five years, NSF has invested nearly $150 million in India through over 200 projects. Just this last year, we launched 35 new joint projects with India's Department of Science & Technology in emerging technologies," said Panchanathan alongside MeitY Secretary Alkesh Kumar Sharma, with whom he announced a bilateral funding opportunity on Aug. 21.
Panchanathan continued, "This joint funding opportunity strengthens the foundation of cooperation, collaboration, and joint investment in science and engineering by unlocking fantastic new discoveries, innovations and opportunities across industries like semiconductor research, next generation communication systems, cyber-security, sustainability and green technologies, and intelligent transportation systems."
The new NSF-MeitY agreement provides fresh funding for joint projects in applied research areas and builds on an Implementation Arrangement signed by Panchanathan and Secretary Sharma at NSF headquarters in May. It also advances the mutual interests of India and the U.S., outlined in a joint statement made by President Joe Biden and Prime Minister Narendra Modi in June, during the latter's visit to the U.S. – which included a stop at NSF's headquarters.
On Aug. 22, Panchanathan signed an Implementation Arrangement during a ceremony alongside many notable people, including U.S. Ambassador to India Eric Garcetti, India's Ambassador to the U.S. Taranjit Singh Sandhu, Secretary for DBT and the Department of Science & Technology Rajesh S. Gokhale, and the Minister of State for the Ministry of Science & Technology, the Honorable Dr. Jitendra Singh.
This is a historic moment for India and the U.S., said Panchanathan. This implementation arrangement provides a framework to encourage collaborations between research communities and sets out the principles that will help make joint activities successful and productive. It has potential to tackle
societies' most pressing challenges, spur economic growth, and advance technologies and innovations in critical research areas like systems and synthetic biology, protein design, cellular and biochemical engineering, and circular bioeconomy engineering, among others.
That evening, Panchanathan spoke with NDTV-India Reporter Pallava Bagla in a televised interview.
Panchanathan and India's tech industry leaders discussed new vistas of cross-sector collaborations in emerging technologies, like artificial intelligence and quantum technology during the industry round table in Delhi. In Bengaluru, during the biotechnology roundtable, Panchanathan met with cross-sectoral leaders to discuss "bio-innovations" and other opportunities which would bolster biomanufacturing and the bioeconomy for both nations.
Later that week, Panchanathan traveled to Gandhinagar to represent the United States as Head of Delegation at the G20 Chief Science Advisers' Roundtable, Aug. 27-29. The meeting, under the leadership of Principal Scientific Adviser to the Government of India Ajay Sood, brought together STEM leaders from G20 members and guest countries to consider evidence-informed science advice with respect to the meeting's four agenda topics: 
1. Opportunities in One Health for better disease prevention, control and pandemic preparedness.
2. Synergizing global efforts to expand the access to scholarly scientific knowledge.
3. Diversity, equity, inclusion and accessibility in science and technology ecosystem.
4. Creating an inclusive, continuous, and action-oriented Global Science Advice Mechanism.
The G20 Chief Science Adviser's Roundtable Meeting Outcome Document and Chair's Summary may be found on the White House website.
Panchanathan's trip to India reaffirmed both nations' commitment to shared values and aspirations and illustrated the Director's belief that teamwork on a global scale among like-minded players powers scalable opportunities, supercharged progress and universal prosperity — a notion which implicitly endorses India's G20 Presidency theme: "Vasudhaiva Kutumbakam," or "One Earth, One Family, One Future."