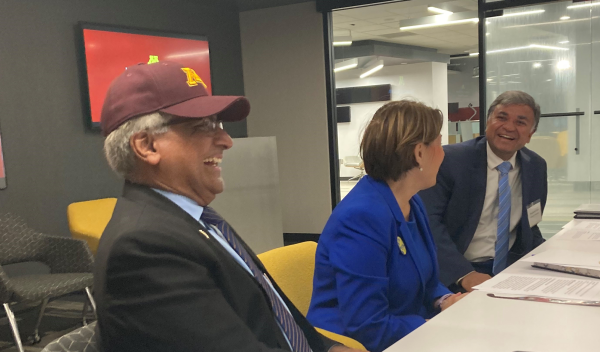 NSF Director Panchanathan joins Sen. Amy Klobuchar at the University of Minnesota, Twin Cities for cross-sectoral roundtable
On Oct. 13, U.S. National Science Foundation Director Sethuraman Panchanathan traveled to the University of Minnesota (UMN) Twin Cities, where he joined Sen. Amy Klobuchar (D-MN) for a university-hosted "Science, Innovation, and Workforce Development Roundtable." The event drew leaders from around the state to discuss opportunities for enhancing equity, diversity and inclusivity across the research and development ecosystem and growing industries around scientific and technological advancements. After the roundtable, Panchanathan delivered a presentation on NSF's vision and goals during a town hall, then attended a series of meet and greets with NSF-funded researchers, students, representatives from major corporations and startup CEOs and toured two world-class research centers supported by NSF.
Panchanathan opened the roundtable discussions by thanking Klobuchar for her efforts in increasing diversity and access to science, technology, engineering and mathematics education and opportunities. He praised her unwavering support for the "CHIPS and Science Act of 2022" – "a once-in-a-generation piece of legislation that supercharges NSF's investments in the U.S. R&D and workforce enterprise, ensuring that ideas, talent and prosperity are being unleashed across all corners of the nation," he said.
"NSF is proud to play a key role in realizing the "CHIPS and Science Act of 2022's" bold vision for accelerating U.S. leadership in scientific and technological innovation. We will continue to support the people and translational research yielding marketable products, goods and services in areas such as artificial intelligence, quantum computing and advanced manufacturing, which will boost Minnesota's and the nation's economies."
After the roundtable and the town hall, Panchanathan met with students and recipients of NSF's CAREER award, prestigious grants made by Faculty Early Career Development Program to early-career researchers in recognition of their exceptional leadership at the frontiers of scientific knowledge. He also met with representatives from major corporations – Lockheed Martin, Honeywell, General Mills and others – as well as CEOs from NSF-supported startups like Adialante, Niron Magnetics and Valerian Materials.
Respectively, these startups are creating markets around the production of affordable and clinically valuable MRI technology; high-performance permanent magnets based entirely on low-cost, sustainable input materials; and renewable, degradable and recyclable polymers with properties that are competitive to established petroleum-derived alternatives.
Panchanathan rounded off his visit with tours of UMN's Engineering Research Center (ERC) for Advanced Technologies for the Preservation of Biological Systems (ATP-Bio) and the National AI Research Institute for Climate-Land Interactions, Mitigation, Adaptation, Tradeoffs and Economy (AI-CLIMATE). These two NSF-supported facilities promote convergent research with unique focuses and aims.
Research at the ATP Bio center focuses on "stopping biological time" for organ transplants by radically extending the ability to bank and transport cells, aquatic embryos, tissue, skin, whole organs, microphysiological systems ("organs-on-a-chip") and even whole organisms. Goals of this ERC are to build advanced biopreservation technologies and develop a robust and diverse STEM workforce. The expected societal impacts of this research include cell therapies, transplantable tissues and organs, skin and biological dressings, food supply sustainability, new drugs and other "lab to market" innovations intended for the public's welfare.
AI-CLIMATE is one of seven National AI Research Institutes announced under the "Biden-Harris Responsible AI Initiative" earlier this year. These institutes are designed to catalyze collaboration across institutions of higher education, federal agencies and industry to pursue transformative AI advances that are ethical, trustworthy, responsible and serve the public good. Research at the AI-Climate institute is focused on combining knowledge from agriculture and forestry sciences with novel methods in AI to curb the effects of climate change and lift the economies of rural communities. The goals are to improve accounting for carbon in farms and forests, empower carbon markets, inform decision making and expand and diversify rural and urban AI workforces.
Panchanathan's visit to Minnesota highlighted the power of NSF investments to connect people, communities and sectors. These cross-sectoral partnerships, he said, are the frameworks for regional hubs of innovation and are critical to accelerating the development of key technologies at the center of resilient supply chains in the Midwest and beyond.