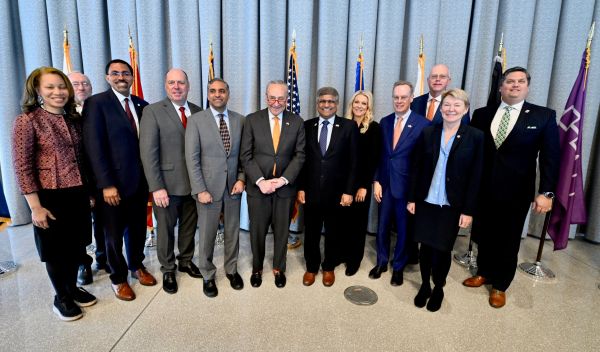 NSF Director Panchanathan promotes STEM education, workforce development and public-private partnerships during Syracuse visit with Sen. Schumer
U.S. National Science Foundation Director Sethuraman Panchanathan participated in a press conference with Sen. Chuck Schumer (D-NY), Micron executives, university and community college representatives and workforce leaders during a trip to promote STEM education and workforce development in Syracuse, New York. 
"At the core of NSF's priorities is a commitment to building strong partnerships across government, industry and academia to create powerful innovation ecosystems across the country," said Director Panchanathan. "It is the strength of these collaborations, combined with the implementation of the 'CHIPS and Science Act,' that will lead us to solutions to society's most pressing issues. I want to thank Senator Schumer for his steadfast support of NSF and our critical mission. Together, our collective impact will continue to create change at speed and scale and fuel exciting discoveries, innovations and jobs for decades to come." 
Today's event highlighted the Experiential Learning for Emerging and Novel Technologies program. The ExLENT  program will support inclusive experiential learning opportunities designed to provide cohorts of diverse learners with the crucial skills needed to succeed in emerging technology fields and prepare them to enter the workforce ready to solve the nation's most pressing scientific and societal challenges. Director Panchanathan announced that ExLENT was now open for proposals. Investments through the Improving Undergraduate STEM Education program will support projects to improve STEM teaching and learning for undergraduate students.  
The director and Sen. Schumer were joined by Micron Executive Vice President of Global Operations Manish Bhatia; Micron Senior Vice President and Chief People Officer April Arnzen; Syracuse University Chancellor Kent Syverud; Empire State Development President, CEO and Commissioner Hope Knight, Onondaga County Executive Ryan McMahon; and Centerstate Corporation for Economic Opportunity President and CEO Robert Simpson, who also spoke at the event.  
Director Panchanathan participated in two roundtables discussions. The first was with representatives from four-year and graduate academic institutions, including representatives from the Rochester Institute of Technology, Clarkson University, Syracuse University, Cornell University and Rochester Polytechnic Institute. The second was with students from two-year higher education institutions and apprentice pathways, an increasingly popular choice among individuals pursuing post-secondary education and training.  
Director Panchanathan will continue to champion higher education in STEM disciplines and explore ways to make STEM education and workforce development more accessible and comprehensive so that it can support the students of today and innovators of tomorrow.