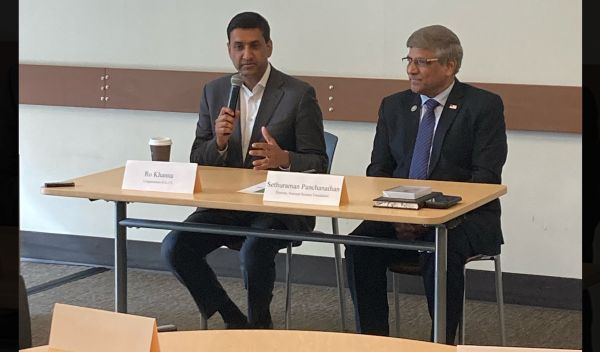 NSF Director Panchanathan remarks on 'CHIPS and Science Act' at Silicon Valley roundtable
U.S. National Science Foundation Director Sethuraman Panchanathan spoke a Silicon Valley roundtable discussion at Mission College in Santa Clara, California, on May 5. The event was hosted by Rep. Ro Khanna, who welcomed the crowd before Director Panchanathan delivered his remarks.
The director's speech to attendees focused on his vision for the role NSF will play in implementing the "CHIPS and Science Act," a monumental investment in the future of science and technology.
"We must seize this moment and take advantage of this momentum," said Director Panchanathan. "Together, we can ensure that innovation is possible anywhere throughout the country and that opportunities exist everywhere for talented individuals. This is how we will unleash the technologies and workforce of tomorrow, today."
Following his remarks, Director Panchanathan and Khanna participated in a discussion with attendees that included executives from technology companies, researchers, government officials, investors and leaders in academia.