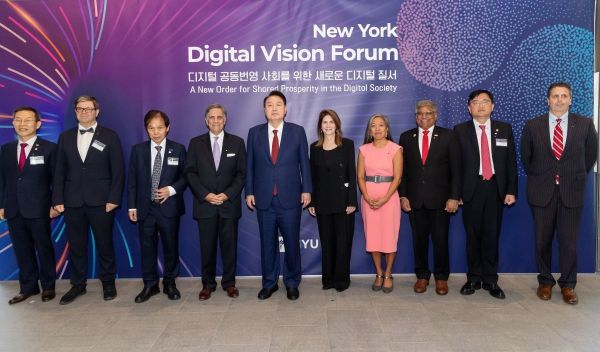 NSF Director travels to New York University for New York Digital Vision Forum, delivers keynote alongside U.S. and Republic of Korea leaders
On Sept. 21, 2023, U.S. National Science Foundation Director Sethuraman Panchanathan delivered a keynote at the New York Digital Vision Forum at New York University's (NYU) Manhattan campus. The event included speakers Sen. Chuck Schumer (D-NY) (who delivered prerecorded remarks), Republic of Korea President Yoon Suk Yeol, New York City Deputy Mayor Maria Torres-Springer, and leaders from government, research and industry.
The forum, which was hosted by NYU and Korea's Advanced Institute of Science and Technology (KAIST), gathered leaders from across sectors in both nations to honor the one-year anniversary of a bilateral research collaboration between NYU and KAIST and to discuss and promote shared principles, ethics, and international cooperation in critical and emerging technology areas of mutual interest.
"As our two presidents affirmed at the state visit in April, the U.S. and the Republic of Korea have a truly global alliance that champions democratic principles, enriches economic cooperation, and empowers technological advances," said Panchanathan. "NSF shares in President Yoon's conviction that human values are important in the development of new technology. Values including openness and transparency, and the creation of AI tools that are responsible and ethical, without bias, and protect the security and privacy of our people."
After the ceremony, attendees participated in a panel focused on digital governance and global AI and engaged with world leaders and subject matter experts in discussions on topics such as establishing digital norms, insights into the future of emerging technologies, and advancing and promoting just and sustainable digital innovation on a global scale.
Later, Panchanathan met with Lee Jong Ho, the Republic of Korea Minister of Science and Information and Communication Technology, to explore new ways for the U.S. and the Republic of Korea to continue working together, leveraging collective resources, infrastructure and expertise to enhance their nations' research and development capabilities.
There is great potential for a new partnership initiative that could build on cooperative efforts and activities currently underway through the more than 130 investments NSF supports with South Korean partners. Such a partnership would ramp up the production of key technologies and innovations, ensuring that both nations stay ahead in globally competitive industries like AI, semiconductors and biotechnology.