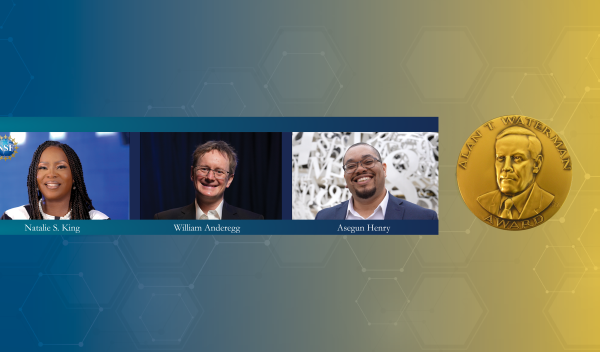 NSF honors 3 early-career researchers with the Alan T. Waterman Award
The U.S. National Science Foundation has named its awardees for this year's Alan T. Waterman Award, the nation's highest honor for early-career scientists and engineers: Natalie S. King, a science educator at Georgia State University; Asegun Henry, a Massachusetts Institute of Technology mechanical engineer; and William Anderegg, a biologist from the University of Utah. 
This is the second year NSF has chosen to honor three researchers with the award, which recognizes outstanding early-career U.S. science or engineering researchers who demonstrate exceptional individual achievements in NSF-supported fields.  
"I am thrilled to congratulate this year's Waterman awardees, three outstanding scientists who are courageously tackling some of the most challenging societal problems through their ingenuity and innovative mindset," said NSF Director Sethuraman Panchanathan. "Their pioneering accomplishments are precisely what the Waterman Award was created to recognize, and I look forward to their tremendous contributions in the future." 
 
Promoting the advancement of Black girls in STEM
Growing up, Natalie S. King's love of science and children led her to consider a career pathway in pediatric medicine. While preparing for medical school, she took a break to teach high school biology and chemistry. She realized that many of her students had special needs and felt unequipped to address them without an education background. King went back to school for her master's degree in special education, and met a university professor, Rose M. Pringle, who inspired her to tap into her passions and pursue a career in science education.  
King's research focuses on advancing Black girls' achievements in STEM education, community-based STEM programs and the role of curriculum in fostering equity in science teaching and learning. This award recognizes King's groundbreaking scholarship in science, technology, engineering and mathematics education that transcends disciplinary boundaries and directly impacts local and global communities. Her exceptional research achievements have had a remarkable impact on the advancement of Black girls in science and the use of research-practice partnerships to drive K-12 instruction and helped increase STEM teacher diversity. 
"My laboratory is in the community. The problems that I seek to solve are societal, practical, systemic, structural and complex. My research challenges the capitalist and workforce development agendas for encouraging Black girls' engagement in STEM education and reframes the STEM disciplines as a mechanism to promote personal development, academic growth, and social justice," King explained.  
For over a decade, she has directed out-of-school STEM programs as founder and executive director of I AM STEM, which has served over 2,000 children across 22 U.S. states, Canada and the Caribbean. "One distinctive feature of research regarding I AM STEM is my successful collaboration with faith-based institutions and efforts to reposition them as catalysts to provide access to community-based STEM programs," she added.  
"To be recognized as a young researcher who is influencing the field of science and engineering is an absolute honor," said King. "Receiving the Waterman Award signifies that my contributions as a science educator, cultural broker, and community advocate matter and are worthy of recognition. I believe that this will resonate with many Black and Brown scholars, STEM educators and scientists who are committed to serving their local communities." 
King has received numerous NSF awards, including an NSF CAREER grant in 2020. She is currently serving as the principal investigator in an NSF Robert Noyce Scholarship project that seeks to diversify the STEM teaching workforce in high need school districts with a specific emphasis on Black males. 
She received her doctorate in curriculum and instruction specializing in science education from the University of Florida and joined the faculty at Georgia State University where she currently serves as an associate professor in the College of Education & Human Development's Department of Middle and Secondary Education. 
 
Understanding the physics of heat
A high school calculus course was the key to Asegun Henry recognizing his passion for problem-solving. That passion got him interested in the practical uses of math, which ultimately led him to solve problems related to how heat is transported and stored.  
In college, Henry's interest in vibration, movement, oscillation and dynamic changes led him to switch majors from civil engineering to mechanical engineering. His research focuses on heat transfer, with an emphasis on understanding and improving models of heat transport at the atomistic scale using a combination of ab initio atomistic calculations, machine learning and molecular dynamics simulations. He has also been motivated by use-inspired research and has worked on the development of high temperature renewable energy storage — using molten tin and graphite — that is converted to electricity on demand.   
With this award, NSF is recognizing Henry for his contributions in new energy technologies and an advanced fundamental understanding of heat transfer. His work addresses a broad range of problems that span from the atomic to the gigawatt scale.  
"Heat is at the core of virtually all aspects of modern society," said Henry. "We utilize heat so much in modern society because heat is the easiest and cheapest form of energy to convert to, and one of the cheapest to store. My research focuses on understanding the physics of heat, starting from the atomic level, and is focused on developing new technologies that involve heat to ultimately mitigate climate change." 
Throughout his career, Henry has made significant advances and contributions to several fields within energy and heat transfer. In fact, he developed the highest temperature pump on record, using an all-ceramic mechanical pump to move liquid metal that reached above 1,400 degrees Celsius. This technological breakthrough is now a Guinness World Record.  
"It has been challenging to push the field towards acceptance of new ideas, and it has been a path fraught with resistance, and questioning of the validity of our results," said Henry. "Receiving this award is vindicating and will impact my career greatly as it helps validate that the advances we've pioneered really do register as major contributions, and I pride myself on the impact of my work." 
He has received numerous awards and fellowships, including an NSF CAREER grant in 2016.  
Henry received his doctorate in mechanical engineering from MIT and in 2018 joined the faculty at MIT's Department of Mechanical Engineering, where he directs the Atomistic Simulation & Energy Research Group.
 
Understanding the future of Earth's forests in a rapidly changing climate
A tropical field ecology course in Mexico with Rodolfo Dirzo was a true "science boot camp" for William Anderegg. Both the beauty of these tropical forests and the ability to understand how they worked using experiments, hypotheses and data collection were eye-openers. Anderegg went on to take a course on climate change and did a thesis on the impacts of climate change on bird communities, which deeply inspired him and set his course into science.  
His research focuses on the intersection of ecosystems and climate change, aimed at understanding the future of Earth's forests in a changing climate. With this award, NSF recognizes Anderegg for his contributions to ecosystem and climate change science, particularly in advancing the understanding of what makes forest ecosystems resilient to climate stresses and their sensitivity to drought. Leading a multi-disciplinary team of researchers, he conducted an unprecedented and comprehensive risk analysis for the Earth's forests over the 21st century. 
"The future of Earth's forests largely hangs in the balance between two opposing sets of processes," Anderegg explained. "On the upside, rising atmospheric carbon dioxide generally benefits plants and should help trees grow, slowing climate change. But on the downside, climate change increases stress from heat, drought, pests, pathogens and fires, offsetting the benefits of carbon dioxide and sometimes even killing forests, thereby accelerating the pace of climate change. These opposing processes can develop and interact in highly nonlinear ways, with profound consequences for biodiversity, climate policy and targets, and the climate itself. Our lab aims to understand when and where these opposing forces will win out and what it means for Earth's forests." 
Throughout his scientific career, Anderegg has received numerous NSF awards, including an NSF CAREER grant in 2021. He is also a David and Lucille Packard Foundation Fellow for Science and Engineering and a recipient of the National Oceanic and Atmospheric Administration Climate and Global Change Postdoctoral Fellowship.  
"Receiving the Waterman Award is incredibly meaningful. It's an amazing honor and I'm still stunned," said Anderegg. "It will allow us to take on some really aspirational, creative and high-risk projects that we've thought about for a while but can now actually tackle. I'm immensely grateful to the wonderful mentors I've had throughout my career, who played a huge role in my path as a scientist. I feel lucky to be surrounded by such generous and brilliant scientists, and this award has really made me reflect on how important these people were and still are in my career."  
Anderegg received his bachelor's and doctoral degrees in biology from Stanford University. He is an associate professor at the University of Utah's School of Biological Sciences and the director of the Wilkes Center for Climate Science & Policy.  
In addition to a medal, awardees each receive $1 million over five years for research in their chosen field of science. The Waterman Award will be presented to all recipients at a ceremony during the National Science Board meeting, which will be held in Washington, D.C., on May 9. 
The award, established by Congress in 1975, is named for Alan T. Waterman, NSF's first director.