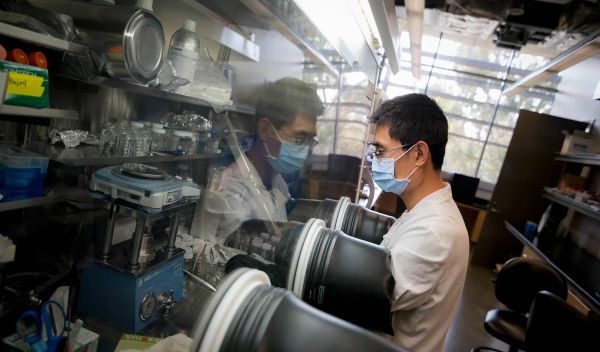 NSF invests $162 million in research centers to accelerate materials science from lab to factory
NSF backs nine Materials Research Science and Engineering Centers to create novel materials that can solve big challenges and enable the industries of tomorrow.
A $162 million investment from the U.S. National Science Foundation will drive the creation of advanced materials capable of remarkable things — from being tough enough to withstand the heat of a fusion reactor to processing information at the quantum level. Nine Materials Research Science and Engineering Centers (MRSECs) will each receive $18 million over six years. The centers aim to transform fundamental scientific breakthroughs into tangible benefits for multiple sectors of the U.S. economy and innovations that can be produced on tomorrow's factory floors. 
"NSF's Materials Research Science and Engineering Centers will help us seize new opportunities in semiconductors, biotech, quantum information and more, addressing the needs of our society and advancing critical emerging technologies," said NSF Director Sethuraman Panchanathan. "They will do so by expanding and enriching the ecosystem of innovation across our country." 
"Since the 1970s, NSF's Materials Research Science and Engineering Centers have yielded countless breakthroughs, from shape-morphing materials to plastics that conduct electricity"
From Tennessee to Washington state, the 2023 class of MRSECs are located at nine institutions across the country. In total, NSF now supports 20 such centers. The latest ones will expand the centers' portfolios to pursue a broad range of research projects to unlock new capabilities in a number of areas: semiconductors, artificial intelligence, biotechnology, sustainable energy sources and storage, advanced manufacturing, quantum computing and sensing, and other areas critical for U.S. leadership in materials research. In addition to enabling new commercial opportunities and industries in the U.S., the centers will train students and early career researchers who will become tomorrow's scientific and technical leaders. 
"Since the 1970s, NSF's Materials Research Science and Engineering Centers have yielded countless breakthroughs, from shape-morphing materials to plastics that conduct electricity," said NSF Assistant Director for Mathematical and Physical Sciences Sean L. Jones. "Our current centers continue that proud tradition and provide the essential catalyst — born in the materials lab — which ignites American innovations that propel our country's scientific and economic leadership." 
NSF's support for the centers also provides resources to train hundreds of undergraduate and graduate students, along with educational STEM programs that will engage hundreds more K-12 students and teachers in dozens of school districts. The centers will engage with local startups and the business community to form partnerships that can take novel materials from the discovery phase to commercialization. Dozens of collaborating institutions will also participate with the centers, including many minority-serving and emerging-research institutions.  
The nine 2023 centers are: 
Located at the University of Illinois Urbana-Champaign, the center will investigate 1) how strain in materials can be used to control the motion of electrons and can enable novel information storage and processing models in quantum materials as well as for energy production and storage, and 2) materials with light-controlled conduction of ions with applications in new electrochemical manufacturing, energy and information technologies. 
Located at The University of Texas at Austin, the center will design 1) new soft biomaterials whose structure and functionality can be actively controlled and which can be used for applications such as synthetic cells and adaptive thermal coatings, and 2) atomically thin materials with novel structures that can be useful for microelectronics, quantum information processing and other applications. 
Located at the University of Washington, the center will develop 1) materials in which light can tune the magnetic properties of individual electrons for applications in quantum information processing and sensing, and 2) so-called "elastic quantum matter" materials in which strain forces produce and influence quantum-scale effects. 
Located at Northwestern University, the center aims to create 1) bio-inspired materials that can be programmed to perform self-directed functions, like self-healing and shape-morphing, which could be used in food-storage, clothing or wound care, and 2) materials that conduct both electrons and ions, mimicking the capabilities of brain neurons. 
Located at the University of Pennsylvania, the center will develop 1) new materials that can adapt to their surroundings and external triggers, with potential applications ranging from flexible materials that can deflect the energy of, for example, a hammer blow to creating soft robots that can perform complex tasks, and 2) tissue-like synthetic biomaterials made from cellular building blocks capable of the controlled release of key molecules inside cells, akin to drug delivery. 
Located at the University of California, Santa Barbara, the center will focus on developing 1) new chemistries and processing methods to enable solvent-free manufacturing of sustainable polymers with improved recyclability, and 2) adaptive biomaterials that mimic living systems with applications in soft implants and haptics (systems which utilize touch and movement for control).  
Located at the University of Wisconsin-Madison, the center will develop 1) new types of glassy materials, such as flexible metallic and thin organic semiconducting glasses with applications from electronic displays to new formulations of drug molecules into pill form, and 2) thin, crystalline-based membrane materials that feature ultrafast magnetic switching properties which can advance the fields of information processing, high-speed data storage and quantum computing. 
Located at the University of Tennessee, Knoxville, the center is dedicated to 1) accelerating the understanding, design and control of quantum materials and systems through artificial intelligence, with potential advances in materials for energy harvesting, low-power electronics, quantum computing and novel sensing applications, and 2) developing materials that can withstand the extreme temperatures and pressures needed for nuclear fusion and hypersonic defense systems. 
Located at the University of Michigan-Ann Arbor, the center will focus on developing 1) new layered materials with tailored nanoscale structures to enable elusive quantum states for quantum information processing, and 2) new recyclable polymeric materials capable of self-healing with potential applications in additive manufacturing and the creation of materials whose properties can be regulated on demand.