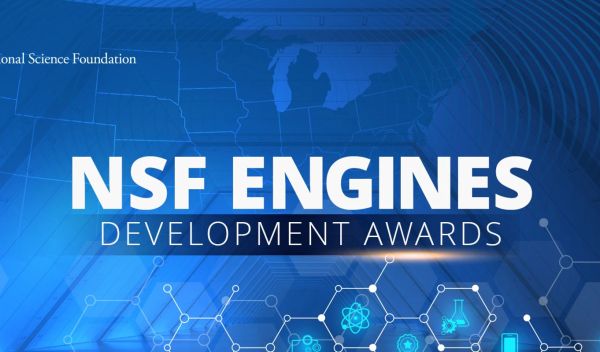 NSF invests more than $43 million in NSF Regional Innovation Engines Development Awards
These first-ever awards will help regional partners collaborate to create economic, societal and technological opportunities for their communities.
The U.S. National Science Foundation announced the first-ever NSF Regional Innovation Engines, or NSF Engines, program awards to 44 unique teams spanning universities, nonprofits, businesses and other organizations across the U.S. states and territories. Each awardee team will receive up to $1 million for two years. The NSF Engines program is anticipated to be transformational for the nation, ensuring the U.S. remains in the vanguard of competitiveness for decades to come.
The awardees span a broad range of states and regions, reaching geographic regions that have not fully benefited from the technology boom of the past decades. These NSF Engines development awards will help organizations create connections and develop their local innovation ecosystem within two years to prepare a strong proposal for becoming a future NSF Engine, where they will have the opportunity to receive up to $160 million.  
"These NSF Engines Development Awards lay the foundation for emerging hubs of innovation and potential future NSF Engines," said NSF Director Sethuraman Panchanathan. "These awardees are part of the fabric of NSF's vision to create opportunities everywhere and enable innovation anywhere. They will build robust regional partnerships rooted in scientific and technological innovation in every part of our nation. Through these planning awards, NSF is seeding the future for in-place innovation in communities and to grow their regional economies through research and partnerships.   This will unleash ideas, talent, pathways and resources to create vibrant innovation ecosystems all across our nation."
Launched by NSF's new Directorate for Technology, Innovation and Partnerships and authorized by the "CHIPS and Science Act of 2022," the NSF Engines program uniquely harnesses the nation's science and technology research and development enterprise and regional-level resources. NSF Engines aspire to catalyze robust partnerships to positively impact the economy within a geographic region, address societal challenges, advance national competitiveness and create local, high-wage jobs.
The NSF Engines program has two types of awards. NSF Engines Development Awards, or Type-1 awards, including those just announced, provide up to $1 million for up to two years. Type-2 awards provide up to $160 million for up to 10 years. The first round of Type-2 awards are anticipated in the fall and will fund NSF Engines across three distinct phases — the nascent, emergent and growth phases.
View a map of the NSF Engines Development Awards. More information can be found on the NSF Engines program website.