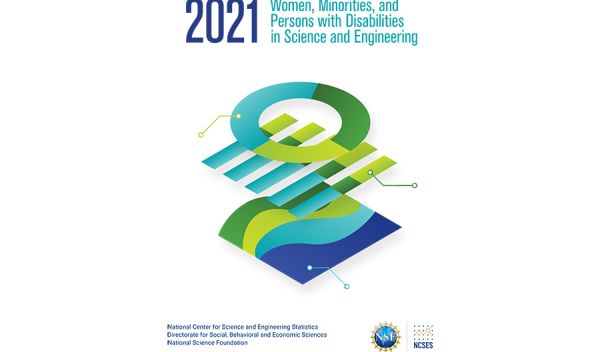 NSF and NCSES release 2021 Women, Minorities, and Persons with Disabilities in Science and Engineering report
Washington DC – The National Center for Science and Engineering Statistics released its 2021 Women, Minorities, and Persons with Disabilities in Science and Engineering report.
The biennial report provides detailed information about participation levels of underrepresented groups in science and engineering education and employment.
"Ensuring accessibility and inclusivity in STEM is essential to cultivate a robust U.S. science and engineering enterprise," said NSF Director Sethuraman Panchanathan. "This report provides useful information that helps us understand where we are and where we need to go. We must continue to work collaboratively for inclusive change that results in a STEM workforce that reflects the population of our nation."
Key topic areas in the report include enrollment, field of degree, employment status and occupation, including academic careers. The report focuses on women, persons with disabilities, and minorities from three racial and ethnic groups: Black or African American, Hispanic or Latino, and American Indian or Alaska Native. These groups tend to have less representation in S&E than in the U.S. population.
"We are excited to provide this important resource on the status of women, minorities and persons with disabilities in STEM," said NCSES Director Emilda B. Rivers. "The WMPD report serves to inform policymakers and the science and engineering communities on issues impacting underrepresented groups over time. The report also provides a valuable resource to academic researchers and community leaders to further the discourse on STEM representation."
Congress mandated the report in the Science and Engineering Equal Opportunities Act of 1980 as part of NSF's mission to encourage and strengthen the participation of underrepresented groups.
View the full report and data tables online at ncses.nsf.gov/wmpd