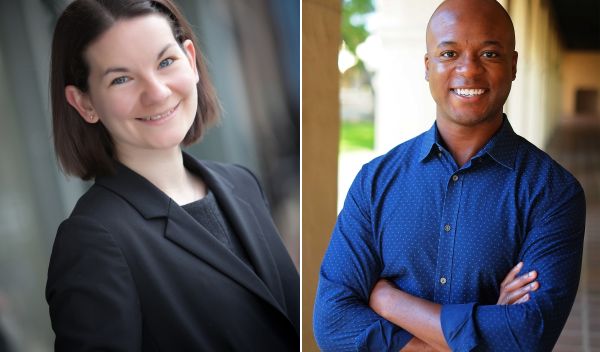 NSF recognizes innovative science of chemist and aeronautical engineer as 2020 Waterman awardees
WASHINGTON – A chemist who is zooming in on microbes in the human body to understand their influence on human lives and an engineer who looks to animals to build better wind turbines and other technology have earned this year's prestigious NSF Alan T. Waterman award. Emily Balskus, a Harvard University chemist, and John O. Dabiri, a California Institute of Technology aeronautical engineer, have earned the nation's highest honor for early career scientists and engineers.
The annual award recognizes researchers age 40 or younger who demonstrate exceptional individual achievements in scientific or engineering research in NSF-supported fields. This is the fourth year NSF has chosen to honor not one, but two researchers.
"This year's scientific pioneers are innovators who are creatively addressing some of the most challenging scientific questions," said NSF Director Sethuraman Panchanathan. "Emily Balskus has opened up novel ways to explore and exploit the chemistry and biology of microbes that live in our bodies and how they are linked to our health. And we're already seeing the potential impact. John Dabiri has looked to the fluid mechanics of sea life for inspiration to build better wind farms that appear to boost efficiency with a much smaller footprint." 
Tapping our own microbiome's 'chemists'
Throughout Balskus' scientific career, she has worked on scientific problems that excite her most, which began with developing new chemical reactions in the lab as an organic chemistry graduate student to now uncovering new enzymes and molecules from biological systems. "I'm very interested in biological questions, but I always approach these problems with the eyes of a chemist, trying to think very deeply about reactivity and structure," she explained.
Balskus is most known for integrating chemistry and microbiology to understand how microbes from the gut are linked to human health and disease.
"My work has focused on how microbes perform chemistry – what are the specific catalysts, or enzymes they use to perform chemical transformations linked to health and disease?" she explained.
Balskus and her team have found novel, creative ways to "peek inside" the genome sequences who exist in our gastrointestinal tract to discover chemical reactions and molecules that are implicated in diseases like colon cancer, inflammatory bowel disease and diabetes. Her breakthroughs have transformed how other scientists approach this important line of research that has potential important applications in medicine.
"Through receiving this award, I hope I can bring greater attention to microbes and the important roles they play in all aspects of our lives and to how chemistry can help us understand the microbial world as well as our own," Balskus said. "I also hope that my work highlights the promise of interdisciplinary science and encourages other scientists, especially trainees, to be curious and open to exploring areas of science outside their comfort zones."
Balskus received her Ph.D. in chemistry and chemical biology from Harvard in 2008.
Looking to the sea to build a better wind turbine, help detect heart problems
It takes more than a trip to the beach to understand the humble jellyfish and how they propel themselves, but they caught Dabiri's attention, and since then he has built real-life models from algorithms of their movement and gone on to look at swimming in other marine animals. His work on schools of swimming fish led to a more efficient design for wind farms.
Dabiri's research in animal locomotion and fluid mechanics transcends disciplines with innovative applications in biology, energy, and the environment.
"Fluid dynamics is by some measures an old field," he said. "The governing equations were formulated almost 200 years ago and yet, we are only now beginning to appreciate the myriad ways in which fluid dynamics plays a central role in biological systems, from aquatic ecosystems to human health."
By linking the swimming of marine animals to fluid dynamics of the human heart, Dabiri discovered that efficient swimming in animals like jellyfish and squid leads to vortex formation similar to vortices created in a healthy human heart. Conversely, escape swimming in animals leads to vortex patterns that are similar to those of the human heart suffering from cardiac disease. Identifying these patterns provides a path to rethinking how to diagnose and treat heart disease and potentially at earlier stages.
And by applying fluid dynamics lessons learned from the vortices formed in a school of fish, Dabiri has changed the way we think about the direction and design of wind turbines. Rather than big hulking windmills, his design looks more like a vertical cell tower, is lower to the ground and is set among more tightly formed arrays, taking far less space than current wind turbines.
"This award is a tribute to the diverse, creative, and resilient group of students whom I've been honored to mentor throughout my career," Dabiri said. "Being selected for the Waterman award encourages us to continue chasing tough problems even in the face of possible failure, knowing that the science we learn along the way is still valued by the research community."
Dabiri received his Ph.D. in bioengineering with a minor in aeronautics from Caltech in 2005.
The Waterman Award will be presented to both recipients at a ceremony in Washington, D.C. at a later date. In addition to a medal, awardees each receive a $1 million over five years for research in their chosen field of science.