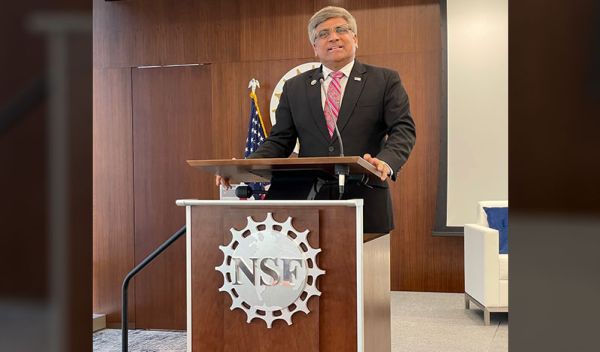 NSF hosts government, industry leaders to discuss the future of 6G technology
On April 21, the U.S. National Science Foundation hosted leaders from across academia, industry, civil society, and government to discuss the future of next-generation wireless technologies and services and how it can advance economic and national security interests. The workshop, entitled "6G: Open and Resilient by Design", was organized by the White House National Security Council and featured speakers including NSF Director Sethuraman Panchanathan, Deputy National Security Advisor Anne Neuberger, Senator Ben Lujan, Representative Doris Matsui, and National Telecommunications and Administration Administrator Alan Davison.
The full day meeting shared and surveyed information regarding R&D and standardization activities leading up to 6G so the U.S., in cooperation with its allies and partners, academia and the private sector, can favor global competitiveness, affordability, security, resiliency, openness, and interoperability.
"Collaboration and the sharing of ideas, resources, and best practices, has, and always will be, at the very heart of progress," said Panchanathan. "Opportunities like this are so important to the future of technology both in the United States and around the globe. By bringing together like-minded governments and agencies, industries, researchers, and entrepreneurs— truly the best and the brightest— to share their perspectives and ideas will no doubt supercharge our progress at speed and scale."
"President Biden is committed to recharging American technology dynamism and innovation, particularly in foundational sectors like telecommunications," said Anne Neuberger, Deputy National Security Advisor for Cyber and Emerging Technologies. "Today's discussions lay the groundwork to ensure the United States, and our allies and partners, lead in 6G by bringing together academia, industry, and policymakers to discuss related transformative technologies, R&D, and standards."
The themes discussed during the workshop included: Trusted Technology that Protects National Security, Open and Interoperable Innovation, Secure, Resilient, and Protective of Privacy, Affordable, Environmentally Sustainable, and Globally Connected, Electromagnetic Spectrum, Novel Materials and Manufacturing, Standards & International Collaborations.
Highlighting the need for a multi-sector approach to building innovative, resilient, and open 6G networks, NSF recently released a new call for partnerships to explore additional programs to advance Next-Generation Networks and Computing Systems, including 6G networks and services.
In April 2021, NSF announced a new, $40 million public-private partnership with federal agencies and private industry to launch the Resilient and Intelligent Next-Generation Systems (RINGS) program. Today, this NSF-led initiative is accelerating research in a host of areas with significant impact on Next-Generation networking and computing systems. It brings together NIST, DoD, and nine companies including Apple, Ericsson, Google, IBM, Intel, Microsoft, Nokia, Qualcomm, and VMware to enhance resiliency and performance across next-generation communications and wireless technologies.
Innovating through multi-sector partnerships is not new for the National Science Foundation. For over seven decades, NSF has powered discovery and innovation across all fields of science and engineering— including the critical modern wireless communication networks and systems our society has come to depend on.