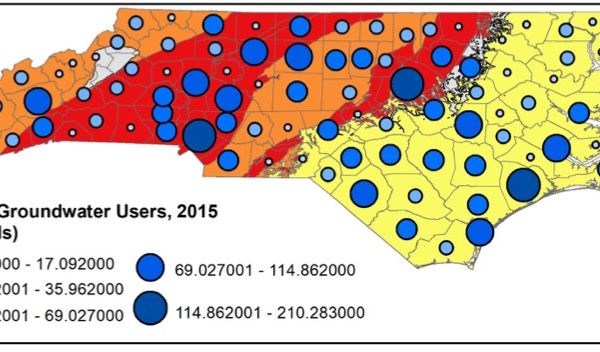 Piedmont region drinking wells exceed North Carolina's hexavalent chromium standards
Data from nearly 1,400 drinking wells across North Carolina show excessive levels of carcinogen
A new study that combines measurements from some 1,400 drinking water wells across North Carolina estimates that more than half the wells in the state's central region contain levels of cancer-causing hexavalent chromium in excess of state safety standards. The NSF-funded findings are published in Science of the Total Environment.
"Though often thought of as a byproduct of industrial contamination, hexavalent chromium can form naturally in groundwater, depending on the local aquifer geology and water chemistry," said geochemist Avner Vengosh of Duke University.
Other studies have identified naturally occurring hexavalent chromium in groundwater in Arizona, California, Argentina, Brazil, Greece, Italy and Mexico.
Only a single North Carolina well in the study violated the maximum contaminant level for total chromium set by the U.S. Environmental Protection Agency of 100 micrograms per liter. But the North Carolina Department of Health and Human Service's much lower health advisory level -- 0.07 micrograms per liter -- is set to protect against a one-in-one-million risk of cancer over a 70-year life span. That level of hexavalent chromium was exceeded by 470 of the 865 wells that were measured.
"There is a huge gap between 100 and 0.07 micrograms per liter," said Rachel Coyte of Duke University, lead author of the study. "If you follow the EPA guidance, we have no problem. But if you look at the North Carolina state health recommendations, there is a significant population exposed to hexavalent chromium concentrations at or exceeding a one-in-one-million lifetime risk of cancer."
The researchers developed a model that predicts the occurrence of hexavalent chromium based on a well's geology and parameters such as water pH, oxygen content and salinity.
"This study provides a new geochemical framework for the assessment and prediction of hexavalent chromium occurrence in groundwater," says Enriqueta Barrera, a program director in NSF's Division of Earth Sciences.