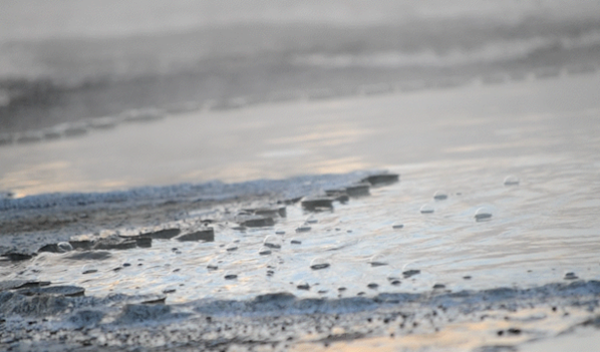 A pool at Yellowstone is a thumping thermometer
Interval of thumps at Doublet Pool offers insight into the fluctuations of energy in the Yellowstone hydrothermal system
While the crowds swarm around Old Faithful to wait for its next eruption, a little pool just north of Yellowstone National Park's most famous geyser is quietly showing off its own unique activity, also at more-or-less regular showtimes. Instead of erupting in a towering geyser, though, Doublet Pool cranks up the bass every 20 to 30 minutes by thumping. The water vibrates and the ground shakes.
Doublet Pool's regular thumping is more than just an interesting tourist attraction. A new study led by University of Utah researchers shows that the interval between episodes of thumping reflects the amount of energy heating the pool at the bottom and indicates how much heat is being lost through the surface. Doublet Pool, the authors found, is Yellowstone's thumping thermometer.
"By studying Doublet Pool, we are hoping to gain knowledge on the dynamic hydrothermal processes that can potentially be applied to understand what controls geyser eruptions," said Fan-Chi Lin, a study co-author, "and also less predictable and more hazardous hydrothermal explosions."
The U.S. National Science Foundation-supported study is published in Geophysical Research Letters.
Doublet Pool is, as the name implies, a pair of hydrothermal pools connected by a small neck. It would fit comfortably in one half of a tennis court. It's situated on Geyser Hill in Yellowstone National Park, across the Firehole River from the hotels, visitor centers and parking lots that surround Old Faithful.
"We knew Doublet Pool thumps every 20-30 minutes," Lin said, "but there was not much previous knowledge on what controls the variation. In fact, I don't think many people realize the thumping interval varies. People pay more attention to geysers."
The thumping, Lin said, which lasts about 10 minutes, is caused by bubbles in the plumbing system that feeds water, heated by a magma system beneath Yellowstone, to Doublet Pool. When those bubbles of water vapor reach the cool upper reaches of the hydrothermal conduit, they collapse suddenly. Thump.
A similar process happens in geysers and excites "hydrothermal tremor," Lin said, but occurs deeper in the hydrothermal system, at depths of about 30-60 feet, and ends with the geyser releasing pressure through a narrow opening as an eruption. Doublet Pool does not have a plumbing structure that enables pressure accumulation and hence no eruption occurs.
"This work helps us understand some of the many complex processes that operate in Yellowstone National Park," said Wendy Panero, a program director in NSF's Division of Earth Sciences. "The behavior of this system is a result of the interplay of the heat of the volcanic system, water circulating belowground, and influences of the wind."