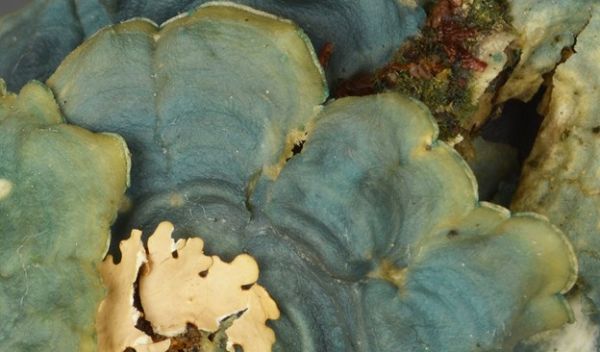 Rare lichen unique to Florida discovered in museum collection, may be extinct
Hunt is on to find the lichen in the wild -- if it still exists
Scientists have found a new species of fleshy verdigris lichen, thanks to DNA analysis of museum specimens. Misidentified by its original collectors, the lichen is only known from 32 specimens collected in North and Central Florida scrubland between 1885 and 1985. Now the hunt is on to find it in the wild -- if it still exists.
The lichen, named Cora Timucua in honor of Florida's Timucua people, is critically endangered, even more so than the federally protected Florida perforate reindeer lichen, and is possibly extinct. Researchers are holding out hope that C. Timucua may persist in undisturbed pockets of the state's dwindling pine scrub habitat, though recent searches came up empty.
"The million-dollar question is 'Where is this lichen?'" said Laurel Kaminsky, a digitization manager at the Florida Museum of Natural History and co-author of the U.S. National Science Foundation-funded study. "The optimist in me says it's still out there."
The study was published in The Bryologist.
Kaminsky said the sparse information recorded by the lichen's collectors makes it difficult to retrace their steps. More widespread in the early 20th century, C. Timucua  was collected only from the Ocala National Forest and O'Leno State Park, two of Florida's last remaining scrub ecosystems. Citrus groves and urban developments have replaced up to 90% of the state's sand pine scrub.
"If it's anywhere, it's going to take a lot of looking in very specific habitats to find it," Kaminsky said.
Increasingly, researchers need not pack a tent and head into the field to find new species, however. Instead, they can search online databases of specimen data from museums around the world. It was on the web that researchers spotted clusters of Florida Cora specimens far outside the genus's known range. They contacted Kaminsky, suspecting DNA analysis would uncover misidentified specimens.
"This work shows that collections that preserve past biological diversity drive our understanding of the present day," said Amanda Simcox, a program director in NSF's Division of Biological Infrastructure.