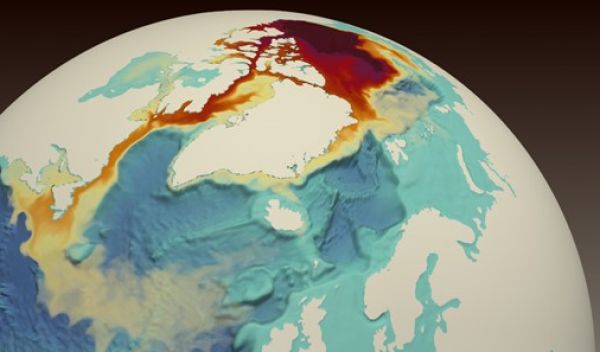 Record-high Arctic freshwater affecting marine environment and Atlantic Ocean currents
Freshwater is accumulating in the Arctic Ocean
Freshwater is accumulating in the Arctic Ocean. The Beaufort Sea, which is the largest Arctic Ocean freshwater reservoir, has increased its freshwater content by 40% over the past two decades. How and where this water will flow into the Atlantic Ocean is important for local and global ocean conditions.
A U.S. National Science Foundation-funded study by researchers at the University of Washington, Los Alamos National Laboratory and the National Oceanic and Atmospheric Administration shows that this freshwater travels through the Canadian Archipelago to reach the Labrador Sea, rather than through the wider marine passageways that connect to seas in Northern Europe. The study was published in Nature Communications.
"The Canadian Archipelago is a major conduit between the Arctic and the North Atlantic," said lead author Jiaxu Zhang. "In the future, if the winds get weaker and the freshwater gets released, there is a potential for this high amount of water to have a big influence in the Labrador Sea region."
The finding has implications for the Labrador Sea environment since Arctic water tends to be fresher but also rich in nutrients. This pathway also affects larger oceanic currents, namely a conveyor-belt circulation in the Atlantic Ocean in which colder, heavier water sinks in the North Atlantic and comes back along the surface as the Gulf Stream. Fresher, lighter water entering the Labrador Sea could slow that overturning circulation.
"We know that the Arctic Ocean has one of the biggest climate change signals," said co-author Wei Cheng. "Right now, this freshwater is still trapped in the Arctic. But once it gets out, it can have a very large impact."
Added Colleen Strawhacker, a program director in NSF's Office of Polar Programs, "This research demonstrates why it is critical to understand how rapid environmental change is affecting the Arctic system, which often has wide-ranging effects on other parts of the Earth system."