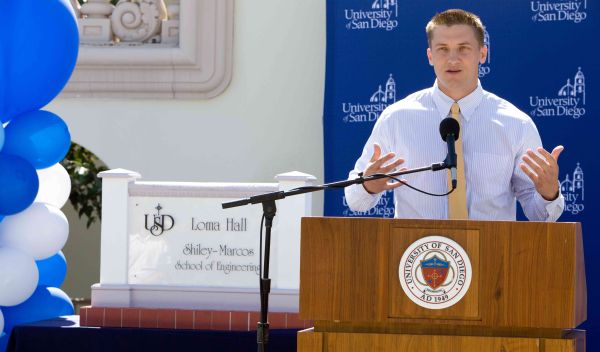 Recruiting Veterans Helps Program Engineer Its Future
NSF grant increases veteran student population, enhances overall strength of University of San Diego's engineering program
Nathan Scherrer's abiding sense of curiosity has led him to various adventures in science and engineering--first in the military and now in academia.
As a young boy, Scherrer enjoyed taking things apart and putting them back together. He was fascinated by a cyborg in the "Terminator" movie series. His six-year stint in the U.S. Navy (2002-08), which included anti-piracy and anti-terrorism work on two deployments to the Persian Gulf aboard the USS Milius, whet his appetite for more.
He was always good at math and loved anything mechanical, so going into a technical area like sonar was a "no-brainer," Scherrer said. "The field involves acoustics, fluid mechanics and computers and I got to track and prosecute submarines." When the time came to extend his passion for discovery with a college education, Scherrer enrolled in the engineering program of the University of San Diego (USD), a private, Roman Catholic university.
Scherrer, who is set to graduate in May 2013, has been busy working on a senior capstone project that emerged from a USD Summer Undergraduate Research Experience. His research involves harnessing power from wasted vehicle exhaust heat to increase fuel efficiency.
"From the work I did last summer on a small engine the engineering department has, I was able to show that significant heat can be harnessed from the exhaust. The project has shifted to my senior design project, where my team and I wish to construct an apparatus to turn the gathered heat energy into mechanical power for vehicle use. We hope to show efficiency gains between 5 and 10 percent."
There are challenges. "These systems involve expensive components, high pressures, precision machining and a rigorous analysis of heat transfer and thermodynamic processes," he said.
But he's determined to see the project succeed. "I feel the education I've received here enables me and my team to be more than qualified to meet these difficulties head-on," he said.
A natural fit
Scherrer's capabilities demonstrate why USD, and specifically Engineering Program Director Kathleen Kramer and professors Rick Olson and Susan Lord, wants to recruit military veterans to campus.
"We've always been interested in attracting veteran students," said USD Vice Provost Tom Harrinton. "It's a natural fit. Our university has always had a strong desire to help veterans and thank them for their service to our country."
A few years ago, Kramer, Olson and Lord advanced USD's goals with the help of a $185,000 National Science Foundation grant.
The grant, which ran from September 2009 to December 2011, called for the creation of an innovative model for an undergraduate engineering program that capitalizes on the skills and military experience of veterans. The idea was to serve veterans with customized support to increase their success as engineering majors and in the workforce. The project set out six targets:
strategies and communication materials ("Engineering Your Future" video, brochure, print and Web stories) to recruit veteran students;
admission processes changes to enhance identification of active duty military in processing applications;
online math modules to prepare incoming veteran students (a module was funded by another NSF grant);
revisions to ensure appropriate academic credit and better recognition for military experiences and education;
campus support services to assure that veteran student successes are identified and publicized; and
support for hiring veteran students from industry.
The USD engineering grant came on the heels of the federal government's 2008 economic stimulus program, which, among other things, emphasized opportunities for people in science, technology, engineering, and mathematics programs, specifically engineering, physics and computer science.
Sue Kemnitzer, NSF deputy division director of Engineering, Education and Centers, said USD was one of 18 institutions to receive grant funding for veteran-related projects.
"We looked for partners like USD in particular because of location, but [the school's] engineering department is different than most others because it requires broader liberal arts study as well as the deep, technical expertise," she said. "Veterans returning now are going to be leaders; they've already been leaders and we need them in engineering because it requires leadership, teamwork and technical skills. USD's program, I think, can appeal to these people who already have broader experience and it will value them in a way that's... unique."
The Yellow Ribbon GI Education Enhancement Program, a provision of the Post-9/11 Veterans Educational Assistance Act of 2008, has made it more affordable for veterans to attend USD. The Yellow Ribbon program helped USD and the Veterans Administration create an agreement to fund tuition expenses that exceed the cost of California's most expensive public universities. Combined, scholarship funds cover approximately 75 percent of USD's tuition for eligible veterans and their dependents.
That resource has tripled the number of veteran students throughout USD's academic programs, and the rise has been particularly significant for the engineering program.
"Historically very few veteran students enrolled in engineering at USD, but since the grant began, more than one-third of our new transfer students are veterans," Kramer said. "Interest in what we've done led us to organize a special session at the 2011 Frontiers in Education Conference to explore best practices for educating veterans."
The USD engineering program is dual-degree. All students earn a Bachelor of Science in their engineering discipline and a Bachelor of Arts through a broad liberal arts program in nine semesters.
"We want to ensure that graduates emerge from our programs not only as engineers of the first order, but also complete engineers who are thoughtful, informed and engaged participants in the global community," Kramer said. "This integrated vision of engineering is what makes a USD engineer different from your typical engineer." Scherrer said he experienced this firsthand during a summer internship.
"I noticed a difference between myself and other interns," he said. "Not that I had technical knowledge that they didn't, nor was I smarter than them because they were plenty smart. But I noticed I had the ability to communicate easily with a lot of people who worked there and I was able to move between project groups without any problem."
An eye on diversity
Attracting more veteran students to engineering, Lord said, benefits USD's push for an inclusive and diverse campus. USD currently has 363 engineering students, including a higher percentage of women than the national average (24.4 percent to 18.5). An influx of male and female veterans is another step forward.
"I'm very interested in getting people with all different perspectives," Lord said. "I think engineering has very difficult problems and we need to have lots of different people with bright minds working on them. I see veterans giving us that, and the potential for significant racial diversity, because veterans come from a wider racial mix than our traditional students."
Two students in this underrepresented category are former marines: Colleen Sevier and Antwane Green. "What attracted me most to the engineering program was the quality and character of the professors. We have interactive, interesting lectures and labs with real-world relevance," said Sevier. She is a December 2012 graduate whose senior capstone project was to design and build instrumentation for USD's laboratory wind tunnel. "My status as a veteran has led me quite naturally into various leadership positions and I can see that the same thing has happened for the veterans in the classes after mine."
Green, who served from 1996 to 2009 and anticipates a May 2014 graduation, said: "I've found the faculty and staff here to be amazing. I can approach them with any problem or just talk about anything. I like the small class size because I get a more intimate learning experience. So far, everything's worked out as I'd hoped."
The focused recruitment and presence of veteran students on campus pleases USD President Mary E. Lyons, Ph.D., who served 25 years in the Navy Reserves and retired with the rank of captain. "USD has always been a welcoming environment for our men and women veterans, offering them a highly personalized education," Lyons said. "Our engineering faculty, in particular, appreciates the skills and experience that our veterans bring to their studies and continue to build upon throughout their studies. As a result, we're graduating extraordinarily mature and skilled engineers who become immediate contributors to their employers."
Connecting veteran students to opportunities is essential to sustained success. University and engineering relationships and outreach such as on-campus job fairs, events led by student and professional organizations, and partnerships to fund student research have led to a variety of internships. They include internships at General Atomics Aeronautical Systems, SAIC, Qualcomm, ViaSat, Solar Turbines, San Diego Gas & Electric and the Navy's SPAWAR Systems Center. (Hundreds of students have come via the Naval Reserve Officers Training Corps, headquartered on the USD campus since 1982.)
The university now has a student veteran organization, a retired navy captain as its veteran student services coordinator and is beta-testing a hands-on outreach program for wounded warriors.
"Our outreach to veterans, in particular, reflect the synergies of. . . public-private partnerships," Lyons said, adding that these partnerships "catapult the university into a far stronger and more effective position to serve our students."
Editor's Note: This Behind the Scenes article was first provided to LiveScience in partnership with the National Science Foundation.