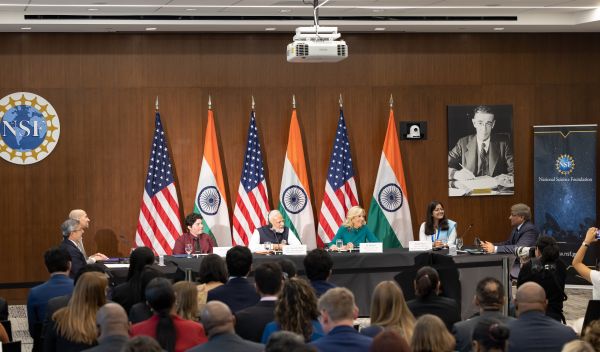 Remarks as Prepared for Delivery by NSF Director Sethuraman Panchanathan
Workforce Event at the National Science Foundation with the First Lady of the United States Jill Biden and Prime Minister Narendra Modi, June 21, 2023
It is indeed an historic day for NSF as we advance science, technology and innovation at speed and scale.
It is truly an honor to welcome the Honorable Prime Minister of India, Mr. Narendra Modi, who is committed to unleashing talent at scale in India. It is indeed an honor to welcome our dear first lady of the United States, Dr. Jill Biden, a passionate educator who deeply cares about energizing talent at all levels all across our nation.
Talking about historic, what better way to celebrate the mission of NSF—unleashing talent in every corner of our country, across the broad socioeconomic demographic, the vast geography and the rich diversity of our nation.
This is truly a shared priority for both the United States and India ­— to rapidly build a workforce of the future that guarantees the success of the industries of today and tomorrow.
At NSF, we are working hard every day, through investments in ideas and talent that make possible "opportunities everywhere and innovation anywhere."
For example, the Advanced Technology Education program focuses on building curricula and a skilled technical workforce in our community colleges. Dr. Biden, I agree with you that community colleges are our best-kept secret. Wherever I go, whether it is Wake Tech in North Carolina or Johnson County Community College in Kansas, I am very impressed by the talent and commitment of the institutions. It is very clear that we need to ensure that we are doing everything to empower and energize them everywhere.
Partnerships are exceedingly vital to ensure success at scale. At NSF, we are hyper-partnering with various sectors, such as industry, as well as with like-minded international partners, such as India, towards building a vibrant and robust workforce and entrepreneurs of the future.
For example, our partnership with companies like Intel, Micron, IBM, Ericsson, and Samsung are vital to preparing the ideas and talent to guarantee our semiconductor futures.
Our partnership with India is very important as we share values and aspirations. NSF has invested in over 200 projects in the past five years totaling almost $150 million. We are partnering with the Department of Science and Technology (DST) of India, as well as the Ministry of Electronics and Information Technology and the Department of Biotechnology, to co-invest in critical emerging technologies as well as in fundamental research. Just in the last year we have launched 35 new projects in partnership with DST.
It is indeed exciting to have the recent $318 million investment in LIGO-India that will no doubt inspire students around the world to be a part of the STEM enterprise. Thank you, Prime Minister Modi, for this strong commitment to advancing scientific discoveries and the workforce of the future.
These co-investments are absolutely going to rapidly scale ideas and talent development, and build the industries of the future in both our nations.
We all need to be at the table — employers, high schools, colleges — to ensure young people have access to these opportunities. The panel today exemplifies this spirit of cooperation, synergy, and pathways to success. I am very excited to have all of you here at NSF today!