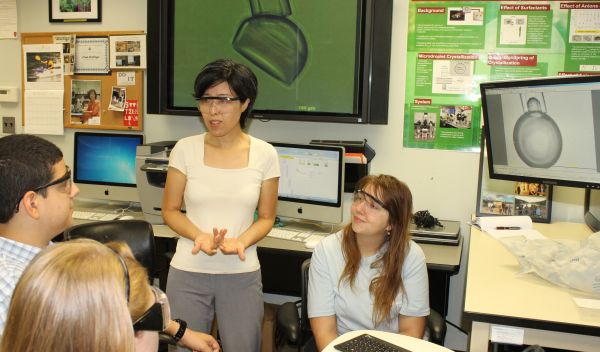 The right chemistry
NSF-funded researcher mixes mentoring and materials science
During the week leading up to the American Chemistry Society national meeting, Sunghee Lee pulled two all-nighters in her lab.
She wasn't a college student who had procrastinated. And she wasn't on a deadline, exactly. She didn't need these data for an imminent poster or presentation at the conference. And, if left to her own devices, she might not have spent all those hours in her lab, instead spending more time with her aging mother who lives with her.
No, this was the result of her success at instilling the value of research perseverance in her students. They were determined that their research shouldn't suffer because they were attending the upcoming conference. While readers of this story might assume her students are graduate students or even postdocs, they're not. Sunghee Lee is an NSF-funded chemistry professor who has spent the past 10 years mentoring undergraduate students by having them actively work in her lab at Iona College.
"A lot of people talk about integrating research and education, but I wanted to show it really was possible," Lee said. "My students may not have gotten into MIT or Harvard, but that doesn't measure what they can or cannot do. It's my job to awaken their potential."
Frontier of science and education
Like so many chemists, Lee had initially intended to pursue a career involving pure chemistry research. "I was thinking it would be at the frontier of science where I'd leave my mark--my name--on some chemistry advance or discovery," she said. "Then I did a postdoc at Duke University where I first taught undergrad classes. I could see the incredible potential I had with these students. Even if it meant I published a few fewer papers each year, I actively looked for a research position that would include teaching."
And, in fact, Lee hasn't left her chemistry research behind. She studies soft materials and how molecules organize around soft surfaces, such as at a liquid interface.
"Oil and water actually do mix," she laughs, but then quickly explains. "We use micropipettes to create a water droplet in an oil that contains some sort of lipid or surfactant. We quickly see how a crystal develops as water leaves from its droplet into oil, and we are able to control what is left behind (crystal) by changing the chemistry of the soft interface."
Using water droplets and an array of biological molecules, she and her students create a membrane mimic using droplet interface bilayers, and study the fundamental properties of biological membranes. Additionally, she and her students look at temperature changes and other variables to see how they affect membrane permeability--what the molecule's membrane will allow in and keep out. Understanding this soft interface means finding more effective drug delivery systems, safer cosmetics and learning how our biological systems metabolize different foods.
"Nature, our bodies--all the cells are soft materials," she said. "And this is all fundamental research. I always volunteer to teach general chemistry because it is the first taste of science, and it covers so much. From my students' freshmen year, I am teaching these fundamental concepts."
The power of motivating students
"Negative results are just what I want. They're just as valuable to me as positive results. I can never find the thing that does the job best until I find the ones that don't."  Attributed to Thomas A. Edison, this quote was one of many that Lee and her students periodically put on the white board in the lab to motivate one another. For Lee, the quote is a way to show her students that being a scientist doesn't mean having a series of uninterrupted successful discoveries, but that failure is part of the process.
But Lee has had undeniable success in motivating students. Out of 20 students who have gone through her NSF-funded mentoring program, 14 are now enrolled in doctorate programs and four in masters programs. When NSF first funded Lee's work, her lab added one or two new students each year, making for a five-person team. Today, it has grown to a 15-person team. Some students also get stipends to work during winter and summer breaks there. Iona College students come from diverse backgrounds, and Lee is fostering an interest in science among some students who have not been exposed to it much before college.
As she talks about her program's growth, it's apparent she's most proud of the enthusiasm for science she's instilled in her students.
"Research is exciting," she said. "We place a very high emphasis on research, and the students think this is something fun. But they take it very seriously too. We've had snow days where students call me, asking how I can help them get access to the lab so they can continue their work. And with the NSF funding, I have been able to bring them to conferences and buy things to help them do their research in the lab. It makes a difference in what kind of experience I can share with them."
From the first day of Intro to Chemistry, she tells students about her lab, inviting them to visit. Not everyone stops by, but for those who do, she shows them a personal connection between the data they discuss in class and the student lab assistants who have accrued that data.
"This research program and other mentoring programs are critical to filling the career pipeline with new scientists," said Timothy Patten, an NSF program officer in the Chemistry Division. "Here is an environment where real, relevant research is taking place, and these students are integral to the process. That's not only a confidence builder; it's a great experience for them to see what it is really like to be a scientist. It's a great opportunity Sunghee has provided to these students."
Contributions and limitations
Lee recognizes that not every student that she works with is going to become a chemist. She's had a student graduate and move on to work at a Napa Valley winery. Others have honed in on more tangential aspects of the work, ultimately choosing to explore software development or engineering careers as a result of their roles in her lab.
For example, one student knew he didn't want to work on the lab's experiments, but he was good at writing computer code. He ended up developing a computer program that would transfer data to video--a process that had previously been done manually but could now be automated, saving a significant amount of time for his student colleague experimentalists. He is currently a junior and plans to go on to a graduate program in computer science.
Lee's outreach at New Rochelle High School brought a high school freshman to work with her three years ago. He showed initiative and interest, and she knew she could work with him. He continues in her lab today as he begins his senior year in high school with plans to major in chemistry in college.
And while she admits that the challenge of having an all-undergrad lab means she needs to be there whenever her students are, she is quick to explain that it's not because she doesn't trust them.
"It's not because they can't handle it--that's not it at all," she said. "It just defeats the purpose of what I'm doing here. If it's going to be a meaningful, enjoyable educational experience, then they need to always have access to on-site mentoring."
That's what it's all about. As Lee says, she wants to see the "seed she plants in them" grow.
These days, Iona College, a liberal arts institution, has noticed Lee's impact, making her the school's first endowed professor. And NSF funding continues to advance Lee's mission of motivating and mentoring science students.
"I recognize that science may not be a major focus for a liberal arts institution, so I feel like I have had a unique opportunity to grow this program," she said. "What I am most proud of is that I feel I transform students. I awaken the possibility in them. And sometimes I am the one who helps them realize how much they are able to do."