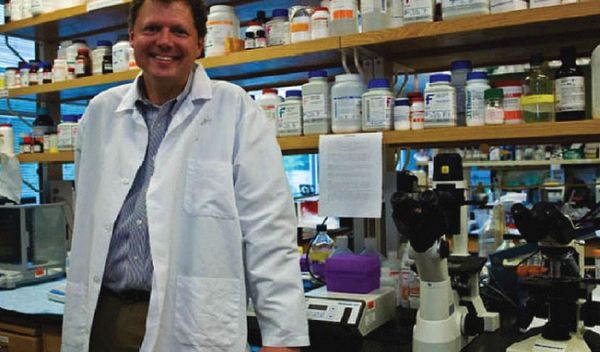 Scientists Investigate Possible 'Fear Drug'
Kerry Ressler's research on the molecular biology of fear could lead to better methods for treating individuals suffering from anxiety disorders
Kerry Ressler wants to understand the molecular biology of fear.
"We're studying how the biology of the brain is changed by the environment, and how these changes underlie memories and experiences," said Ressler, an associate professor in the department of psychiatry and behavioral sciences at Emory University School of Medicine and Yerkes National Primate Center. "I think it's the key to understanding lots of big picture questions about the brain and the mind."
Ressler, a Howard Hughes Medical Institute investigator, has been researching a brain chemical involved both in "learning" to be afraid, as well as in curbing already existing fear.
In recently published research, Ressler and his colleagues showed that mice lacking this chemical--brain-derived neurotrophic factor, or BDNF--had difficulty "remembering" to fear a trauma inflicted upon them, in this case, mild footshocks.
If it works the same way in humans, and Ressler thinks that it does, the finding ultimately could help prevent the emotional and often disabling after-effects of trauma, such as the anxiety, flashbacks and other symptoms suffered by more than 5 million Americans every year.
A drug, perhaps, or other therapy given at the time of trauma could prevent the brain from consolidating the memory, thus easing or eliminating the symptoms associated with post-traumatic stress disorder (PTSD).
"Studying the molecular biology of fear ... [provides] a tremendous way to do translational research between the best understood behavioral circuit--the fear reaction--and fear-related disorders," said Ressler, who, as an M.D.-Ph.D., is also co-director of the post-traumatic stress disorder clinic at Grady Memorial Hospital in Atlanta.
At one point, he had been hesitant to work on BDNF, "because the field is a bit too crowded," he said. "I learned early on that, if someone else is working on something, it is much better to just find something else than to bother with the hassle and angst of competition."
But now he realizes that, "BDNF and the BDNF receptor, TrkB, are just too potent and implicated in every aspect of learning and memory, and the experiments work really well every time we do something in this area," he said. "So we keep coming back to it as a 'first step' or 'proof of principle' approach with various learning questions."
In mice, the function of BDNF depends on which part of the brain is activated, and when. Two regions of the prefrontal cortex in the mouse brain secrete the chemical. When released in the prelimbic part of the prefrontal cortex, BDNF solidifies the memory of a trauma. In the infralimbic part of the prefrontal cortex, however, it helps the animal cope with fear and anxiety.
Ressler and his team believe that the process works similarly in humans, that different parts of the human brain release a similar chemical that has the same functions and the same impact as it does in mice. The researchers theorize that it might be possible at some point to use BDNF to strengthen cognitive behavioral therapy among those individuals already suffering from an anxiety disorder.
His goal is to better understand the workings of the anxiety disorder, and move beyond BDNF to other transmitter systems.
The researchers have been building on existing knowledge that already has shown that certain biological mechanisms are related to fear. For example, one of Ressler's earlier studies showed that a tuberculosis drug called D-cycloserine (DCS) might be useful in treating individuals suffering from anxiety disorders.
"I find [the research] both interesting and cutting edge, where good hard science meets psychiatry--and where I think we can make progress," Ressler said.
Ressler grew up in Mississippi, the first generation in his family to go to college--initially, that is, since his mother went back to school to earn a nursing degree when he was in high school.
"I worked part-time at a grocery store and she worked cleaning up a medical office--that I helped with as well--to get her through nursing school," he said. "Mom is clearly the primary influence on most of my social/ethical ways of thinking. A wonderful person, just the best."
They lived in Jackson until he was 12, then moved to Ocean Springs, a city on the Gulf Coast. Besides his mother, Ressler had an influential math teacher ("Mrs. Dye") who taught him algebra and calculus, and encouraged him to apply to the Massachusetts Institute of Technology (MIT), which he did.
"I was always interested in math and science as a kid," he said. "I don't remember why, I just loved taking things apart to understand them. During the first generation of personal computers, I destroyed a Commodore 64 and TI99 personal computer this way."
At MIT, he initially planned to study computer science and chemical engineering. Instead, "I fell in love with molecular biology and neuroscience," he said.
He earned his Bachelor of Science in 1990, then was accepted into Harvard University's medical scientist training program, which allows students to pursue both a doctorate and an M.D. He received the degrees in 1995 and 1997, respectively.
As a graduate student at Harvard, Ressler worked in the laboratory of Nobel laureate Linda Buck, studying the molecular basis of olfaction (sense of smell), part of the work for which she received a Nobel Prize in 2004.
"I'd wanted to study learning and memory, no one was doing that there at that time, but I saw Linda Buck give a talk on the discovery of the odorant receptor genes," he said. "I called her and told her I thought her stuff was great, and that I wanted to work with her. When she moved to Harvard, I unpacked boxes as her first employee and student, and we had the first mouse odorant receptor genes cloned within weeks."
He described the work as "a great experience for applying molecular biology approaches to system-level neuroscience questions," adding, "The fact that she invited us to join her in Stockholm in 2004 for the Nobel Prize ceremony was a nice perk, too!"
Ressler, who is married to a family/child therapist and is the father of three sons, also co-directs Emory's M.D.-Ph.D program. He enjoys his two jobs, that of that of bench scientist and clinician, and tries to encourage others to pursue a similar dual track.
"Having a subpopulation of bench-to-bedside researchers is critically important for moving ideas ahead quickly," he said. "On a more selfish note: it's really fun to be able to do both."
-- Marlene Cimons, National Science Foundation, mcimons@nsf.gov
This Behind the Scenes article was provided to LiveScience in partnership with the National Science Foundation.